This post is also available in: German
Love to hike and want to bring your dog with you? Then check out our best tips for hiking with dogs before you hit the trails.
There are many benefits to hiking with dogs. They help you both stay fit, enjoy nature, and bond But just because we love hiking doesn't mean we should do it without taking proper precautions. Hiking with dogs can be immensely enjoyable for both you and Fido, but it does require special considerations.
Read on to learn how choose the right hiking trail for your dog, how to keep your dog safe while hiking. and what to do when you meet other dogs on the trail.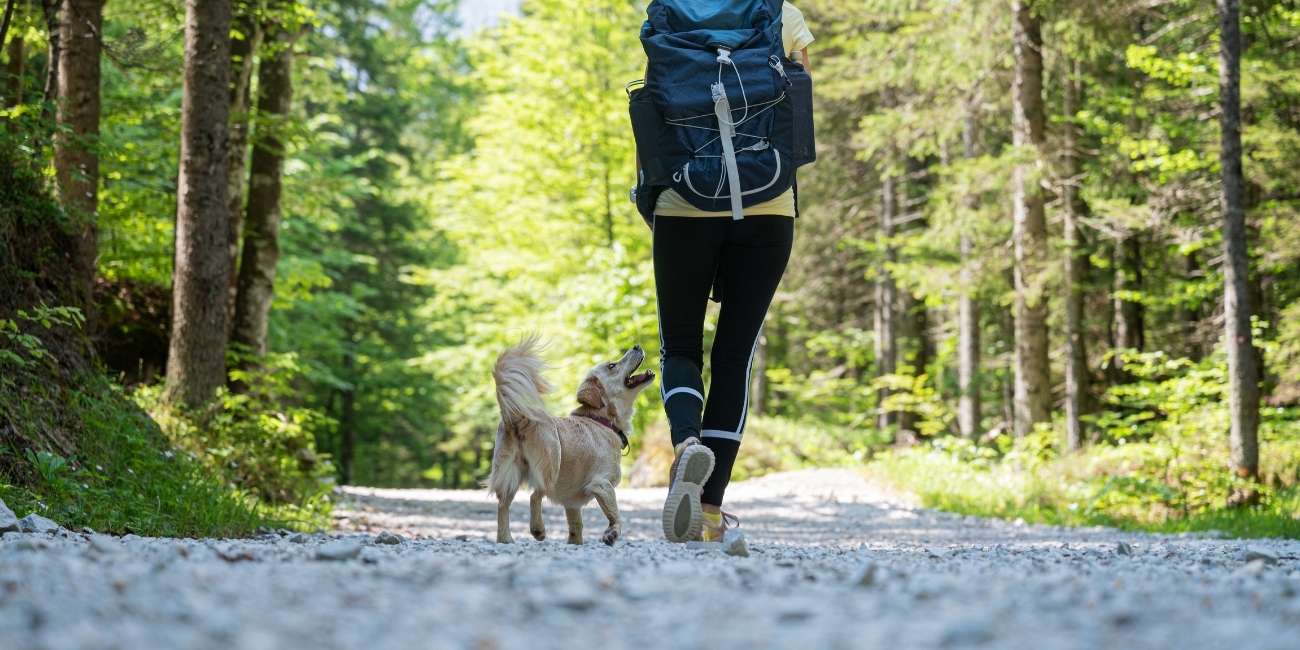 13 Tips for Hiking With Your Dog
1. Choose a Hiking Trail That Suits Both You and Your Dog
Before heading off on any adventure, it is essential to find a safe place to go hiking. Make sure that you pick a dog-friendly trail that has a spot that has plenty of room for your dog to run and play.
You'll also want to check if dogs are allowed on the hiking trail. As dogs are forbidden on some trails in national parks and in protected areas.
It is also important to ensure that the area is away from busy roads and populated areas. If your dog doesn't do well with strangers or with other dogs, then avoid popular hiking trails.
If you're not familiar with the hiking trails in your area, consider taking a class at a local park or nature center. They offer lessons on safety, trail etiquette, and basic navigation skills.
2. Choose a Short Hiking Trail If Your Dog is New to Hiking
If you haven't hiked with your dog before or not very much, then choose easy trails at the beginning. You can see how well your dog does and then choose future hikes accordingly. I.e. if your dog still has energy afterwards, you could choose a slightly longer or steeper hike the next time. If they're exhausted, then you can look for an easier hike.
3. Bring Plenty of Water and Other Supplies On Your Hike
Bring plenty of food and water for both you and your dog. Be sure to bring dog treats, an extra leash and a water bowl.
4. Be Mindful of How Your Dog is Doing on the Hike
Observe your dog closely and pay attention to his body language. Does he seem tired? Hungry? Or thirsty? Listen to his cues and act accordingly.
Also, consider the size of your dog. Some trails may be too narrow for larger breeds. And remember that dogs can become easily distracted by squirrels, birds, insects, and other animals.
They may also need more water breaks than you, especially if it's hot, and they may enjoy more rest stops.
Monitor their behavior so that you can make the hike enjoyable for them.
Related Reading: 8 Best Dog-friendly Hikes in San Diego
5. Be Aware of Dangerous Animals When Hiking
Be aware of wildlife en hiking and know what wildlife to watch out for. I.e. are their wolves in the area you're hiking? Poisonous snakes? Keep your eyes ane ears open to keep you and your dog safe.
6. Know How to Handle Emergencies on the Trail
Know how to handle emergencies when hiking with your dog, i.e. if he gets a thorn in his paw, or steps on a sharp object or something else. You can also enroll in a dog first aid course before your start hiking with your dog to learn how to care for your dog for basic emergencies.
You'll also want to carry a first aid kit that includes bandages, antiseptic cream, gauze pads, scissors, tweezers, tape, etc.
7. Avoid Heat Exhaustion When Hiking with Dogs
When hiking with dogs, avoid heat exhaustion by ensuring that your dog drinks plenty of water and offering him/her frequent access to fresh water.
Be sure to bring water for your dog if you're not sure about freshwater sources. And check beforehand that the freshwater is safe for your dog to drink.
8. Watch Out for Poisonous Plants
Watch out for poisonous plants when hiking with your dog since they can cause severe injuries or even death. Some common poisonous plants include poison ivy, poison oak, and poison sumac.
Related Reading: Best Gifts for Animal Lovers
9. Train Your Dog Before You Hike Together
Train your dog before your actual hiking trip. If your dog isn't accustomed to long walks do this first before going for a hike. Learning some obedience training and basic commands is sure to make the hike easier and safer for you and your furry trail buddy. Help train them for the kind of hiking you plan to go with them.
Walking briskly uphill or downhill, jogging, or playing with them can help maintain their energy level and endurance on strenuous hikes. Physical conditioning is important for you and your four-legged hiking partner.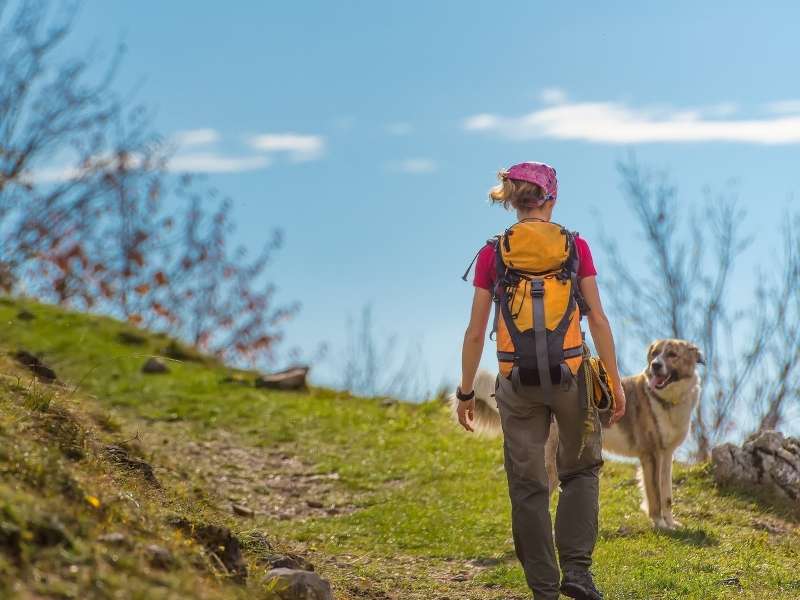 10. Leave No Trace and Respect Wildlife When Hiking
Leave no trace when hiking with your furry hiking buddy so that others can enjoy the wilderness too. Pick up trash left behind by others and clean up any messes made by your dog. Respect wildlife when hiking with your dog and don't let your dog harass them. this includes not letting them chase birds.
Follow the "Leave No Trace" principles when hiking with your dog. Dogs aren't wild animals, thus be responsible and pick up after them.
11. Follow Safety Guidelines
Follow safety guidelines and look out for trail hazards when hiking with your dog. Make sure to research the Leash Law and the trail rules of the area you are going to. Keep their leash on in areas that don't allow your dogs to roam around without it and if your dog is in the habit of running off, you may want to keep the leash on even in off-leash areas.
Patience is key when going on a hiking adventure with your dog as well as when doing other outdoor activities. Give your dog time to adjust to their new surroundings and situations.
12. Invite A Friend with a Dog On Your Hike
If your dog loves being around other dogs, invite a friend with a dog to join you. Then, in addition to the hike, they'll also get a play date with a furry friend.
Related Reading: 12 Easy Hikes in Rocky Mountain National Park
13. Learn What Hiking Activities Your Dog Enjoys the Most, Then Plan Hikes That Include These
Observe what your dog enjoys most about hiking. Is it jumping into a cool lake? Running off leash in a large field? Playing with other dogs? Then try to plan future hikes that include these elements.
Hiking with dogs is a bonding experience between you and your pet that can strengthen your bond while being in nature and getting exercise.
So grab your favorite furry friend and head out on a hike now that you have our best tips for hiking with dogs!