Head-Smashed-In Buffalo Jump is a UNESCO World Heritage Site and one of the best-preserved buffalo jumps on the planet. It's a must-see stop when you visit Alberta, Canada. 
What is a Buffalo Jump?
Head-Smashed-in Buffalo Jump is one of the largest and best examples of a buffalo jump on the planet. There are only a few in Canada and the U.S.
Buffalo jumps are a foreign concept to many people living outside of Canada and the U.S. But they're the best example of a communal hunting technique, plus they're pretty fascinating.
A buffalo jump was a means of killing a lot of buffalo at one time. This was necessary for food over the winter when it was especially scarce. The Blackfoot (a North American indigenous people) would round up the buffalo into a driveline. They would literally drive the buffalo over a cliff.
By the time the buffalo realized what was happening they couldn't stop since they were going so fast and with a stampede of buffalo right behind them. They would plunge over the sandstone cliff to their deaths (hence the term "buffalo jump").
If they did survive the 10 m-high cliffs, they would have a broken leg or two making them immobile and the Blackfoot would put them out of their misery shortly.
Related Reading: Writing-On-Stone: Your Guide to Exploring This Treasure in Alberta, Canada
A Successful Buffalo Jump Meant Survival
At first glance, a buffalo jump may sound rather barbaric, but it was a matter of survival. A successful jump meant your family lived through a long harsh winter. Winter temperatures would easily reach (and still do) -30 C and colder.
An unsuccessful jump meant your family starved. Furthermore, the Blackfoot used all parts of the buffalo. Tools were carved out of buffalo bones. And the buffalo coats provided warmth against the frigid winter winds.
Wind protection was especially important. Winds frequently topped over 100km/hour, at below-freezing temperatures. I know, I grew up in Pincher Creek, not far from the buffalo jump. Trust me when I say the winds are legendary.
However, a buffalo jump is not as simple as it sounds. Buffalos are surprisingly smart animals. Planning a buffalo hunt could take months. Every detail had to be analyzed to ensure it all went right.
To get to the formed drive lanes for them to jump, they would slowly direct a herd of buffalo from the gathering basin. It's not as easy as it sounds. A strong understanding of animal behavior especially the buffalo was required for the buffalo jump to be a successful hunt.
Related Reading: The Rocky Mountains Canada: The Best Adventures For Everyone
The End of The Buffalo Jump
This Buffalo Jump World Heritage Site was in use for almost 6000 years until ~ 110 years ago. Then the Euro-Canadian settlers came and virtually wiped out almost all of the buffalo population which left a negative impact on the natives.
They hunted them with rifles for their warm coats leaving thousands of buffalo carcasses to rot and wasting most of the buffalo. I'm ashamed to think of how devasting this must have been for the Blackfoot and what they thought of the settlers.
Today, it is an amazing venue for the historical sites of those who once occupied the area. It's such a beautiful hike with a wide variety of plants everywhere you look. Archeological evidence also showcases vast quantities of bones, cultural deposits of the indigenous culture, and the extreme skills and knowledge of the native people.
Visiting Head-Smashed-In Buffalo Jump:
Head-Smashed-In Buffalo Jump is open Monday – Sunday from 10 am to 5 pm daily. There's a large interpretive center and a Blackfoot Museum. 
There is a small theatre showing scenes from history. It plays a 15-minute re-enactment of the buffalo hunt throughout the day. I recommend watching this to get a better idea of how it worked.
Make sure to explore the indoor and outdoor exhibits. The exhibits are entertaining and informative and will make your experience better. I love the outdoor exhibits where you can see the buffalo jump. 
At the top of the building is a short paved trail that gives you great views of the Buffalo Jump Cliff, Calderwood Buffalo Jump, and the Rocky Mountains.
There is also an interpretive trail you can arrange to go on. This interpretive hike at the cliff base was very enjoyable. It gives you an active way to walk on the actual jump site and enjoy the beauty of this historic site.
For admission, information click here.
Book a tour here.
Getting to Head-Smashed-In Buffalo Jump
Head-Smashed-In Buffalo Jump is off the beaten path (which is one of the things I like about it). It is ~ a 3-hour drive from Banff National Park. lt lies between the small towns of Pincher Creek (my home town) and Fort McLeod.
Recommended Reading: The Best Way to Experience Castle Provincial Park in Alberta
What Other Attractions Are Near Head-Smashed-In Buffalo Jump in southern Alberta?
If you're interested in buffalo, then I'd recommend visiting the Bison Paddock in Waterton National Park.
INSIDER TRAVEL TIP FROM AN ALBERTAN: This is a gorgeous drive but you don't always get a great view of the bison. It really depends on where they are.
Located just inside the Park's northern boundary, off Highway 6 (the "Bisons Pasture Loop Road"), the Bisons Paddocks provide an excellent chance to see wild bisons in their native prairie environment. During the summer months, visitors may drive along the loop road and watch the bisons grazing in the open pastures. The short, scenic route passes by fescue grasslands within the Park's summer paddocks. The bisons are free to roam the enclosures.
UPDATE: Due to a park fire the bison have been removed. They plan to bring them back but that date hasn't been announced yet. Check before you visit. 
Besides the bison paddock, Waterton is worth seeing in itself. It's a UNESCO World Heritage Site and one of my favorite places on the planet. If you like nature and the outdoors you'll love it. A can't-miss highlight is Redrock Canyon a very easy flat walk and a good place to spot Bighorn sheep.
I also love Castle Provincial Park. There are ample hiking, camping, and various outdoor activities you can do here. The main visitors are locals which is one reason I love it.  
You'll also want to visit Frank Slide, the deadliest rock slide in Canada. You can hike up to Turtle Mountain or visit the interpretive center which offers a mind-numbing view of the rock slide. 
The Kootenai Brown Pioneer Village in the town of Pincher Creek (en route to Waterton) is also worth a visit. The highlight is the collection of heritage buildings that date back to the late 19th century that you can wander through. It gives you a good sense of what life was like for the pioneers. Admittedly, I'm not much of a museum person, but this is a good one. 
Visit the Fort Museum in the town of Fort McCleod to see what life was like for the Northwest Mounted Police and First Nations Interpretive Center. INSIDER TRAVEL TIP FROM AN ALBERTAN: Try to time your visit to see the Musical Ride. 
Further east of Lethbridge is Writing-On-Stone Provincial Park. It features hoodoos with paintings from Blackfoot and is also a UNESCO site.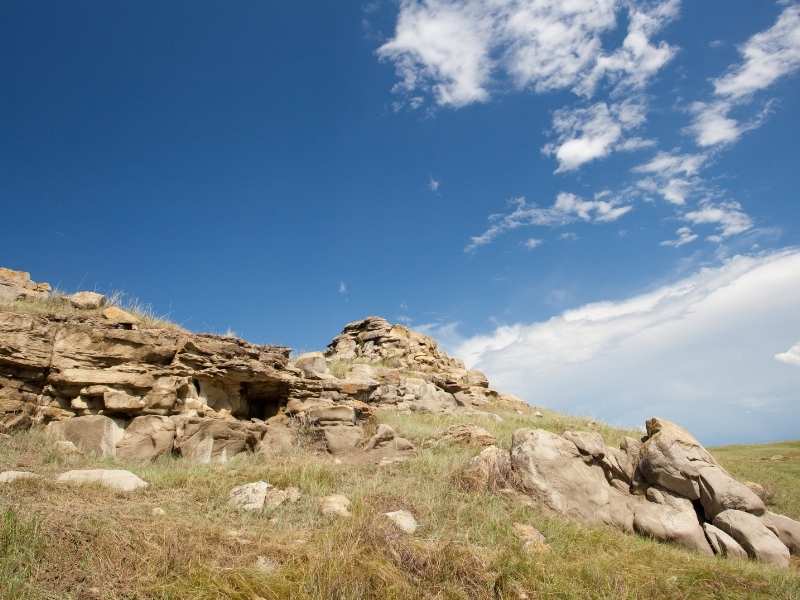 Itinerary for Visiting the Buffalo Jump and Other Attractions in southern Alberta
If you're coming from Calgary, I'd recommend heading to Head-Smashed-In Buffalo Jump, then Pincher Creek, then Waterton National Park, and spending the night there. If you want to hike, plan for several days there. 
Accommodations are often hard to find around Waterton so a gorgeous alternative is to stay in Castle Provincial Park or around Lundbreck if you're going to go to Frank Slide. Check out the map below for Airbnb properties.
Then, the next day drive to Castle Provincial Park if you wanted to do some hiking or outdoor adventures, before continuing on to Frank Slide in the Crowsnest Pass. You can either visit the interpretive center or climb up the mountain for a very unique hike. 
Then, you could visit Fort McCleod on either the way back to Calgary or on your way to Lethbridge if you were planning to visit Writing-On-Stone Provincial Park. If you're planning on doing the latter, I recommend either staying the night in Lethbridge or camping in Writing-On-Stone Provincial Park as it would be a long day to do both. 
Most visitors to Alberta head to Banff and Jasper, which are amazing but in my humble opinion, Head-Smashed-In Buffalo Jump is also worth a visit to explore this lesser-seen part of Alberta.
This post has been updated and republished.