My favorite attraction in Stuttgart is not one of the several castles, nor is it one of the cities' fine museums.
It's not even the world famous Opera House, nor is it one of Stuttgart's many festivals.  My favorite attraction in Stuttgart is in actual fact  a big pile of rubble – 15 million cubic meters of it to be exact.  After World War II Stuttgart, like many cities in Germany were left flattened.  Stuttgart alone was air raided 53 times, destroying 45% of the city.  That's a lot of rubble.  What do do with more than 15 million cubic meters of rubble?
Build a rubble mountain!  In Stuttgart, the rubble mountain is called the Birkenkopf, but more generally rubble mountains are called "Monte Scherbelino" meaning "mountain shards" in child-like language, or "Schuttberg"  meaning a "debris hill".  There are other names for them as well and most major cities in Germany have at least one rubble mountain as a memorial to all the people that died in WWII.
I had heard the view from the Birkenkopf was one of the finest in all of Stuttgart, but I didn't know what to expect.  Would we be crawling over the actual rubble climbing our way to the top?  Would we even know we were on a pile of rubble or had it all been hidden away?
As we started along a tree lined path, it seemed just like any other path walking through a forested area, covered with grass and lined with stones.  I would never have guessed that it was all sitting on top of a very large pile of ruble or that the stones lining the path were actually rubble from WWII.  Then as we got closer, we saw a plaque telling us that the Birkenkopf sat at an elevation of 511 m, the highest point in inner Stuttgart.  That was the only sign that this was no ordinary mountain.  Then as we came around the corner almost at the top of the Birkkenkopf  it hit us.  Rubble was on either side of us and piled up along 3/4 of the top of the mountain.  It hit me like a ton of bricks (pun intended) to actually see  with my own eyes the destruction of war, and the lives lost, and that was not counting the 40m of rubble that I was already standing on. We were greeted by a memorial plaque in German that loosely translates as "This mountain was built after WWII from the rubble of the town to stand as a memorial of the the dead and a warning to the living."
I noticed an elderly lady solemnly sitting on a bench looking out, but not really appearing to be enjoying the vast view of the city.  Perhaps she was thinking of loved ones lost in the war?  I didn't have a chance to ponder any longer as I was interrupted by several laughing children engaged in a game of hide and seek.    It turns out rubble makes for excellent hiding places.
Once I pushed the destruction from my mind, I set out to enjoy the 360° view.  From the Birkenkopf you can see all the way to the Swabian Alps and to the Black Forest on a clear day.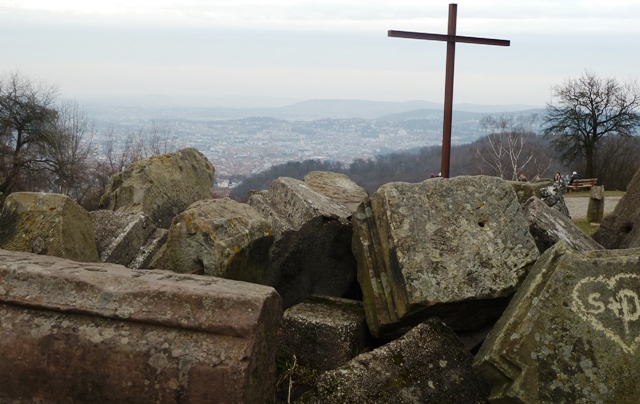 The Birkenkopf is my favorite attraction in Stuttgart because it blends the past with the present.  You cannot help but think back to WWII when the destruction is sitting there starting you in the face.  It is a place for contemplation and reflection.  I always feel a bit melancholy when I visit the Birkenkopf, but it is also a place for hope.  I was amazed that the trees growing on the pile of rubble looked the same as the ones that were growing on a nearby natural hill.  Seemingly impossible but yet possible.  I could not help but think how far Stuttgart and Germany have come since WWII when looking out at the metropolis of Stuttgart and that from the terrible, unspeakable tragedy of WWII something has been learned, and that past mistakes will not be repeated.  Hope and peace have emerged from the enormous pile of rubble.
The Birkenkopf in Stuttgart is located:

View Larger Map
"Schuttbergs" or rubble mountains can be found all over Germany. I would highly recommend one visiting one if you are in ermany. Check with the local tourist office of the city you are visiting.