Alpe di Siusi (Seiser Alm in German) is in the heart of the Dolomites in Italy, which are a UNESCO World Heritage Site.
Whether you're looking for outdoor adventures summer, spring, autumn or winter Alpe di Siusi is the perfect destination for you. It has something for everyone, families, couples, friends & solo travelers will find rest and adventure in this idyllic setting.
Ready for an Alpe Di Siusi holiday? Let's go!
What Will You See?
Needless to say, the scenery is SPECTACULAR!  If that wasn't enough, Alpe di Siusi is also home to Europe's largest alpine meadow.  AND there's still more! Sitting at approximately 1850m, it is also the training ground for many Olympic athletes from around the world.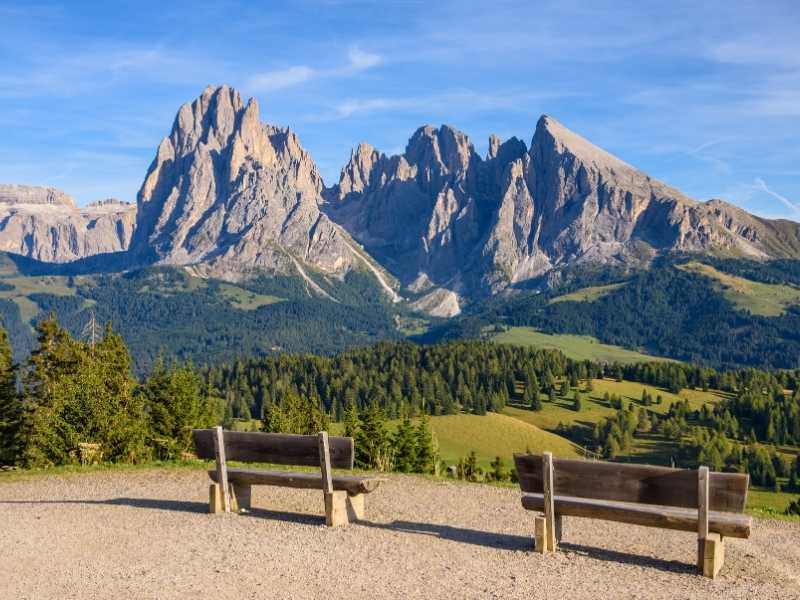 Beautiful hikes, rustic mountain huts, and even modern 5-Star hotels like the Alpina Dolomites that offer Finnish saunas and indoor pools are available here!
I ran into the women's Norwegian cross-country ski team.  My dreams of being BFFs with an Olympic athlete were quickly dashed though – they were in the middle of a training run and flew past us.
Alpe di Siusi offers a variety of activities ranging from hiking, running, biking, climbing and even paragliding. There's even a race held every year where you can race alongside (OK behind) Kenyan Olympians!  
You might want to start off with a cup of coffee first from Valentin Hofer, Italy's first coffee sommelier.  You're going to need your energy if you're going to try to keep up!  On the other hand, I might just stick with hiking, the Dolomites are a hiker's ultimate playground!
Related Reading: Cinque Terre & Beyond Hiking Tour in Italy


What To Do In Alpe di Siusi
Alpe de Siusi is impressive in many ways, one of them being its versatility. There really is not a good or bad time to visit, no matter the season there is something for you to do.
Alpe di Siusi weather is perfect all the time. I love places like that because you're always ready to make the next plan to visit again. So here is your seasonal guide to South Tyrol's Alpe di Siusi…
Related Reading: Molise: Italy's Last Undiscovered Region
Spring in Alpe de Siusi
Spring is a magical season in South Tyrol. We see nature awakening from the long winter slumber, brightening the mood and welcoming you outside. Alpe di Siusi comes to life during spring and still offers you diversity when it comes to landscape and activities.
You can enjoy sunny skiing on the higher plateaus of the Alpe di Siusi where the snow is still pristine until early April. It is a popular place during the Easter holidays as it offers panoramic mountain views.
Related Reading: Alta Via 1 Hiking Tour in Dolomites Italy Entire, North or South Route

Meanwhile, in the lower areas like Casselrotto, the cherry blossoms start to bloom in early May. One of the most popular destinations for hikers during the spring is the Farm trail of Aica. The trail takes you past beautiful portions of colorful pastures and offers spectacular views of the mountain range.
Be sure to take a warm jacket though as temperatures can still drop pretty low and it isn't uncommon to get isolated snowfall right into early summer. The cold mountain weather makes Alpe di Siusi a top pick among tourists.
Make sure to stop at the Pond of Fié to enjoy the brilliant waters and the Firs as well as views of the mountains. It is a perfect place to marvel at the colors and smells that spring brings with it.
You can even enjoy some great mountain biking near Mt. Piz where you will probably pass the first rose blossoms of the season. Enjoy alpine pastures as you bike your way up Alpe Di Siusi.
Related Reading: The 9 Best Places To Visit in Italy
Summer in Alpe di Siusi
Summer in Alpe di Siusi is wonderful. It doesn't get better than waking up to a perfect view of the mountains, especially when you love the outdoors as much as I do.
Temperatures in summer are great, reaching up to 30C during the day. The valleys are naturally hotter than the higher plateaus, which makes hiker to higher altitudes perfect, making Alpe di Siusi a favorite holiday region.
Take the Spitzbühl Chairlift up to the top where you have a choice of Alpe Di Siusi hiking options and enjoy stunning views. This could easily be one of your favorite hikes when you get to the top.
Related Reading: 5 Travel Tips You Need to Know Before Visiting Cinque Terre
Take a stroll past the Pond of Fiè where you can stop for a cooling dip or enjoy some of the best mountain biking in the region of Alpe Di Siusi. Make sure to hike up the witch's benches and learn about the magical legends of the area.
The Alpe di Siusi is also a great place for adventure sports such as paragliding and mountaineering. I even enjoyed a great cooking class, I might even share my dumpling recipe. But read on to find out.
Related Reading: The Torre Argentina Roman Cat Sanctuary: Why It's Worth A Visit
Autumn in Alpe di Siusi
I was lucky enough to hike some of the best trails during a trip there. I stayed at the Dibaita Mountain Hut which had some of the best views of the Dolomites. Autumn is beautiful in the Alpe di Siusi when the foliage begins to change color and the first snow touch the peaks of the Dolomites.
Hiking is great this time of year but make sure to keep a raincoat and jacket as the weather can vary from sunny and warm to rainy and cool.
During the autumn visiting some of the castles and monasteries of the area is popular. There are several main attractions  such as Schloss Bruneck, Castel Presule and Schloss Lebenberg bei Marling that are a must-see during this season. You can also discover restaurants that offer a more contemporary setting as you walk around.
Autumn is also the chestnut season, perfect for some fall snacking as you stroll Alpe Di Siusi of South Tyrol. The chestnuts of the Alpe di Siusi are excellent. The Toerggelen is an annual festival that includes wines, dumplings, and other scrumptious local meals.
Related Reading: Where to Stay in Cinque Terre: 18 Top Choices for Everyone
Winter in Alpe di Siusi
Winter is a wonderful time in Alpe di Siusi. It is unique and sunny with great skiing on the slopes of Val Gardena and the Ski Carousel Dolomiti Superski. Alpe di Siusi is full of activities during the winter seasons. A blanket of snow covers everything and its just such a beautiful view.
You will find everything from music festivals, snowboarding, tobogganing, snowshoeing and ice skating. There is great cross-country skiing, including a marathon that is held at night. It is a popular event. Be sure to be up to date on the lattest snow report when you visit!
Winter sports bring in tourists and athletes alike. Winter hiking in Alpe Di Siusi is really popular and for good reason, the views of the snow-capped mountains are unrivalled.
Every year in January there is a traditional wedding festival that takes place. The festival is a reenactment of a historic peasant wedding including costumes, jewellery, and traditionally cooked foods.
Alpe di Siusi is such a fabulous location all year round! There is something to do for everyone young and old.
Recommended Reading: Best Walking Holidays in Italy
A Culinary Experience in Alpe di Siusi
They have such excellent cuisine here. So much so that during my time in the Alpe di Siusi, I took a cooking class at the Gostner Mountain Hut (Gostner Schwaige Seiser Alm) with their chef Franz Muller. It was such a great experience I just had to share it with you as a bonus.
Franz offers cooking lessons at Gostner Mountain Hut, where I took mine. The lessons are offered in German or Italian, but you're welcome to bring a translator.
The cost is €35-50/person. A minimum of 5 people are required and the lesson lasts 3-5 hours.
Related Reading: Hiking Mt. Matajur: Slovenia to Italy
Ingredients for Making Dumplings:
200g mushrooms (can also substitute mushrooms for cheese or spinach)
100g onion (cut into small cubes)
240g hard white bread (cut into small cubes)
40g butter
4 eggs
50g milk (can substitute with water)
100g Tyrolean ham (or another type of ham) cut into small pieces
Tbs flour
A handful of wild herbs (we used parsley, fennel, watercress, mustard leaf)
Salad greens (we used flower petals picked from Alpe di Siusi)
How to Make Dumplings:
Brown the butter then put the onions, bacon, mushrooms, a pinch of salt and the bread cubes into the pan. Cook on medium heat until browned but not burnt.
Add herbs a minute or two before it's finished cooking and then transfer the mixture to a large bowl.
Add milk, flour and eggs to the mixture.  Stir and leave for 10 minutes.  Meanwhile, boil a large pot of water.
Wet hands and form the mixture into balls.  Squeeze it first, then roll it.  You don't want any holes.
Boil the dumplings for ~10 minutes
Serve with salad greens
(Optional, but highly recommended) Enjoy your dumplings in the stunning setting of Alpe di Siusi while being serenaded.  Revitalize afterwards with a coffee from Italy's first Coffee Sommelier or relax in a Hay bath which is an unusual and interesting experience. Delicious meals and beautiful views, what else is there to say?
Related Reading: Where to Stay in Courmayeur: The Best Accommodations for Hikers and Skiiers
Where to Stay in Alpe Di Siusi
From delicious food, fabulous hotels to cozy hotels, Alpe Di Siusi has it all!
Alpina Dolomites Hotel, a 5-star Hotel on the Alpe di Siusi with a spectacular panoramic location.
A hotel design surrounded by the beauty of the Seiser Alm, a UNESCO World Natural Heritage site in South Tyrol.
Hotel Schmung is an idyllic, family-run place at Alpe di Siusi at South Tyrol, is a great place for sports enthusiasts, nature lovers, and those looking for peace and recreation.
Hotel Gstatsch is a cozy hotel on the Alpe di Siusi in South Tyrol! The Hotel Gstatsch offers a total of 34 modern rooms and suites in five categories. All rooms are newly furnished. Some have a balcony with beautiful mountain views.

Romantik Hotels Turm is a fantastic place to stay if you're visiting the Seiseralm region. It's located in the heart of the mountains, so you'll be able to enjoy beautiful views from your room. A first-rate modern hotel to check out on your next visit and bask in the Seiser Alm beauty.

Hotel Bellavista is strategically located directly on the ski slopes in Seiser Alm. Rooms come with satellite TV and a private bathroom with shower. There is no fee by parking and there is a free internet point. Bellavista's spa includes a relaxation area, a herbal sauna, and hot tub.
Wherever you decide to stay, on average, 3-star hotels in Alpe di Siusi cost $324 per night, and 4-star hotels in Alpe di Siusi are $1,076 per night, while a 5-star hotel in Alpe di Siusi will cost around $734, on average (based on Booking.com prices).
Related Reading: How to Get to Cinque Terre
Know Before You Go to Alpe di Siusi (Seiser Alm):
German and Italian are widely spoken in Alpe di Siusi.  Despite being in Italy, German is many resident's native languages in this region.
Alpe di Siusi is at a high elevation (approximately 1850m) so give yourself time to acclimatize and don't plan anything too ambitious activity-wise until you have done so.
Bolzano is the largest city in the area with lots of train/bus connections.
Alpe di Siusi is ~120km south of Innsbruck and ~300km north of Venice.
Be sure to check out Spikes in the Dolomites, a gorgeous photo from Simon at Wild About Travel for another perspective of  Alpe di Siusi.  And also Touring the Dolomites in Northern Italy from Jeff at EuroTravelogue.
Gostner Mountain Hut can be reached along footpath no. 3 from Compaccio/Compatsch (~30 minutes) or 60 minutes from Compatsch Joch walking in the direction of Satria.
Related Reading: 11 Best Cinque Terre Tours
Alpe di Siusi is the perfect place for a vacation no matter the time of the year. Have I convinced you yet?
This post has been updated and republished.