Visit Strasbourg for fairy tale charm that will exceed your expectations. It's definitely a must-see stop when visiting France.
If you have the chance to visit Strasbourg, I can't recommend visiting these beautiful villages enough. I have heard that Strasbourg is a charming city, but it exceeded my already high expectations.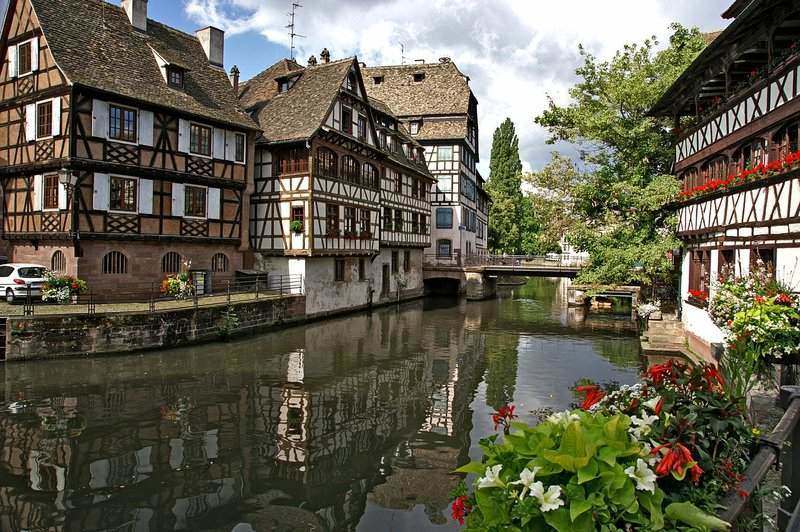 One of the reasons I was so excited to move to Germany was the close proximity of so many countries. I had the opportunity to visit Strasbourg, France which is just 150 km from Stuttgart, Germany. This is terribly exciting being from Canada when (not counting the U.S.), the next closest country is Mexico which is still a 5-hour flight!
There is just something so alluring about the numerous half-timbered houses, shopping streets, Medieval buildings, leaded windows, ornate carvings, and green spaces of this European district that keeps me wanting more.
Related Reading: Tour du Mont Blanc: Hiking Tours
Where is Strasbourg?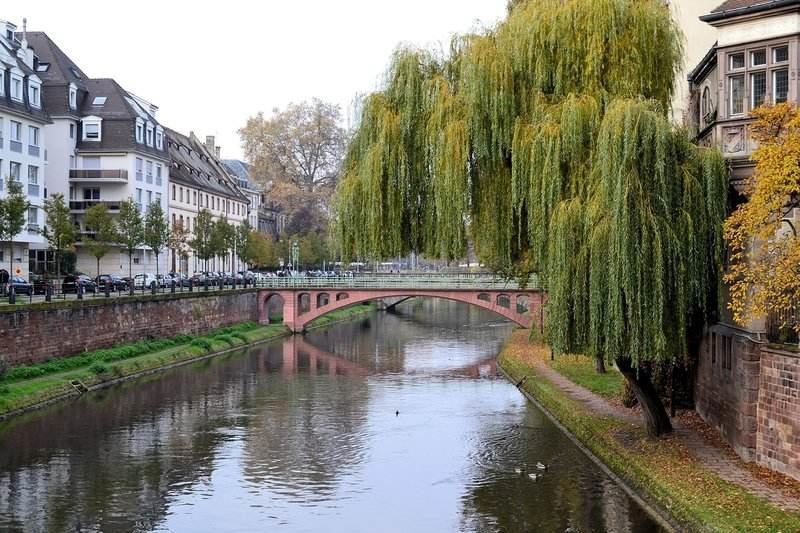 Strasbourg is located in France in a region known as Alsace which is bordered by both Switzerland and Germany. It is in fact so close to Germany that the nearest German city, Kehl, is just 15 minutes away by train!
Can I get to Paris from here you ask? Definitely! There are on average about 18 trains a day between Strasbourg and Paris. The journey takes approximately 2 hours, so you could even manage a day visit to Strasbourg if you're in the area.
Related Reading: Your Travel Guide to Paris
Storybook charm in Strasbourg.
Close your eyes and go back in time to a fairy tale town with half-timbered houses, long sloping roofs dating back to the 1500s. Now imagine these houses along a small waterway with swans leisurely swimming along and quaint bridges. Heck for good measure you can even through in a girl with sleek dark hair, porcelain skin wearing a pinafore and holding a teddy bear as she nibbles on her croissant.
Well OK, don't picture the nibbling on the croissant part. The French would never be so crass as to eat on the go – that's so….sniff…for Americans, who haven't figured out that food is to be enjoyed while sitting down over a leisurely meal, not gobbled down absent-mindedly. But I digress…..
Related Reading: The Haute Route: Hiking Tour
When you visit Strasbourg, France, you don't have to imagine it, you can see it for yourself in the Petit France Quarter, my favourite part of Strasbourg.
What to see when you visit Strasbourg
#1) See the Cathedral of Notre Dame.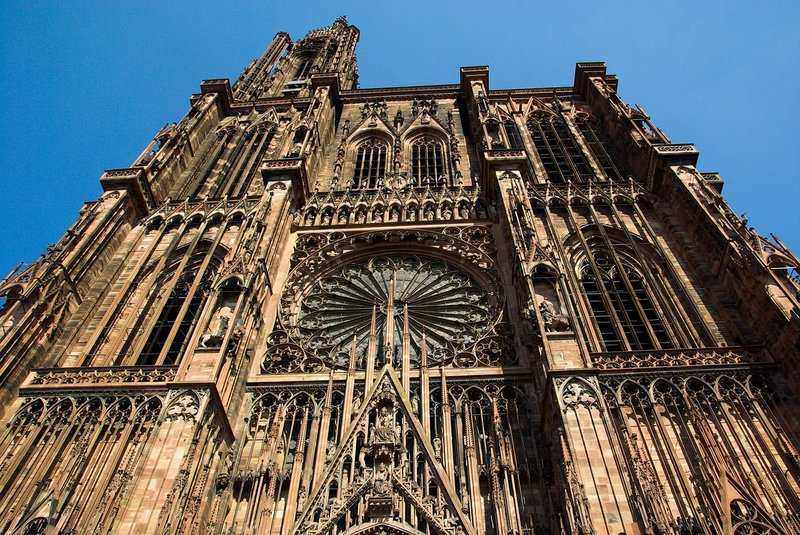 This Gothic-style church is truly breathtaking, especially at dusk, and is very old. The construction of the Notre Dame Cathedral in Strasburg started in 1015 but the Cathedral was only completed in 1439. Imagine, it took over 400 years to build a cathedral!
The Strasbourg Cathedral's spire is an impressive 143 meters high and was the highest at one point in history! The Cathedral of Notre Dame in Strasbourg even has an astronomical clock that is attractive for the work of its automatons which puts on an excellent show every day at 12:30 pm. A definite must-see when you visit Strasbourg.
Recommended Reading: The Best Bikepacking Panniers of 2021: What you Need to Know
#2) The city of Strasbourg is declared a World Heritage Site by UNESCO and it is the only city in all of France to have this honour, where the whole city is declared a World Heritage Site.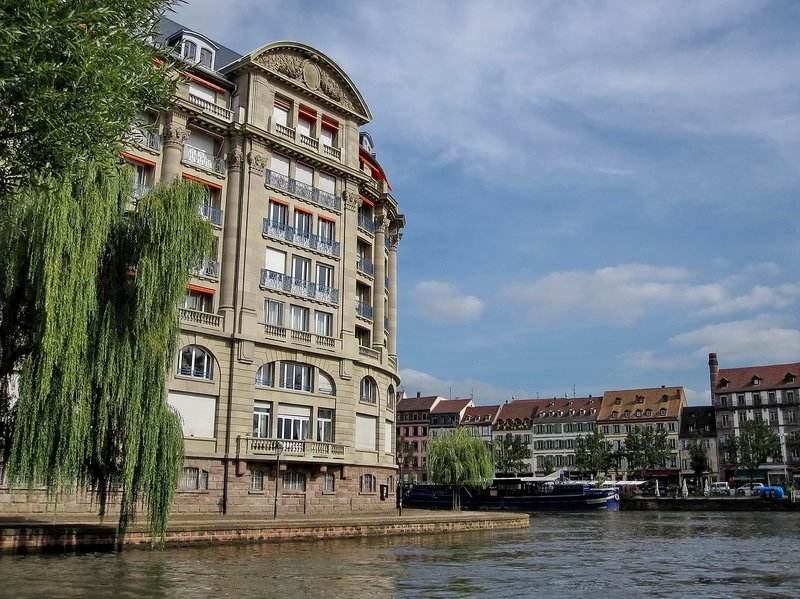 Related Reading: Tour du Mont Blanc: The Best Way to Plan your Epic Trek!
After spending a couple of days wandering around this charming city, complete with swan and stork filled canals, it was clear to us that Strasbourg certainly deserved this honour.
Here you feel transported back in time and can almost see the fisherman going out for the daily catch in his row-boat and the millers and tanners going about their daily work. No wonder that it is a UNESCO World Heritage Site.
Related Reading: #1 Thing to Do in Grenoble, France
#3) Strasbourg is also home to the European Parliament, which is a strikingly modern building in contrast with the center of historic Strasbourg.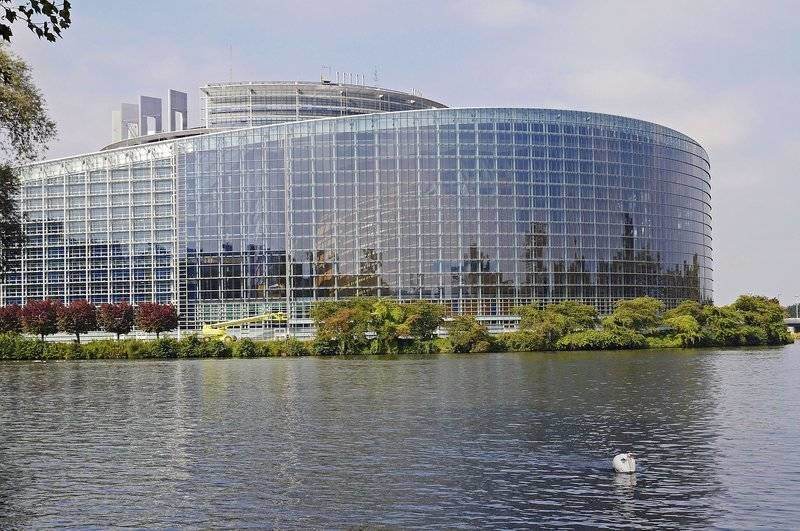 It's the capital city of Alsace and the official seat of the European Parliament, which you can visit. Tours are available and I think would be very interesting, but we were visiting on a holiday when everything was closed, but a tour of the European Parliament merits another reason to visit Strasbourg.
You can also visit the European Parliament in Strasbourg without a tour but the times are limited. Click here to find out more about the visitor's schedule.
#4) The Bike Paths in Strasbourg
There is a whopping 500 km of bike paths in Strasbourg. More than any other city in France. Bikes are everywhere and are a good option if you are sight-seeing outside the city centre, not to mention environmentally friendly and easy on a travellers budget.
Biking is also a great way to take in the views while working off those amazing French pastries that you just have to indulge in. They can be rented from hotels at reasonable rates.
Related Reading: 16 Best Things to Do in Summer in Chamonix
#5) Strasbourg Christmas Market
Although I didn't visit Strasbourg during the Christmas markets, a friend of mine who lived there for six months said they're not to be missed and I believe it. The beautiful streets of Strasbourg are already such a charming part of the city, I can only imagine it at Christmas time.
The Christmas market or Christkindelsmärik, as the Strasbourg locals call it, has been taking place since around 1570. That makes it one of the oldest Christmas markets in Europe! You will find the Strasbourg Christmas market between 29 November and 31 December every year.
I'm hardly alone in my love of Strasbourg. Check out Jeff's post (from EuroTravelogue)to see what I mean:  Storybook Villages Come to Life in Alsace, France.
#6) Visit the Strasbourg Museum of Modern and Contemporary Art
The Strasbourg Museum of Modern and Contemporaneous Art (MAMAC) is located in Strasbourg, France. The museum was founded in 1977 and opened its doors in 1979. MAMAC is dedicated to modern art and contemporary art. Its permanent collection includes works by Pablo Picasso, Henri Matisse, Georges Braque, Marc Chagall, Alberto Giacometti, Joan Miró, Jean Dubuffet, Andy Warhol, Yves Klein, Marcel Duchamp, Robert Rauschenberg, Jasper Johns, Roy Lichtenstein, Alexander Calder, and many others.
There are over 1 million square feet of exhibition space at MAMAC, including galleries, auditoriums, and studios. There are also two museums within the building, the Musée d'Art Moderne et d'Art Contemporain and the Musée de l'Homme.
MAMAC offers free admission to everyone. Visitors must show ID and be 18 years of age or older to enter the museum. Children under 12 are not allowed inside unless accompanied by an adult.
#7) Take a Tour of the Palais Rohan
The Rohan palace is located next to the cathedral. It was built in 1724. It is a historic monument that originally housed 4 princes of the Rohan family.
In addition to housing exhibitions, concerts, and performances, the palace houses the Musée d'Histoire Naturelle.
#8) Visit Parks
Strasbourg is one of Europe's most charming cities. There are plenty of green spaces, perfect for day trips in Strasbourg.
Europa Park
Europa Park isn't your typical amusement park. It has become a well-known location not just for conferences but also for TV productions and major international conventions. Thanks to its large connected hotel resorts, it is also an attractive holiday destination for people from all over the world who want to visit Europe.
Parc de l'Orangerie
Apart from the Strasbourg tourist sights, this large peaceful green space is the perfect place for a relaxing walk. Take a path through the woods and enjoy the abundance of greenery. Watch monkeys and ducks in the small zoo, then take a ride around the lake in a pedal.
Parc de la Ville
Parc de la Ville is the closest park to the center of the city. It is  also the largest park in Strasbourg. It covers an enormous area of over 100 hectares and was built in 1883 and was designed by Victor Ballard.
Where to Stay When You Visit Strasbourg
The Historic City Center is a firm favorite with Strasbourg visitors as it is in close proximity to almost all the sites. It is also close to the Central Train Station which is a huge plus in my book.
3-Star Hotels in Strasbourg
The hotel has a 9.0/10 Rating with more than 800 Reviews. The location is excellent for your stay in Strasbourg, just 850 m away from the City Center. The hotel is known for its excellent service and buffet breakfast and is a favourite with couples.
Hotel Arok has a 9.3/10 Rating with more than 1500 Reviews. The hotel has an excellent location and the best part is that it's almost right next to the Train Station which is great if you're visiting Strasbourg for a shorter trip.
4-Star Hotels in Strasbourg
This stunning hotel is located just 300 m from the City Centre and surrounded by great restaurants and bars. The hotel has a 9.1/10 Rating with over 4000 Reviews. And the best part … each room has its own minibar with free soft drinks.
If you love being immersed in history then this is the place to stay. This amazing hotel is set in a renovated 16th-Century building! The hotel also has a 9.3/10 Rating with an excellent location.
5-Star Hotels in Strasbourg
This highly-rated hotel is the place to stay if you are in need of some good old fashioned R&R. The hotel was once a 17th-century mill. Now you'll find an on-site restaurant and a wellness center with a sauna, hammam, hot tub, and massage treatments.
The hotel has a rating of 9.2/10. The hotel offers modern room decor. Make sure to ask for a room with a River view, it is a must-have when staying here.
Recommended Reading: Where to Taste Wine in Europe: The Best Wine Tours in the Continent
I'd highly recommend a visit to Strasbourg because there's so much to see and would highly recommend visiting it.