How many of these fun facts do you know about Namibia in Southern Africa? These facts will make you feel like you're traveling to Namibia before you step foot in the country.
One of my favorite ways to extend my travels is to immerse myself in a place before I visit it. Doing research is the key. I love reading books by local authors or books that take place where I'm going. I learned so many Namibia facts as I did this – their public holidays, official currency, public transportation, and even off-the-beaten-path adventures!
By the time I step off the plane, it no longer feels totally foreign.
That's exactly what I did before I headed to Namibia!
Namibia has always fascinated me, even though I didn't know much before going. After visiting, I was mesmerized. It is home to diverse wildlife, colonial-era towns, and the largest canyons in the world, that being Fish River Canyon Park.
Namibia has many tourist attractions. Some of these include the Etosha National Park, the Fish River Canyon, the Naukluft Plateau, the Skeleton Coast, the Waterberg Mountains, the Omaheke Island Marine Reserve, and many more.
The official language of Namibia is English. However, there are several local dialects spoken in the country. These include Afrikaans, Oshiwambo, Tshivenda, and others.
Here are 11 Awesome Facts About Namibia:
1) Namibia is home to the world's largest population of free-roaming cheetahs (~2500-3000).
I was lucky enough to see a few of them at the Cheetah Conservation Fund. What I enjoyed most was hearing them. Their chirp-like sound as they impatiently waited for lunch was not what I expected from a cat!
I especially loved hearing them. Their chirp-like sound as they impatiently waited for lunch was not what I expected from a cat!
Related Reading: A Safari in Hluhluwe–Imfolozi Park, South Africa.
2)The country gets its name from the Namib Desert – one of the world's oldest deserts.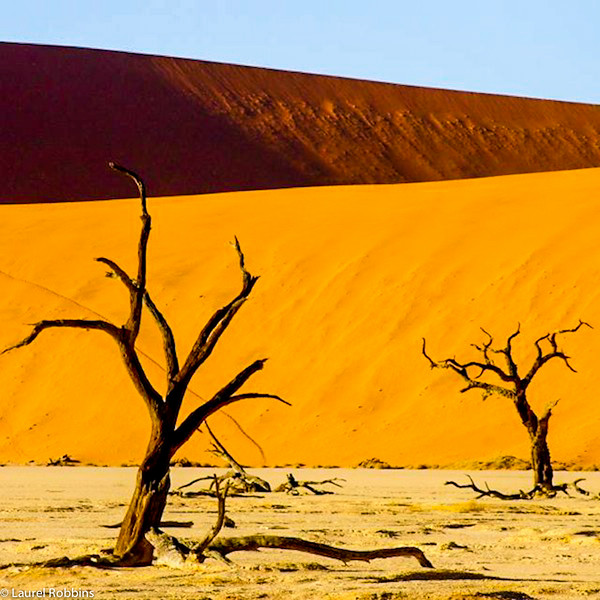 No one knows exactly how old it is but scientists have identified that sand has existed in the desert for over a million years! See the Namib Desert for yourself on this tour.
The Namib Desert covers over 1 million square miles (2.5 million km) of land, making it the largest desert in Africa. This vast expanse of sand dunes stretches across the southern half of the country, including the city centre of Windhoek.
The Namib Desert is home to some of the most unique wildlife species in the world, including the rare black rhino, cheetah, giraffe, ostrich, springbok, zebra, wildebeest, warthog, and kudu.
3)Namibia is the second least densely populated country in the world.
It has a population of ~2 million in a country that is twice the size of California. Only Mongolia is less populous. The low population makes it an excellent place to see wildlife.
Desert lions are also present here. Known to survive the harsh desert climate of the Namib Desert.
4)Would you visit a place in Namibia called the Skeleton Coast?
Skeleton Coast National Park was named so in previous times for all the whale and seal skeletons lining the coast, there would have been a few human ones there as well.
A seemingly barren landscape of gravel roads, stone, and sand where ships often sink because of blinding mist.
Over 1000 ships met their end here. The Bushmen refer to it as The Land God Made in Anger. Even the Portuguese refer to it as The Gates of Hell.
But it's not all bad news though. It's also home to one of the world's largest seal populations with almost 100,000 seals!
This African country sure boasts of this national park known for its unique landscape. Which includes sand dunes, sea caves, and salt flats.
Visitors can explore these areas with a wide variety of outdoor activities to choose from. May it be hiking through the desert terrain, visiting the beach, or exploring the salt pans, Skeleton Coast has it all.
Related Reading: The Top 10 Best Hot Air Balloon Rides in The World
5) Namibia was a German colony, then captured by South Africa in World War I.
It became independent in 1990. A now peaceful country, uninvolved in any wars.
Namibia was a former German colony, then became a British protectorate after World War I. The Germans lost control of Namibia during World War II when the Allies invaded the country. After the war, the country became independent.
Today, Namibia is a member of the Commonwealth of Nations and the Southern African Development Community (SADC).
6) Despite its low population, Namibia is still home to 13 different ethnic groups.
That includes the Himba. They're nomadic and traditional people whose ways have changed little over the years. This is due to their seclusion from outside influences, thus their indigenous language is very much alive.
The Himba only came into contact with Western influences a mere 15 years ago. I was really looking forward to my visit to a Himba village. But had mixed feelings after my visit. Check out this 3-day tour and make your own conclusion.
Related Reading: Gifts for the Animal Lover in Your Life
7) Namibia is the first country in the world to incorporate environmental protection into its Constitution.
The result of this has been many community-based tourism initiatives that provide social and monetary benefits to the communities and authentic experiences for visitors. It's sustainable tourism at its best! Check out this PDF for further info.
8) Namibia is one of only two countries in the world that has desert elephants!
They're not a separate species, but the IUCN has identified them as a high priority.
They've adapted to their semi-desert environment by developing a smaller body mass, longer legs, and larger feet. That enables them to travel for miles across sand dunes to reach the water.
Heck, they're even known to slide down the dunes to reach the water. I searched for a video, but couldn't find one. Wouldn't that be something to see!
You can find out more about desert elephants here.
Note: I didn't see a desert elephant but I saw large herds of African elephants in Etosha National Park! You'll definitely want to spend a few days in Etosha and this tour makes it easy to do so.
Or at the very least check out this 3-hour game drive.
Note: I didn't see a desert elephant but I saw large herds of African elephants in Etosha National Park! You'll definitely want to spend a few days in Etosha and this tour makes it easy to do so.Or at the very least check out this 3-hour game drive.
Related Reading: Why You Should Send a Custom Postcard on Your Next Vacation – And the Easiest Way to Do It
9) Did you know that there are two different styles of sandboarding? Namibia has both.
The easiest, but perhaps scariest is lying down and heading down the dune headfirst. You can reach a speed of up to 80km/hr!
The second is standing up, which is slower, but more difficult to master. I definitely preferred the head-first version. You'll understand why after reading this post – hint – I was really bad!
Related Reading: 8 Ways That Travellers Unintentionally Commit Animal Cruelty
10) Sossusvlei Sand Dunes are some of the highest in the world. They're one of Namibia's most impressive sights.
Big Daddy is the largest dune in Sossusvlei measuring ~325m also visit Dune 45, known as the most photographed dune in the world.
The dunes at Sossusvlei are among the tallest in the world, reaching heights of up to 200 meters (660 feet). They're formed by constant winds blowing across the desert plateau. Over millions of years, these winds have sculpted the sand into massive hills and ridges.
The park was established in 1975 to protect this unique environment. Today, it's considered a UNESCO World Heritage Site.
I learned that climbing up sand dunes is breathtaking, but exhausting, perhaps even more so than hiking up mountains! Check out this 3-day tour to fully explore Sossusvlei.
Related Reading: 10 Lessons I've Learned from Travel That Have Stayed With Me
11) Namibia is home to the world's largest population of free-roaming black rhinos.
I loved tracking this critically endangered animal and (gulp) did so on foot!
Only afterward did I notice, when we were back in the jeep and ran into a pride of lions, that our safari guides were unarmed!
Tracking rhinos on foot in Namibia was one of the most incredible African wildlife experiences that I've ever had!
How many of these Namibia facts did you know? I hope that after reading this Namibia has moved to the top of your travel bucket list.
I recommend traveling to Namibia, South Africa to anyone looking for a unique kind of safari adventure.
This post has been updated and republished.