Perugia, Umbria, located in Italy oozes with charm from almost every corner, but there's also chocolate and plenty of scandals too!
Where is Perugia in Italy?
Although Perugia is considered the cultural and artistic capital of Italy, it is often overlooked by tourists. For me, who loves places that are off the beaten path, that makes Perugia so much more inviting.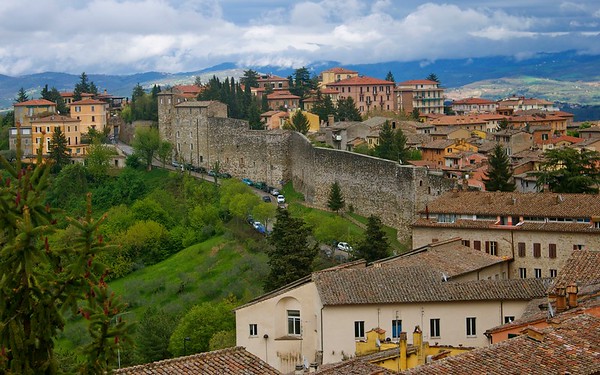 Recommended Reading: Where to Stay in Cinque Terre
It is located almost halfway between Florence and Rome, just over 2 hours each way by train. Perugia is easily reached by train. If you're renting a car you're in luck as the region rivals Tuscany in beauty.
Perugia is home to some great art and not one but two major universities, meaning that most of the foreigners you will encounter are students. But I think the student vibe gives this little town an air of modern and historic, not to mention you will find some good bars if you like adding a little nightlife to your trips.
Related Reading: 4 Best Places to Visit in January in Europe
Perugia's Charm
As with most historic towns I have come across on my travels in Europe, there is a requisite town wall. Like most town walls this one has been disintegrating due to time but there is still a good chunk of it standing as you will see in the photograph above.
Perugia's Piazza IV Novembre (what is a trip to Italy without numerous Piazza's) is one of the main student haunts and you will find them relaxing, drinking wine and just watching people go about their business. I think this is a good place to spend some time just watching the residents go about their everyday lives. If your lucky you'll even find a few street artists or students playing music.
If you walk through this small charming town, you will find plenty of restaurants and cafe's calling to you to enjoy some Umbrian cuisine and a glass of locally produced wine. What is a trip to Italy without a little indulgence after all?
Related Reading: The Torre Argentina Roman Cat Sanctuary: Why It's Worth A Visit
Perugia's Town Beneath The Town
By far the best part about Perugia, besides the chocolate of course but we'll get to that, is the labyrinth of streets beneath the town. The Rocca Paolina was once part of a 16th-century fortress built by Pope Paul III. The fortress was later destroyed and the remains have been sucked up into modern-day Perugia.
You can walk freely through the underground streets. They even have escalators so you can easily move between the surface and underground and by far the most exciting thing about them is that some of them are lined with shops, museums, and exhibits.
At least all those streets were put to use. If this doesn't make you want to stop in Perugia, even just for a few hours, then here are some other great things to know about the town.
Related Reading: The 9 Best Places To Visit in Italy
What Else Is There To Do in Perugia?
The town offers some interesting architecture that hints at the city's old age of 310 or 309 B.C.
Even the roofs in Perugia have character:
And only in Perugia, would something as mundane as an aqueduct be worthy of a photo opp – but of course the aqueducts in Perugia date back to the middle ages!
Don't miss out on an Italian sunset at one of the little parks in the town. The sunsets are beautiful and peaceful whether your solo or with your special someone, they are just downright romantic. After all Italy is all about art and passion.
Perugia is well located to enjoy the entire region and you can easily travel by train to the neighboring towns on day excursions. Throughout the year the town hosts several different festivals such as the annual Jazz Festival and of course the anticipated chocolate festival. Let me tell you more about that!
Related Reading: The Dolomites Trek
Related Reading: 16 Photos That Will Make You Want to Travel to Lecco, Italy
Chocolate In Perugia
Now that I've hopefully convinced you of Perugia's charm, it's time for the chocolate.  Do you know those Baci kisses that taste so good?
Made in Perugia!  Perugia is also known for being a university town so why not go back to school – Chocolate School that is (site is only in Italian)!  I didn't attend chocolate school, but I did "grade" the results, which were definitely worthy of an "A" grade.
Real chocoholics know the best time to come to Perugia is in October for the Eurochocolate Festival which is held annually.  Perfect for those of us that would rather just eat the chocolate than make it.
Related Reading: Hiking the Italian Riviera: Cinque Terre & Beyond
Related Reading: 5 Travel Tips You Need to Know Before Visiting Cinque Terre
And Then There Is The Scandal
When you're not eating chocolate or admiring the charm of Perugia, you can seek out the latest scandals and there are some big ones!
Like the fact that former Libyan leader Mummar Gaddafi's son, Al-Saadi Gadafi played for Perugia's football (soccer for N. Americans) club.  Admittedly it was in 2003 and was only one substitute appearance though as he soon thereafter failed a drug test.
Ironically, or perhaps not, his trainer was Canadian former Olympian sprinter Ben Johnson who lost his medals since he also failed a drug test.
Or you may be familiar with the American exchange student Amanda Knox who was initially found guilty of murdering Meredith Kircher, but who successfully appealed the court's decision?  It happened in Perugia when she was a student.
If the walls of Perugia could talk!  But I still prefer the charm, followed by the chocolate.  Scandal is not really my thing, although it does give a place character.  Which do you prefer, charm, chocolate or scandal?
Related Reading: Molise: Italy's Last Undiscovered Region
Know Before You Go to Perugia, Umbria
Perugia is located ~164km north from Rome (be sure to check out the Rome Coliseum, visit a Rome Market or for the more adventurous, test your combat skills at Gladiator School when in Rome)
If your visiting, check out some of the other places to see in Umbria such as the Marmore's Falls, the world's largest man-made waterfall , 84km to the north, or Monti Sibillini National Park located 100km to the east where among other things, you can ride a donkey!
Accommodation in Perugia
Agriturismo Il Poggio degli Scoiattoli is a small bed and breakfast that is cozy and highly rated by guests. The property has a beautiful garden that you can relax in. Enjoy a coffee or wine on the terrace. The rooms are spacious and the it is has a great location.
Hotel Giò Wine e Jazz Area is jazz-themed and even offers each guest a compilation of jazz CDs and a stereo in each room. The mini metro is located near the hotel and in a short ride, you will find yourself at the main palazzo. Enjoy the rooftop pool in summer and the indoor gym. the hotel even has a music arcade where you can relax and listen to jazz.
Sangallo Palace is the perfect 4-Star hotel to get in some R&R during your trip. Located just a stone's throw away from the Rocca Paolina, it is perfect for exploring. Enjoy a dip in the heated swimming pool followed by a drink on the terrace that offers you the most amazing panoramic views.
Related Reading: How to Get to Cinque Terre
Tours
Enjoy a day of touring through Perugia and Assisi that includes some glorious chocolate tasting. Your guide will take you to all the most popular sites including Etruscan ruins.
Take a 2-hour walking tour through Perugia and stop at all the most interesting sites while learning more about their meaning and history. The tour will take you over the walls and into the underground streets,
Recommended Reading: Best Walking Holidays in Italy
The town of Perugia in Italy did not let me down. It gave me everything that it promised and more.