NOTE: This tour is now available if you are able to travel to Italy. Please check the entry requirements before you book.
Length: 6 Days
Availability: March 15th – November 30th
Type: Self-Guided Grade: Moderate
Early Bird Price: Save €200 when you book selected dates!
Cinque Terre Walking Tour Overview
Cinque Terre is the most popular spot in the Italian Riviera. It consists of five medieval fishing villages and a national park. It's also a UNESCO World Heritage Site. You'll hike the coastal route between these villages on a historic route that has connected villagers for centuries. This route is extremely popular so we recommend going off-season if possible. Fortunately, the mild climate makes it a great destination 9 months of the year. In addition to Cinque Terre, you'll explore other trails that most visitors miss. You'll come for Cinque Terre but these trails may just end up being your favourites with their dramatic scenery but without the crowds. One of the highlights is the hiking trail that leads to San Fruttuoso Abbey. It's a 1000-year old monastery that's only reachable by foot or by boat! Most people come by boat but you're not most people, so naturally, you come on foot.

You'll also have time to check out Portofino. It's a stunning fishing village with high-end stores lining a yacht-filled harbour. Reward your hiking efforts with a plate of fresh fish while picking out your future yacht. Another highlight is the hike from Riomaggiore, the most popular village in the Cinque Terre. You'll lose the crowds within minutes as you hike to Portovenere.
You've got the inside scoop. You know the ancient trails that locals have used for centuries while other tourists stay in town. En route, you'll pass by stunning cliffs and the most dramatic scenery on the entire tour.
Who Will Enjoy This Tour?
You'll enjoy this trip if you want a combination of an active holiday with plenty of time to relax, eat delicious Italian food with gorgeous seaside views while exploring the world-famous Cinque Terre and some of the lesser-known places in the Italian Riviera.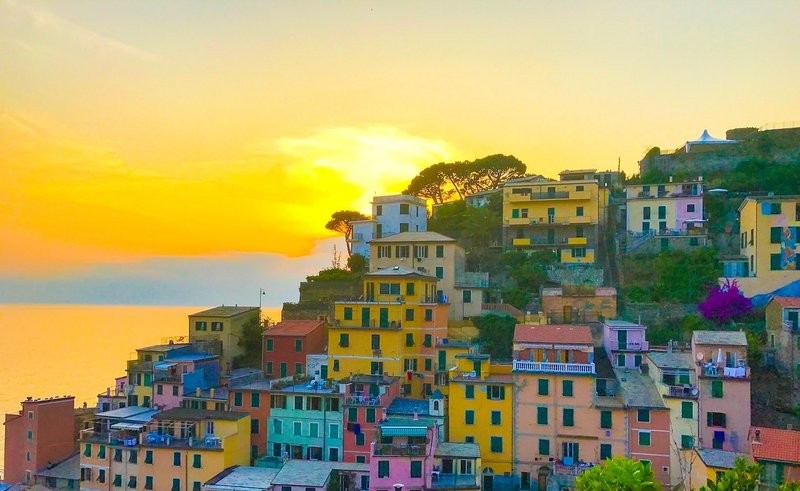 Highlights of the Cinque Terre Walking Tour
Hike the famous coastal route between the 5 famed villages known collectively as 'Cinque Terre'.
Explore some lesser-known trails that offer stunning coastal views. They're some of the best kept secrets in the Italian Riviera.
Walk among olive groves and vineyards while enjoying stunning views of the Ligurian Sea.
Indulge in delicious Italian food and wine every night (including the olive and vineyards you passed earlier) – the area is famous for its pesto, fresh fish and seafood dishes.
Relax and rejuvenate in a 4-star wellness hotel in Levanto.
What's Included
5 nights accommodation in a 4-star wellness hotel in Levanto
5 buffet breakfasts
Detailed hiking route descriptions and a map
Unlimited email support pre-tour
Support while on your tour – from the hotel
Free pickup/drop off from the train station to the hotel on arrival and departure
Free spa treatment
Map of the Cinque Terre Walking Tour
Day 1: Arrival and Scenic Walk Around Levanto to Bonassola
Levanto will be your base for the next 6 days. This popular seaside resort is the perfect gateway for visiting Cinque Terre but without the crowds that frequent Cinque Terre. You can call your hotel for a complimentary pickup on your arrival day. You're free to arrive whenever you'd like but we recommend late morning or early afternoon so that you can start your stay with a scenic walk from Levanto to Bonassola. It's a charming village that Ernest Hemmingway called sweet and memorable. Consider a dip in the Liguarian Sea before heading back.
Then, you can either walk back along the coast or take the train back before checking into your hotel.
Hiking Time: 2:30 – 3 hours, + 350 m ascent, – 350 m descent.
Day 2: Discover the first part of Cinque Terre: Hike from Levanto to Vernazza
Your hike today takes you to two of the five Cinque Terre villages. You'll start at Levanto and quickly make your way up a steep path to a Romanesque chapel built in the year 1000. A lighthouse a bit further on with wide-spreading views makes an excellent stop for a picnic. You'll descend down to Monterroso, the first of the Cinque Terre villages. This is a good place to stop for lunch at one of the many restaurants or go for a dip in the sea. It has the best beaches of the five Cinque Terre villages.
You can also take the train back to Levanto from Monterroso, but we recommend carrying on to Vernazza, the second of the Cinque Terre villages. You'll climb up to reach vineyards and lemon orchards and get spectacular views of Vernazza. Then, you'll descend to explore the bustling village of Vernazza, considered by many to be the most beautiful of the Cinque Terre villages.
It's also possible to rent a kayak here – weather permitting. Afterward, return to Levanto by train.
Hiking Time: 4:30 – 5:00 hours, + 600 m ascent, – 600 m descent
Day 3: Riomaggiore to the Madonna of Monte Nero Monastery to Porto Venere
You'll want to get an early start today as it's a long but beautiful day of hiking.
You'll take the train to Riomaggiore and quickly leave the crowds of Riomaggiore as you make your way up steep steps surrounded by vineyards. You'll find Albarolo, Bosco and Vermentino grapes. They're blended together to make Cinque Terre D.O.C. wine, which is a must-try when you're here.
You'll arrive at the Madonna of Monte Nero Monastery which offers breathtaking views of Cinque Terre including three of the villages. There are also picnic tables there so it makes a great rest stop for you to enjoy the fruits of your labour.
Then, you'll continue hiking among olive groves until you reach Campiglia where you'll find restaurants for a leisurely lunch.
Then, you'll hike through a pine forest where the trail leads you to some of the best views of the entire trip over rugged cliffs and finally over Porto Venere. You'll return to Levanto by catching a bus, then take a train. Or for beautiful views of the Cinque Terre villages, return by boat – sea conditions permitting.
Hiking Time: 5:00 – 5:30 hours, + 680 m ascent, – 680 m descent
Day 4: Explore the Peninsula of Portofino
After a 1:15 hour train ride, you'll start your hike in the gorgeous town of Camogli. You have three options for today, the longest and the one that we recommend if you're feeling up for it is below. You'll hike up to San Rocco, known for its church and church square. Then, you'll continue ascending along a shaded path until you reach a picnic area in the woods.
Then, you'll make your way down an oak-filled ravine to the magnificent site of San Fruttuoso. It's a stunning abbey hidden away at the edge of the sea and only reachable by foot or boat. After exploring the abbey, you can have lunch here – either a picnic on the beach or at one of the restaurants, you'll make your way up to Base O which has picnic tables and makes for a great rest stop.
From there, you'll continue on hiking through terraced olive groves until you reach Portofino. Stop to admire the yachts, visit the castle Castello Brown, or check out the high-end shops. You can either extend your hike by hiking to Santa Margherita, take a boat (recommended) or take a bus. From Santa Margherita, you'll take a train back to Levanto.
Hiking Time: 4:30 – 5:00 hours, + 480 m ascent, – 480 m descent
Day 5: Discover the Cinque Terre Villages: Vernazza Corniglia, Manarola, and Riomaggiore
You'll take the train to Vernazza, which will be familiar to you as it was your final destination on a previous day of hiking. Then, you'll follow the path leading you to Corniglia, the highest of the Cinque Terre towns, hiking through olive groves along the way. It's the smallest of the five villages and also the hardest to reach – a 100 m (300 ft) climb. But, it's so worth it!
After you've stopped for your gelato or cappuccino break, you'll carry onto Manarola descending 365 steps. Note: the coastal path (as of November 2017) was still closed due to flooding damage. If it's still closed, we'll provide the directions for an alternative route. You'll definitely want to find this out first before descending the stairs – if you need to take the alternative route, it starts from the village and you won't want to ascent the stairs that you've just descended.
One of my favourite things to do in Manarola is watching adventurous swimmers jump off the rocks while enjoying a tasty gelato. It's also a fun way to take a break before continuing on.
From Manarola, the regular coastal route to Riomaggiore follows Footpath #2, Via dell'Amore. It's currently closed due to the flooding damage but we can propose an alternative route that's 30 minutes longer and results in an additional 180 m of elevation gain. Take your time exploring Riomaggiore, the largest of the five Cinque Terre villages. It's also incredibly beautiful at sunset so stick around and consider having dinner here.
Hiking Time: 4:30 – 5 hours, + 550 m ascent, – 550 m descent.
Day 6: Free Time and Departure
Your stay ends after breakfast. You're free to go for one last dip in the Ligurian Sea or to relax. Check-out time is noon.
The itinerary is subject to change depending on trail closures, including the closure of the No. 2 trail which is currently closed. All times and distances given are approximate.
CINQUE TERRE WALKING TOUR INFO
Availability
This trip is available from March 15th to Nov 30th.
Booking in Advance
Book as soon as possible to ensure that accommodation is available on your start date. This region of Italy is very popular and accommodations often fill up months in advance.
Luggage
You'll be staying at the same hotel so you can leave your luggage. You only need to carry your day backpack with whatever you need for the day. You can bring a packed lunch or eat in one of the villages. It's your choice.
Grade and Terrain
Grade 2 (medium). The elevation difference is between 350 m – 680 m. However, you'll hike uphill then downhill, only to go uphill again. The trail is often on steep stairs, interspersed with balconies overlooking the omnipresent Ligurian Sea, giving you a chance to catch your breath. An average day's walk is approximately 4½ to 5 hours.
Self-Guided Tours
This walk is a self-guided tour. You get the flexibility and freedom of starting your day when you choose, hiking at your own pace and taking breaks whenever your heart (or lungs) desire.
We'll take care of booking your accommodation, provide you with a map and instructions in English. We're there for you prior to and during your trip. Ask all the questions you want. Friendly hotel staff are also available during your stay to answer any questions you may have. Our goal is to make this the easiest holiday that you've ever planned.
Location
Your hotel will be located in Levanto. You'll either hike directly from here or take a train to the starting point each day. You'll have the option to return by train, and sometimes by boat (depending on the day and weather permitting) to the same hotel each day.
Fitness Level
You should be in good physical condition and be a regular walker or hiker. The route is not technical so no prior expertise is required.
General
The distances and ascents/descents are approximations as are the hiking times, which don't include breaks. The itineraries shown may change slightly if hiking trails are closed.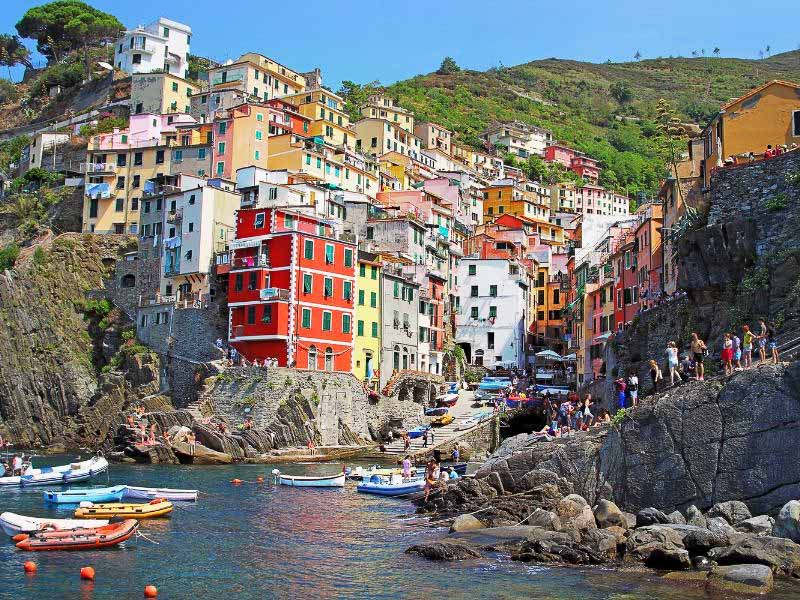 PRICING AND INCLUSIONS
Pricing
€1199 for a standard room or €1599 for a suite with a living room. Prices are per person based on double accommodation.
Save €200 when your trip takes place between March 15th – April 4th, Apr 19th – June 26th or from Sept 14th to Nov 30th. Use code "save200" at the checkout.
Inclusions
5 nights accommodation in a 4-star wellness hotel in Levanto
5 buffet breakfasts
Detailed route descriptions for hikes, walking times, and map
Unlimited email support pre-tour
Support on your tour – provided by the hotel
30-minute spa treatment
Free pickup-drop off from the train station to the hotel on your arrival and departure day
Payment Info
25% of payment is due at the time of booking. As soon as we receive your deposit, we will start making the arrangements for your accommodation.
The remaining balance is due 45 days before the onset of the trip. If you're booking within 45 days full payment is due at the time of booking. You see the booking terms and conditions by clicking here.
Extras
Transfers (trains, boats, and buses ) when required are not included but will cost approximately €30 – 50 depending on many you take and which option you choose. I.e. boat rides are usually more scenic but also more expensive than local buses or trains.
The toll to hike in Cinque Terre National Park (€7.50 per day).You can just buy the hiking permit or get one that also includes transportation on the trains. You'll require this for two days if you follow our itinerary as outlined.
Dinners and lunches.
Travel insurance that covers you for this tour and includes emergency evacuation and hospital care in the unlikely incident that you get injured. World Nomads insurance covers this which is why we recommend it.
ACCOMMODATION ON THE CINQUE TERRE WALKING TOUR
Availability
Your hotel is located in Levanto, just outside of Cinque Terre.
Your hotel was recently built in the heart of a beautiful park and includes all the facilities and comforts of a 4-star hotel to ensure that you enjoy a relaxing stay. It has an outdoor swimming pool, and a massage area, a wellness center with a Turkish bath, and sauna. Free outdoor parking is available.


Friendly staff are on hand to provide you with information about the sights to explore in the surrounding area.
The selected guest rooms for this self-guided tour are spacious, tastefully furnished and have a furnished terrace with a partial sea view and a view over the rolling hillside.

Friendly staff are on hand to provide you with information about the sights to explore in the surrounding area.
The selected guest rooms for this self-guided tour are spacious, tastefully furnished and have a furnished terrace with a partial sea view and a view over the rolling hillside.

Each room is equipped with air conditioning, satellite colour television, a safety deposit box, a minibar, a direct dial telephone, internet access, and an en-suite bathroom with a shower, a hairdryer and complimentary toiletries.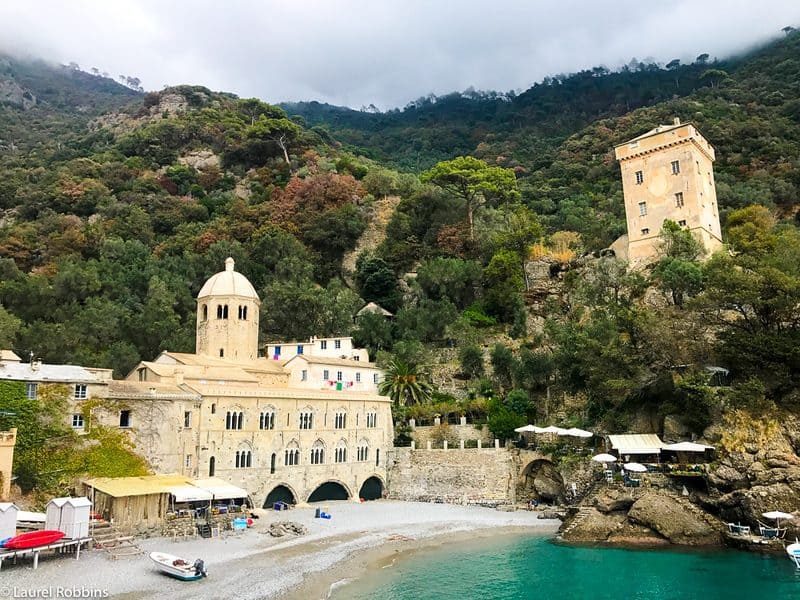 TRAVEL TO LEVANTO


By plane:
The closest airport to Levanto is Genoa, 76 km away, followed by Pisa, 100 km away. You can also fly into Milan, which is often cheaper.
I find the best deals on Skyscanner and book most of my flights through them.
Note: We highly recommend waiting to book your flights or making other travel arrangements until you receive an email from us notifying you that all your accommodation has been confirmed.
By train:
There are frequent trains from Milan, Pisa and Genova.
Here are the approximate train times depending on which train you take:
Genova to Levanto: :51 – 1:36. Cost: €5.90 to €9. A very frequent shuttle service (Volabus) will take you to the railway station in Genoa (€6, 30 minutes' journey). After this, you'll take a train to Levanto which takes approximately 1 hour.
Pisa to Levanto: 1:17 – 2:20. Cost: €9.90 – €16.10.
Milan to Levanto: 2:48 – 3:24. Cost: €9.90 to €18.85. You'll have to take a shuttle bus to the central train station in Milan. There are several bus companies to choose from. The cost is €8 and the journey takes just over an hour (allow more time for traffic)
If you arrive by train in Levanto, notify the hotel of your arrival time. A complimentary a shuttle will pick you up from the railway station and will drop you off on your departure day.
Refer to this site for train and bus options.
Our self-guided walking tour of Cinque Terre + Portofino + Portoverne gives you the freedom to walk and hike some of the most beautiful coastal trails in all of Europe on your own schedule. But without the time-consuming hassle of trying to find the most scenic routes.
We do the hard work so that you can focus on walking and choosing which flavour of gelato to eat. Contact us for booking details.
Contact Form
This tour is available from Marc 15th to Nov 30th.
What Our Clients Say About Our Cinque Terre Walking Tour
Click to see the terms and conditions for this tour.