Hell Valley Gorge is the best hike I've done in Bavaria.
Hell Valley Gorge, (Höllentalklamm in German) is located in Garmisch-Partenkirchen, a mountain resort town in the German Alps. At an admission cost of only €3, it's simply the best €3 I have ever spent.
Visitors pay a €3 entry fee, either at the beginning or the end (depending which way you enter Hell Valley Gorge) and are treated to bridges, dimly lit tunnels and catwalks following the raging water and waterfalls through the 1000m long narrow gorge.
Don't forget to look up, way up, the gorge is up to 150m in places, but watch your step, all that water makes for a slippery path.

We entered Hell Valley Gorge from the opposite side(the long way around), and turned it into a 15km hike, our idea of a fun Sunday.
This is right before the entrance (in reverse direction) and I thought "This is really pretty." but I wasn't blown away. That would come later:

Soon we entered a dimly lit cave, one of many as it would turn out. We also quickly found out that caves located in gorges leak, so wear a waterproof jacket if you don't want to get wet.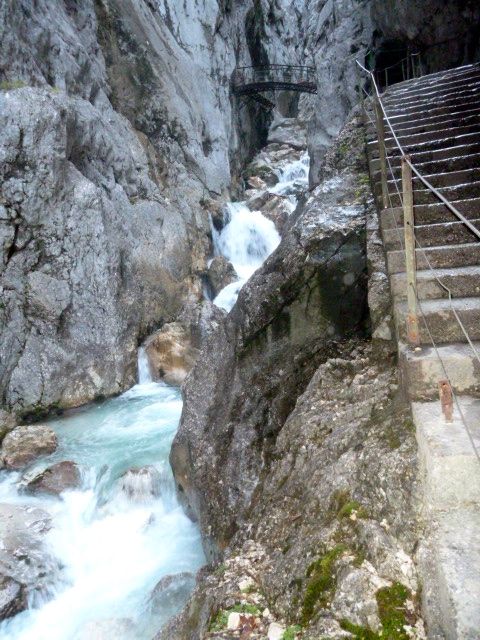 Sometimes you had the option of choosing between the path that hovered over the raging water or the tunnel.
Being so close to the roaring water was deafening. You couldn't hear unless you were standing right beside somebody. Several times other hikers crept up on me as I was taking a photo and I only noticed after I saw that they had passed me.
Combined with a slippery path, all my senses were on full alert. I felt alive. I was loving it! In a matter of minutes, Hell Valley Gorge has become my favorite hike in Bavaria.
It was such a contrast of senses, rushing violent water with serene greys and blues, that reminded me of a spa. I felt both exhilarated and relaxed at the same time.
The colors had such an impact on me that I've decided to redecorate my bathroom in the relaxing color schemes of Hell Valley Gorge and to remind me of this fascinating place every time I walk into my bathroom.
What's really remarkable is that every year the Hell Valley Gorge trails are maintained and repaired by members of the Munich Alpine Club, who keep the admission cost down by volunteering their time and to who I say a huge "thank you".
What's the best €3 you've ever spent?
Hell Valley Gorge is located in the village of Grainau at the foot of the Zugspite, Germany's highest mountain. Alternatively, you can get there from Garmisch-Partenkirchen if you are looking for a longer hike (to be described in an upcoming blog post).