Elk Island National Park in Alberta, Canada is not only one of the best places to see bison on the entire planet, but it's also only second to the Serengeti in numbers of hoofed wildlife!
Visitors can observe over 750 bison in Elk Island National Park, often called the island of conservation.
In Canada's largest completely enclosed national park, you can find plains bison on the north side of the park and wood bison on the south side. Wood bison are larger than plains bison with males weighing ~900 kg (2000 lbs), making them the largest terrestrial animal in North America! Plains bison are slightly smaller weighing in at ~15%. But they're still huge and to respected.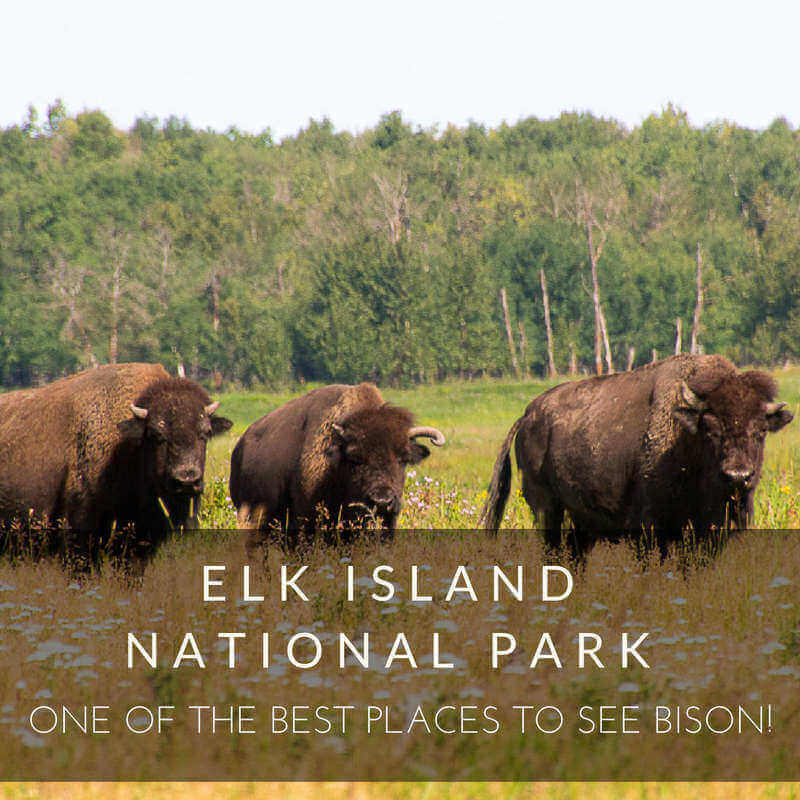 My German (then) husband and my main goal for visiting Elk Island were to see bison. Being from Europe, he had never seen a bison before, so this was especially exciting!
Within minutes upon entering, we met this lone bull on the side of the road. We had a magical few moments snapping photos (from the safety of our car). My then-husband was ecstatic that he had seen his first bison, and one so close! Mission accomplished!
Recommended Reading: The Best Way to Experience Castle Provincial Park in Alberta
Hiking in Elk Island National Park
We had done our research before our visit and choose the 16.5km Tawayik Lake Trail from this list of hikes available in the park. There are much easier trails available as well. You will be able to find something no matter what your ability or if you are hiking with young children. The terrain was a mixture of aspen forest and meadows and promised excellent opportunities to observe plains bison and elk, along with waterfowl.
Related Reading: The Best Hiking Journal and 7 Reasons You Should Keep One
Elk Island is relatively flat with few hills so it's easy hiking. I got excited whenever the wooded trail opened into a meadow, where I knew we'd have a better chance of seeing a bison. This was in contrast to the trail through the aspen woods where you couldn't see anything other than the trees on either side of us. We did see plenty of bison poop to let us know that they were here. It wasn't helped by the fact that we forgot to bring mosquito spray and were getting eaten alive. After putting on some long sleeves for protection against the mosquitos, despite the warm day, we carried on. Don't forget your mosquito spray!
And then it happened, as we entered another meadow. We saw a brown spot peaking up through the grass.
Could it be? Yes! It was a young male partially hidden by the long grass. We quieted our excited whispers as we moved closer, but not too close – bison can reach speeds of up to 65 km/ hour so it's important to keep a healthy distance between you and them. Parks Canada recommends 100 m. It's also important to understand bison behaviour. That you know whether the bison is relaxed or upset. Hint – it's all in the tail! You can find some bison safety tips here.
As we squinted a bit further into the meadow, more brown spots appeared. We gradually made our way closer to discover a herd of 32 plains bison! Despite growing up in Alberta, I had never met bison, let alone a whole heard of them while hiking. We stayed observing them for almost an hour, completely mesmerized by their guttural sounds, not convinced as to who was watching who. Although they didn't approach us, they seemed just as curious about us, as we were about them.
Recommended Reading: 6 Adventures In Whistler, British Columbia
Encountering a herd of plains bison while hiking was one of the most magical wildlife encounters I've ever had!
After reluctantly pulling ourselves away, we carried on with the rest of our hike but didn't see any more wildlife with the exception of birds. The bison sighting made this one of the most unusual and memorable hikes that I've ever done.
Where else but in Alberta do you have the chance to hike with bison on one hike, hike in the Dinosaur capital, climb Canada's deadliest rock slide and hike to a hidden fire lookout on yet another?
Wildlife in Elk Island National Park
Besides the wood and plains bison, there are over 500 deer, both white-tailed and a mule, 600+ elk, 300 moose, coyotes, and beavers. We didn't see any other species besides the bison, but we did see several beaver dams. Black bears and gray wolves also live in the park but are rarely seen by visitors.
Elk Island National Park is home to both the largest and the smallest terrestrial mammals in North America, the wood bison and the pygmy shrew!
Wood buffalo
You will only find wood buffalo on the south side of the park that's divided by highway 6. Your best chance of seeing them is by paying close attention while driving, which is when I spotted this one. For a closer encounter, hike the 16 km long Wood Bison Trail. If that's too long, head right at the trailhead and just do a short section of the trail and return. A Parks Canada employee in the Information Centre told me that they often hang out on the west side of the trail.
Related Reading: Georgian Bay Islands NP: why you need to visit this part of Canada
Bison Conservation
Elk Island National Park has long played an important role in bison conservation. In 1907 the Canadian government bought one of the last remaining purebred Plains bison herds from Montana and relocated them to a temporary way station, while Wood Buffalo National Park was being completed. Somewhere between 40 to 70 of them escaped and became the ancestors of the bison seen here today!
By the late 19th century only 300 wood bison remained, and nearly all of those were in Wood Buffalo National Park. In 1965, 23 of them were relocated to Elk Island, where a flourishing population of over 300 thrives today!
Related Reading: Things to Do in Yoho National Park: Why You Should Visit this Canadian Gem
What Else to Do in Elk Island
Although wildlife viewing was a top priority for me, Astotin Lake is also a highlight, especially for families. It has an impressive beach and you can rent canoes to take out on the lake.
There's a 9-hole golf course, which I didn't test out, but I did eat the restaurant, the only one available in the park.
While I didn't visit at night, Elk Island is part of the Beaver Hills Dark-Sky Preserve, a new UNESCO World Heritage Site. This would be a great reason to camp at Elk Island.
Related Reading: Things To Do in Jasper: The Top Attractions Not to be Missed
You'll also want to take a drive around the Bison Loop Road. It's a great place to view bison, although we only saw one despite multiple trips along this road.
Tips for Making the Most of Your Visit to Elk Island National Park
Plan your visit in advance by using the official site. This is especially important if you are going early in the morning since the Visitor Centre doesn't open until 9:30.
There's one cafeteria-style restaurant at the golf course. I would recommend bringing your own food and water.
The only accommodation available is camping. You can choose from serviced sites, including equipped camping at Astotin Lake or back country camping.
Try to plan your visit to include both the north (main) side and the south side of the park to see plains and wood bison.
To increase your chances of observing bison, go in the early morning or at dusk.
You require a Parks Canada pass to enter the park. You can buy one on-site for $19.60/car.
Remember that you can visit Elk Island all year-long. My friend Leigh from Hike Bike Travel went snowshoeing here.
Getting There
Elk Island is ~25km east of Edmonton. You'll need a car to get there.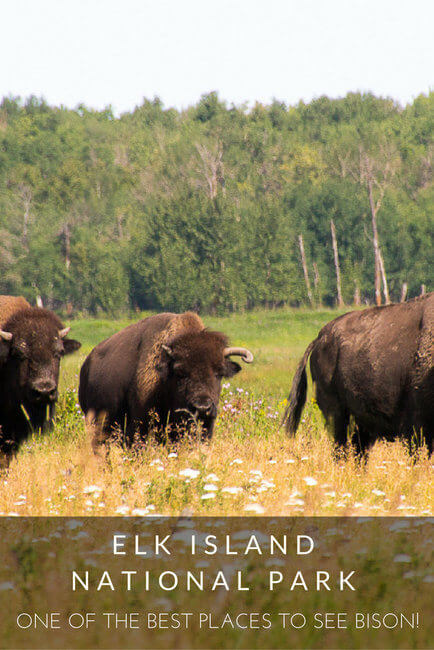 Disclosure: My visit to Elk Island was made possible by Travel Alberta. As always, all opinions are my own.