Hikers and adventure lovers will find lots to do in the gorgeous mountain town of Courmayeur, Italy, in both summer and winter.
A charming village on the steps of the Italian face of the Mont Blanc, Courmayeur is well worth spending a mountain holiday in both summer and in winter. Here's what to do and what you won't want to miss.
Where is Courmayeur?
Courmayeur is a famous alpine resort on the northwest edge of Italy, bordering France and Switzerland in the Italian Alps. It boasts stunning views of Mont Blanc. No matter the season, there are plenty of alpine adventures from hiking to skiing and mountain views with a touch of mountaineering history waiting for you.
In winter, Courmayeur is a popular ski destination with all its snow-capped mountains. In summer, lots of people doing our Self-Guided Tour du Mont Blanc stop in Courmayeur for a rest day.
If you're hiking the Tour du Mont Blanc, you can simply overnight and continue the following morning. However, if you want to take a break, Courmayeur is an excellent choice and the best place to do so on the TMB route.
The town is charming, Courmayeur restaurants are cozy and serve excellent food, and there's a lot to do whether you want to stay in the town center or up up up the snow-caped mountains.
Related Reading: Best Things to Do in the Aosta Valley (Valle d'Aosta)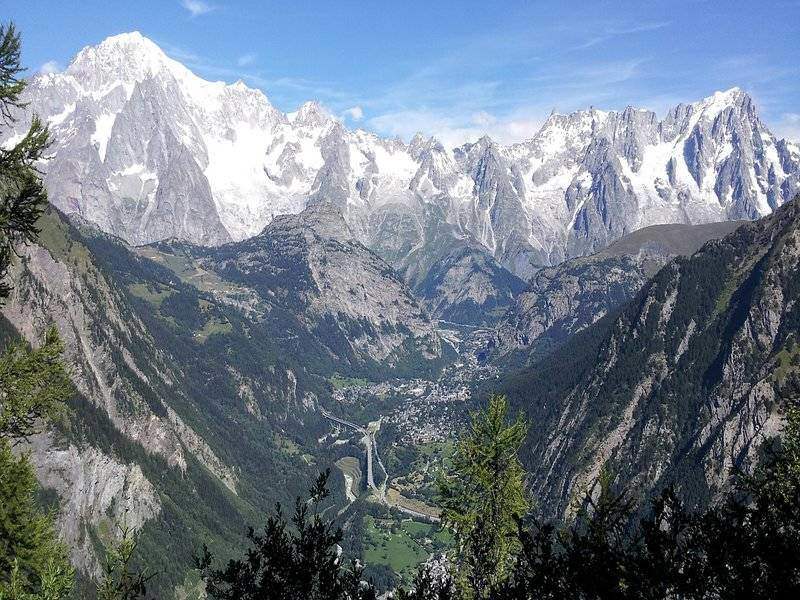 Related Reading: Alta Via 1 Hiking Tour in Dolomites Italy Entire, North or South Route
Weather in Courmayeur
At an elevation of 1,224 m (4,016 ft), Courmayeur has the typical alpine climate. Winter is cold and generally snowy, perfect for a day of skiing, while the summer season is usually short and pleasantly cool with all-around amazing views and plenty of outdoor activities to do!
Related Reading: 11 Best Cinque Terre Tours
Check out our Mont Blanc Hiking Art:
Things to do in Courmayeur, Italy, in Summer
Walk on a Mont Blanc Glacier
Embark on an extraordinary high-mountain adventure that takes you high above the clouds to the mesmerizing Mont Blanc glaciers on this half-day tour suitable for almost anyone. Experience the incredible feeling of walking on a glacier and the jaw-dropping views! No prior experience or technical knowledge is necessary. Get more details about our Mont Blanc Glacier Tours here.
Treat yourself to one of the most spectacular cablecar rides in the Alps, from Courmayeur up to Punta Helbronner at 3,466m (11,371ft).
On the terrace surrounded by the snow-capped peaks, you'll feel as if you could almost touch the sky. And if the weather is good, you might want to enjoy a lunch with one of the best alpine panoramas in Europe.
This tour includes your Skyway ticket and a 3-course lunch "Buffet Alpino" near the Pavillon du Mont Frety Station. You're free to explore on your own the rest of the time. Here are a few suggestions (note: additional entrance fees apply)
If you like botanical gardens, I suggest you spend some time at Pavillion, the first stop of the cable car. There you can visit the Saussurea Alpine Gardens and admire more than 900 species from mountains around the world.
The gardens got their name from Horace Benedict de Saussure, a scientist and alpine explorer born in Geneva at the end of the 18th century.
Recommended Reading: Where to Taste Wine in Europe: The Best Wine Tours on the Continent
Swim in Europe's Highest Heated Open-Air Mountain Swimming Pool
Located at 1700 m, you'll get fantastic views of the Alps. And the 28-32° temperatures are a great place to revive tired muscles if you're taking a break from hiking the TMB.
You can either take the Courmayeur Mont Blanc Cable Car or walk up. It takes ~ an hour and is uphill. Address: 11013 Checrouit, Aosta Valley, Italy.
Stroll in the typical villages of the Aosta Valley
Discover Dolonne, Entrèves, La Saxe and Villair, all short and easy walks from the center of Courmayeur.
Wander in the alleys, admire the ancient houses built in stone and lovingly restored, and obsrve the locals as they go about their daily routines.
Related Reading: Cinque Terre & Beyond Hiking Tour in Italy
Recommended Reading: Where to Stay in Cinque Terre
Go on a thrilling white water rafting excursion
Planning your nest summer holiday? Rafting down the rapids of the Dora River is one of the summer activities in Courmayeur preferred by adrenaline junkies. Choose from 2 hours, 1/2 day to 2-day excursions. An experienced guide will escort you to ensure your safety and a lot of fun.
Take a day trip to Chamonix
The Mont Blanc tunnel links Courmayeur, in Italy, to Chamonix in France. There's a bus connecting Chamonix to Courmayeur (and vice-versa) in 45-60 minutes.
Aside from leisurely strolling in town, you can ride the cog railway and marvel in front of the Mer de Glace glacier. For some adrenaline rush, take a tandem paragliding flight and get unique views of the glaciers with a thrill.
Related Reading: Summer in Chamonix: The 16 Best Things to Do
Great views and delicious local food at Baita l'Ermitage
There are plenty of short day hikes you can do from Courmayeur. One of my favourites is the easy walk to the Ermitage Mountain Hut, which will take you one hour at most.
The green meadows in front of the hut overlook the Mont Blanc and the Grandes Jorasses, offering some of the best views of the Alps.
You can relax in the sunchairs, and savour local food for lunch. During weekends it's better to make a reservation since this is a very popular spot.
Related Reading: 4 Best Places to Visit in January in Europe
Things to do in Courmayeur in Winter
Get your skis or snowboard ready and hit the slopes
With more than thirty slopes, Courmayeur ski resort is a favourite destination for skiers and snowboarders. There are ski runs for every level, and you can easily rent equipment in town or directly on the slopes.
If you're planning to spend a week in Courmayeur skiing at resorts, I suggest you spend a day skiing in nearby La Thuile and another in Chamonix, on the opposite side of the Mont Blanc tunnel connecting Italy with France.
Related Reading: How to Get to Cinque Terre
Backcountry and Heliskiing
If you're an experienced skier seeking more of an adventure consider a day of backcountry skiing where you may find yourself in skiing in waist-high powder on this one-day guided tour.
And if one day isn't enough and you want an adventure of skiing in a "no way back" area try a day of backcountry skiing in Vallée Blanche.
And for the ultimate luxurious adventure in skiing, try a day of heliskiing on a guided trip. You'll get 2 drops on powder-covered slopes. It's sure to be an unforgettable experience.
Note: These are high-risk activities that you do at your own risk. Monkeys and Mountains are in no way held responsible for these or any of the activities mentioned on this site.
Or if this is all sounding like a bit too much adventure for you, not to worry…
Related Reading: 5 Travel Tips You Need to Know Before Visiting Cinque Terre
Go cross-country skiing in the breathtaking Val Ferret
If you're passionate about cross-country skiing and are looking for trails with stunning views, look no further. You'll love Courmayeur Val Ferret, one of the most beautiful valleys in this area of the Alps.
There's a 20 km circuit with slopes of different levels, and you'll find a few cozy mountains huts along the way for a bite. I'm a downhill skier and tried cross country skiing only once, in the Val Ferret.
It was a fantastic experience, and I recommend you try it once.
Experience New Alpine Adventures
Aside from skiing and snowboarding, you may want to try a new winter experience in Courmayeur. How about snowshoeing, fat biking, ice climbing, heli-skiing, or ski mountaineering? You'll find it all in Courmayeur.
Related Reading: 12 Winter Destinations in Europe That You Have to Experience
Recommended Reading: Best Walking Holidays in Italy
Things to Do in Courmayeur Anytime of the Year
Paragliding Over Gran Paradiso National Park
Located in the town of Aosta (just 34 km from Courmayeur) you can fly with the birds on a tandem paragliding flight as you look over medieval castles and the stunning landscapes.
You can do it year-round. In summer, the flights will be longer thanks to the warm air thermals, but in winter, you get a majestic landscape and an exciting snow landing, so there's no wrong time of year to do it.
Pamper Yourself at the Pré Saint Didier Spa
After an exciting day on the slopes or when taking a break from hiking the TMB, there's nothing like warm thermal waters, sauna, and hydro-massage to recharge.
A bonus is the view of Mont Blanc from the outdoor thermal pool. Under a starry sky, it's pure magic. And QC Terme Pré Saint Didier is only 7km from Courmayeur.
Furthermore, if you want to indulge yourself with the ultimate treat, book a massage and choose between a wide array of treatments.
Dinner at a Mountain Hut
You can find several fine dining restaurants in Courmayeur, but one of the experiences that gets me more excited is having dinner at a mountain hut. In the evening, the cable car to Plan Chécrouit runs until midnight.
From there, you can walk to the closest restaurants, while the people from the farther mountain huts will come and drive you by snowcat or snowmobile.
Get ready for a hearty dinner of local cuisine, and an unforgettable evening.
Related Reading: Molise: Italy's Last Undiscovered Region
Where to stay in Courmayeur
Auberge de la Maison features stylish alpine decor, a wellness center, and is an excellent choice for a romantic stay.
L'Abri des Amis is a charming guesthouse, tastefully decorated, which also offers a bike rental service.
Related Reading: 16 Photos That Will Make You Want to Travel to Lecco, Italy
Villa Novecento Romantic Hotel is a boutique hotel with stunning views of the Mont Blanc. Additionally, the hotel features a spa, a small gym, and you can also book a massage.
Grand Hotel Royal e Golf is located in the center of Courmayeur and features a spa and an outdoor heated pool. Furthermore, the hotel offers free parking as well as a free ski bus to the cable car in winter.
Related Reading: Where to Stay in Courmayeur: The Best Accommodations for Hikers and Skiiers
Whether you go in summer or in winter, you'll find lots of things to do in Courmayeur, Italy at the foot of Mont Blanc.
This post has been updated and republished.