Where Is the Best Place in Sri Lanka to See Elephants?
I can answer this question in three words. IN THE WILD.

When you are researching where to see elephants in Sri Lanka, one of the first things that will find is elephant orphanages. It is often tough to tell online how reputable and conservation-focused some animal orphanages are.
They are very good at giving the illusion that they have the elephant's best interests at heart when often they're inflicting animal cruelty.
I say that, and I have a Bachelor of Science in primatology and used to work in a zoo. And I still find it difficult, especially in a previously war-torn country where elephants have been injured.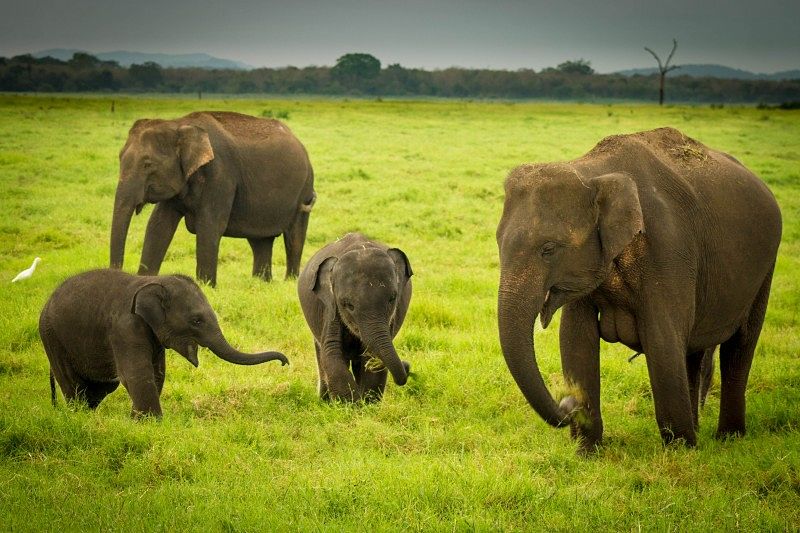 I would never knowingly support any organization that held captive elephants under the facade of rehabilitation or conservation.
In reality, some of them are just about making a quick buck to the detriment of elephants.
Various ways of using the elephants to make money include getting tourists to pay for a photo of them feeding an elephant, or even worse, riding an elephant!
So How Did I Make The Decision?
So to find out the truth about the elephant orphanages in Sri Lanka, I took to Twitter. And I asked: "Are the elephant orphanages focused on conservation or are they for the tourists?"
No one answered me publicly, but I received a DM from someone from an eco-lodge in Sri Lanka who told me to avoid them.
While in Sri Lanka I received the same message from every local in the ecotourism industry. None of them wanted to be publicly named.
Which I soon realized is a cultural trait. Sri Lankans don't want to be seen as saying something bad about someone else, but they all had the same message:
DON'T VISIT THE ELEPHANT ORPHANAGES. SEE ELEPHANTS IN THE WILD.
If you only have one or two days, then consider visiting Udawalawe National Park. You'll find a variety of tours here.
Freelance travel writer Anna Butterbrod, who is an award-winning journalist, shares her experience on the elephant orphanage:
In Sri Lanka, we had two very different experiences with elephants. One was amazing, breathtaking and absolutely thrilling, the other one was just really, really sad.
On a road trip through Sri Lanka, we stopped at the Pinnawala Elephant Orphanage (roughly between Negombo and Kandy). In our guidebook, it said that they save orphaned elephants, so this seemed like a great initiative. But once we got there, it didn't look so great anymore.
The animals seemed not well nourished and unhappy. It felt like a Disneyland with elephants: They were photo props for a ton of visitors, who were all allowed to touch them. The guards hit them with sticks.
There was an old elephant everybody took a picture of. He was chained and swinging from one side to the other.
The entrance fee is kind of pricey for Sri Lanka. But we left after 15 minutes anyway. We couldn't stand to see how poorly treated the animals were.
Fortunately, this is easier than it sounds. The Department of Wildlife Conservation in Sri Lanka estimates that there are 5879 elephants in Sri Lanka. The highest in all of Asia!
Despite that, they are still an endangered species. Much of this is due to human-elephant conflicts.
Fortunately, they are relatively safe from poaching since only 7% of Asian elephants have tusks. In Sri Lanka, it's even lower with just an estimated 2% of the elephants.

So Where Can You See Elephants in the Wild in Sri Lanka? Here are three fantastic places:
Kaudulla National Park:
Located ~200km northeast of Colombo, Kaudulla is Sri Lanka's newest national park. It's home to over 200 elephants and is part of the elephant corridor between Minneriya and Wasgomuwa National Parks.
I was fortunate enough to visit and saw the hugest herds of elephants I've ever seen! Easily 200. Even greater in number the elephants I had seen in Tembe Elephant Park in South Africa and Etosha in Namibia!
It's hard to describe the feeling of seeing so many of the second-largest land mammals on earth. Only the African elephant is larger. And so close. You could hear the grass-roots ripping from the ground as they pulled it out and wrapped it in their flexible trunks Pure magic!!!!!
Best Time To Visit Kaudulla:
The population peaks between August and December. But the best time is in August and September. Kaudulla Reservoir, located in the park attracts the elephants during the dry season.
It is known as The Gathering. As they make their pilgrimage to Minneriya. But, you can see the elephants the entire year.
Where to Stay Near Kaudulla:
Top Pick: Chaaya Village Habarana
Chaaya Village Habarana is the perfect place to stay if you want to explore Kaudulla and it is just 22km away. The 5-star hotel offers an outdoor pool, tennis, volleyball, and badminton facilities.
Each room is air-conditioned and has a private terrace as well as tea and coffee-making facilities. The hotel also offers a spa where guests can enjoy massages and other treatments.
Enjoy hiking and other adventurous activities in the area as well as great cuisine at the hotel's restaurant. I stayed here and absolutely loved it.
Top Pick: Sorowwa Resort & Spa
Located in the Habarana, Sorowwa Resort & Spa features comfortable accommodation with free Wifi access as well as an outdoor pool, rooftop terrace, and free parking.
The tooms offer lake views from the balcony as well as air-conditioning and tea and coffee facilities. Guests can enjoy the ensuite bathroom facilities. The hotel offers a great spa as well as luggage storage.
Top Pick: The Other Corner Habarana
Located a 5-minute walk from Habarana Temple, The Other Corner Habarana is a peaceful retreat amidst natural greenery. It features an outdoor swimming pool, spa, and restaurant.
The rooms are fitted with wooden furnishings and air-conditioners and sport beautiful thatched straw roofs and windows that provide great natural light. Guests can enjoy private en-suite bathrooms. The hotel offers fishing trips, barbecue facilities, and bicycle rentals.
Related Reading: Hiking The Lion Rock in Sri Lanka
Recommended Wildlife Safari Tour:
I was in disbelief at seeing how dangerously close to the elephants some tour operators get. I saw two jeeps that were charged by angry males.
It's also possible to arrange jeep safaris from Polonnaruwa, Sigiriya, or Dambulla. Don't believe me when I say magical? Check out Paul from Global Help Swap's take on Kaudulla National Park.
Hint: His first word in the blog post is mesmerized!
Wildlife tip: As mentioned above some jeep drivers in Sri Lanka have a habit of getting too close to wildlife. Not only is this disturbing to wildlife, but it's also especially dangerous around elephants. They're huge, and you don't want them charging your vehicle.
In addition to what I saw happen with elephants in Kaudulla National park, the same thing occurred in Yala National Park with leopards. Ask your driver to keep a respectable distance from the animal. Insist on it if they are getting too close.
Your safety and the animal's welfare are far more important than getting too close for a better photo!
Minneriya National Park
Minneriya is located just over 180km northeast of Colombo. Minneriya is famous for The Gathering. This event sees hundreds of elephants make the trip during the dry season (July to early November) to an ancient reservoir.
This migration has happened for centuries and sounds spectacular! Check out CNN's report on The Gathering for further info.
Minneriya is also located near Sigiriya Rock and with the right tour, you will be able to explore both the park as well as this wonderful cultural landmark.
Tours in Minneriya
Top Pick: Minneriya National Park Private Safari
Enjoy the beauty of Sri Lanka's majestic giants and beautiful tropical forests on this tour. Minneriya National Park attracts up to 300 giants from the neighboring national parks during August and September.
See the wildlife of Sri Lanka including spotted deer, mongoose, sloth bears, leopards, and primates. The tour takes up to 6 people at a time and pickup and drop-off are available from places within 5km of the park gate. This tour does not include entrance tickets.
Top Pick: Visit Sigiriya and Jeep Safari at Minneriya National Park
Experience the best of Sri Lanka on this wonderful tour. Enjoy a private day trip from Colombo or Negombo to two of Sri Lanka's most iconic sites, Minneriya National Park and Sigiriya Rock. The tour offers lunch and entry fees to both sites.
The driver/guide will give you insights on the route and you will be able to explore Sigiriya Rock on your own before going on to Minneriya to spot elephants.
Where to Stay Near Minneriya
Top Pick: Mutu Village
Located in Habarane, Mutu Village offers stunning accommodation which is just 500 meters from the local bus stop. The hotel offers a garden with barbecue facilities as well as private bathrooms in each of the rooms.
Each of the rooms is tiled and offers ironing facilities. There are several restaurants and cafes within driving distance and the Minneriya National Park is a 15 minutes drive from the hotel.
Several restaurants and cafés are located within 15 minutes drive. The accommodation can provide guests with suggestions and information on nearby eating facilities.
Top Pick: Vaana Resort
Located in Habarana, Vaana Resort is a 3-star hotel offering an onsite restaurant, free parking and an outdoor swimming pool. It is about 15 minutes from Minneriya by car.
Guests can enjoy comfortable accommodation with lake views, and access to a garden and a terrace. All units are equipped with air conditioning, TV, and a private bathroom. Kids can enjoy the playground and the hotel also offers bike and car hire to explore the surroundings.
Top Pick: Asnara Village
Located in Habarana and just 9.6km from Minneriya National Park, Asnara Village features an outdoor pool and an onsite restaurant. The property offers free parking and wifi access in public areas.
Each of the rooms has a balcony offering a view of the garden and pool and has a sofa. The guest rooms are also equipped with air conditioning, a fan and ironing facilities. The premises offers a billiards table as well as ass bicycle and car rentals.
Top Pick: Jays Holiday Resort
Just 2km away from the Habarana Railway Station and 10km from Minneriya National Park, Jays Holiday Resort is a good option to explore Sri Lanka's great wildlife and elephants.
The premises offers an outdoor pool, an onsite restaurant, and free internet in public areas. Each stand-alone bungalow offers wooden interiors and comes equipped with air conditioning, mosquito nets, and an en suite bathroom.
The restaurant offers a mix of western and traditional foods and there is a barbecue facility in the garden.
Udawalawe National Park
In the opposite direction from Kaudulla and Minneriya is Udawalawe, ~180km southeast from Colombo. I was supposed to visit this park for a day and even booked a guest house. But changed my plans instead for an extra day at Yala National Park.
I loved my time at Yala. So I can't say that I regret my decision. Udawalawe is not the most beautiful. But, in my opinion, the ~250 resident elephants more than compensate.
The park is quite small, and much of the landscape is open. Which makes it perfect for spotting elephants.
You're almost guaranteed to see elephants here.
Try to time your visit around feeding time so that you can see elephants up close. There's nothing that will get you saying awwww faster than watching hungry elephant calves gobble up their lunch.
Anna, who had the awful experience of visiting the elephant orphanage on her first trip to Sri Lanka, had a much different experience at Udawalawe:
On another trip to Sri Lanka, we visited Udawalawe National Park. It was one of the best wildlife experiences I've ever had!
We drove through the park with a jeep and saw so many healthy elephants – many families with baby animals, which was really cute. Our driver made sure to keep a healthy distance to them and not disturb them.
We watched elephants feeding on trees, bathing in a river, sleeping… It was such a great experience to see them living in their real habitat. I'd love to go back to Udawalawe!
Diana from d travels 'round, who volunteered full-time for two years at Save Elephant Foundation in Thailand was also impressed. Check out what she thought of Udawalawe.
These are certainly not the only places you can see an elephant in Sri Lanka, but they are your best chances of seeing the largest herds.
Having said that, I also had a very nice 15-minute encounter with a juvenile male elephant in Yala. We stayed a respectable distance away and he carried on eating his breakfast while we snapped photos.
It was truly an incredible way to start the day! If you have any other elephant spotting recommendations, please leave them in the comments below.
Want to know more about the Sri Lankan Elephant? Check out this BBC documentary, Sri Lanka, Elephant Island! Note: May is not available from all viewing locations.
Tours in Udawalawe National Park
Top Pick: Udawalawe National Park Private Safari
This tour will help you experience the best of Udawalawe National Park with an experienced guide in a sturdy vehicle. The tour is one of the highest-rated of its kind. See elephants, water buffalo, wild boar, toque macaque, leopards and so much more in one of Sri Lanka's best parks.
The tour takes a maximum of 6 passengers and includes pick-up and drop-off if you are staying less than 5km away from the entrance to Udalawe National Park.
Choose between a 3-hour or a 10-hour safari tour which includes free admissions tickets to the park. Choose a morning departure for a better chance of seeing elephants on your safari.
This tour, which is highly rated by past clients, offers a selection of tours that you can take during the morning, afternoon or over a full day. Get a first-hand look at some of the most beautiful animals in the wild including elephants.
Hotel transfers from inside the park are free whereas from transfers from outside the park are available at Enjoy complimentary hotel transfers from inside the park, or outside transfers at an extra cost. The tour includes the park fees. The half-day tours are a duration of hours.
Top Pick: Udawalawe National Park Private Safari with Naturalist
This guided safari guide will have your guide in the back of the jeep with you providing information while you enjoy the wonderful sites. You will explore the marshes, forests, and grasslands of the park looking for wonderful wildlife including the park's gentle giants, the elephants.
Learn why Sri Lanka's elephants are so unique and different from Indian and African elephants. Your guide is also a trained bird watcher and will point out some of the special birds of Udawalawe National Park.
The tour offers space for a maximum of 6 passengers and includes admission fees and is available for half-day tours in the afternoon and evening as well as full-day tours.
The tour offers complimentary pickup and drop-off within a 5km radius from the park. Guests are also offered food and drinks while on the tour. The tour takes a total of 3 hours for the half-day option.
Where to Stay in Udawalawe National Park
Top Pick: Nil Diya Mankada Safari Lodge
Just 9km from Udawalawe National Park, Nil Diya Mankada Safari Lodge is a 4-star hotel that offers comfort to its guests. The hotel offers an onsite restaurant, free wifi, and parking if you require it.
All guest rooms are air-conditioned and include a seating area for your comfort as well as a private bathroom with a shower. This is the perfect accommodation option if you are looking for outdoor activities such as fishing and cycling.
The hotel also offers bike and car hire and can arrange safaris into the nearby park. You won't miss out on Udawalawe's beautiful elephants.
Top Pick: Buddika Safari & Resort
This wonderful guest house offers a children's playground and free onsite parking. Buddika Safari & Resort is located in Udawalawe town, near the national park.
Each guest room is air-conditioned and includes a kettle and private bathroom fitted with a hot tub and bath or shower. Some of the rooms also include a seating area. This is the perfect location to enjoy safaris, cycling and hiking.
Top Pick: Royal Tusker Hotel
The Royal Tusker Hotel is set in Udawalawe, just 1km from the National park. The hotel offers a 24-hour front desk and a restaurant. There is a wonderful shared lounge that can be enjoyed by all guests.
All guestrooms are fitted with a kettle, private bathrooms and some rooms have a terrace. Enjoy a continental breakfast each morning. The hotel is very popular if you are interested in Safaris and cycling.
Top Pick: Kuma Safari Lodge
Located just 1.4km from the Udawalawe National Park, the Kuma Safari Lodge provides great accommodation. The lodge boasts its own restaurant, free private parking, and a wonderful garden.
It is the perfect pick if you are interested in exploring Sri Lanka's wildlife and elephants. The rooms have a garden view and include a guest and free wifi. Enjoy the wonderful daily buffet breakfast.
But wherever you decide to see an elephant in Sri Lanka, I implore you to see elephants in the wild, not at an elephant orphanage!
I took all of the photos in Kaudulla. Check to see if you are a responsible tourist. I was surprised to find out that I am not as responsible as I thought. Are you accidentally harming animals during your travels? Click here to find out.
Note: My trip to observe elephants in Kaudulla was made possible by Cinnamon Nature Trails.
This post has been updated and republished.