The Iron Curtain was the ideological divide that separated Europe for almost 50 years. Its namesake trail is a 10,000 km long cycling route that follows this divide.
When many people think of the Iron Curtain they think of Berlin, most notably the Berlin Wall or Eastern Europe. Most people probably do not think of Finland. I know I didn't and was surprised to learn that Finland was attacked by the USSR in 1939. The Iron Curtain Trail takes you through many of the important landmarks. The places are interesting and breathtaking at the same time.
They fought both the Winter War and the Continuation War against the Soviet Union in World War II. The casualties on both sides were severe. 90,000 Finns died and 320,000 on the Soviet side. To keep the peace, Finland reluctantly gave more than 10% of its pre-Winter War territory to the Soviet Union.
I'm admittedly not a war history buff. But when you're actually standing in the place where battles and historical events took place, it's different. It's meaningful!
While I cycled 1350 km of the Iron Curtain Trail, which runs 1700 km long in Finland, it would also make for an excellent road trip. Here's what you definitely don't want to miss:
Wooden Church in Kerimäki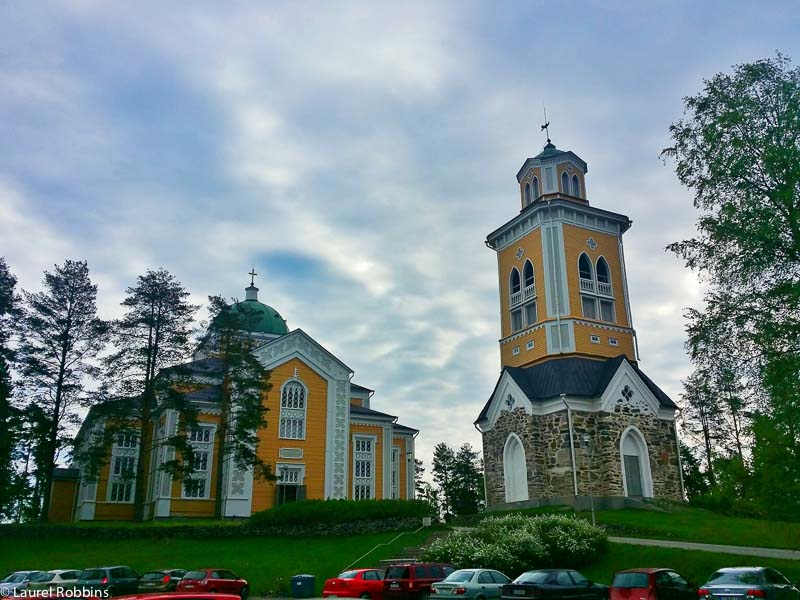 Kerimäki Wooden Church doesn't have anything to do with the Iron Curtain Trail, except that it's on the trail. It's too good of a chance to miss seeing the largest wooden church in the world! I didn't have a chance to peek inside since I was there on a Sunday morning and didn't want to interrupt the service, but I enjoyed the view across the street from an outdoor cafe. It seats an incredible 3000 people and holds 5000!
Location: Hälväntie 1, 58200 Kerimäki.
Värtsilä

Värtsilä is a region in Eastern Finland that lost much of its territory to the Soviet Union. The small farming community isn't exactly a tourist attraction, as it doesn't even have a corner store, and there's no museum to speak of, but I found the conversations with locals fascinating.
They explained how many of their neighbors had to move immediately after the land where they lived and had built their homes, was now part of the Soviet Union. Everything they had worked so hard for was gone in an instant.
The Finnish government did provide plots of land for its displaced people, but still, life was hard, and everything had to be rebuilt. These are fascinating conversations, but also very sensitive, so proceed with caution – it will still be too painful for some people to discuss. This may not be one of the "fancier" stops on the Iron Curtain Trail, but I think it was one of the most meaningful.
Chapel in Mutalahti: Iron Curtain Trail

Mutalahti is a village in southeastern Ilomantsi. It originally belonged to the ancient village of Melaselkä, but after WW II, Melaselkä was annexed into Russia. This chapel was built to replace the old one in Melaselkä that had been destroyed during the Finnish-Russian War in 1941 – 1944.
Parppeinvaara Bardic Village in Ilomantsi
I enjoyed my visit to this outdoor museum. Its hilltop location provides far-ranging views all the way to Russia. Here you can also discover the Karelian tradition of poem-singing, Karelian cuisine, and learn more about the war-time events that took place nearby. It is one of the must-sees on the Iron Curtain Trail.
Admission: €7 for adults
Location: Parppeinvaara, Parppeintie 4 C, 82900 Ilomantsi
Further info: Parppeinvaara Bardic Village
Orthodox Tsasouna in Haatuvaara
This chapel located in the village of Haatuvaara is the oldest Orthodox tsasouna in Finland and an excellent example of Karelian architecture. It dates back to 1792. During WWII, the small tower became a watchtower. Across the road, you'll find an Outdoor Museum with some artifacts from the war.
Anti-Tank Obstacle near Kuhmo
Near Kuhmo, you will find a part of the anti-tank obstacle, the Salpaline. It's the largest building site in Finland constructed of barbed wire, wooden constructions and these boulders surrounding part of the lake. It was part of a design by Finnish engineers built between 1939 and 1941 to slow the expected attack of the Soviet Union. At its peak, 35,000 men were working on it. In some ways, it is a morbid stop on the Iron Curtain Trail but nonetheless its a large part of the history and a place of interest.
Winter War Museum Raatteen Portti Near Suomussalmi
Visitors can learn more about the events that took place at Suomussalmi during the 105 days of the Winter War. Most of the exhibit signs are only in Finnish, but there is a film with English subtitles. There's also a cafe which makes for a nice rest stop.
You'll also find the Winter War Monument, a sobering monument honoring all the men that died. Another nearby stop that I unfortunately missed, and while not related to the Iron Curtain Trail, but may be of interest, is the Soiva Metsä. It's a: forest filled with artistic instruments that can not only be played but are as well pieces of art. I would add that to my must-see on the Iron Curtain Trail.
Anti-Tank Obstacle, and Museum of War and Reconstruction in Salla
I missed the Salla Museum of War and Reconstruction since I arrived after it closed and left before it opened, but along the main drag, you can see more of the remains of the anti-tank obstacle directly in Salla.
I LOVED my time in Salla, and while the Iron Curtain Trail does go further north, all the way to Näätämö, these were the highlights that I enjoyed the most. Disclosure: I did veer off the Iron Curtain Trail just north of Inari to reach Nuorgam, the most northern point in Finland, so it's possible that there are other incredible sites north of Inari that I didn't discover.
So whether you cycle or drive, the Iron Curtain Trail makes for worthy off-the-beaten-path travels, for both war history buffs and nature lovers through this mainly remote part of Finland.