Last Updated on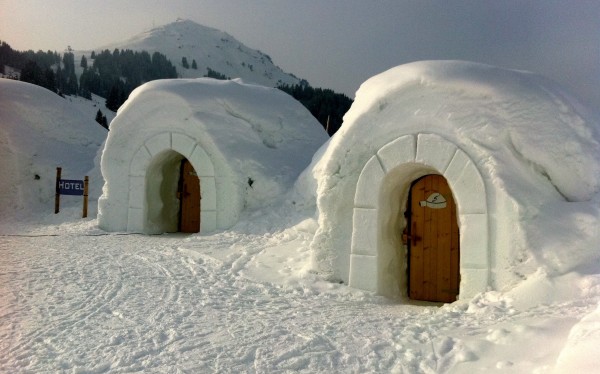 As I ducked my head and stepped into the first corridor of the igloo village I noticed it was warmer than outside. Soft pink and blue lights illuminated skiers downing shots before they ventured out into the cold again. "OK, yes it's cool, let's stay, have a drink but skip the tour," J.P. hopefully suggested. He should know better by now. Two minutes later we were on a tour of the rest of the igloo village which is only open to guests or via tour-guide.
Alpeniglu is an igloo village consisting of 18 igloos, located at SkiWelt in Wilder Kaiser, Austria. It's constructed entirely of ice and snow. Guests can show up for one of the tours offered every 30 minutes, book an evening program which includes a fondue dinner or choose to spend a night in an igloo. We choose the 20 minute tour.
My favorite part of the igloo village were the ice sculptures which are carved by artists from around the world. Every year the theme is different. This year's theme was a journey back in time and featured dinosaurs, Romans and knights.
If a tour is too tame for you, consider getting married in the Igloo Church, or even holding a baptism there. Although our guide admitted that baptisms are not done very frequently at the Igloo Village.
I was surprised to learn that the igloo village is only -2C which seemed practically balmy compared to the -14C outside. I am constantly freezing (yes I know that's odd since I come from Canada), but even I'll admit that the sleeping igloos and the sleeping bags looked quite warm in the sleeping igloos. Our guide agreed and said guests found they were was warm – except for their noses which stuck outside of their sleeping bags. But I decided on the spot that while sleeping in an igloo would be an experience, it would not be a romantic one. "Why not?" J.P. asked, eager to convince me to sleep in an igloo. "Because there are two mummy sleeping bags and it's cold enough that we would each be zipped up so that cuddling – let alone anything else wouldn't be an option. " "Hmmm…Maybe I don't want to sleep in an igloo," he concurred. Men!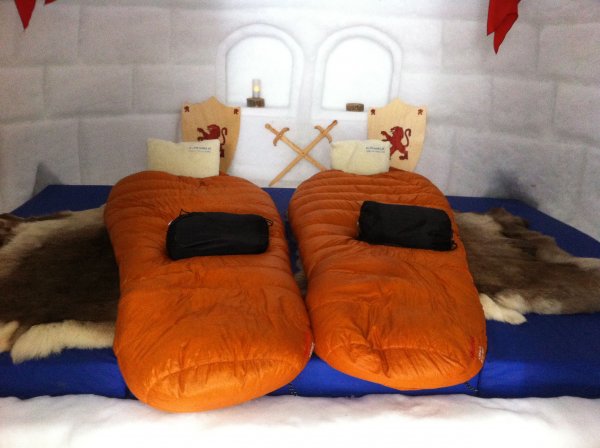 But besides the lack of romance, there was a bigger problem, "Where do you go to the bathroom?" I inquired. Our guide smiled, as she told us the bathrooms were located outside, as in outside in the freezing cold. That did it. I'm happy to dive with sharks, and have a pretty adventurous bucket list, but leave my igloo to go pee outside in the middle of the night? Forget it! Even I have my limits! You can find me in the igloo bar!
Would you sleep in an igloo?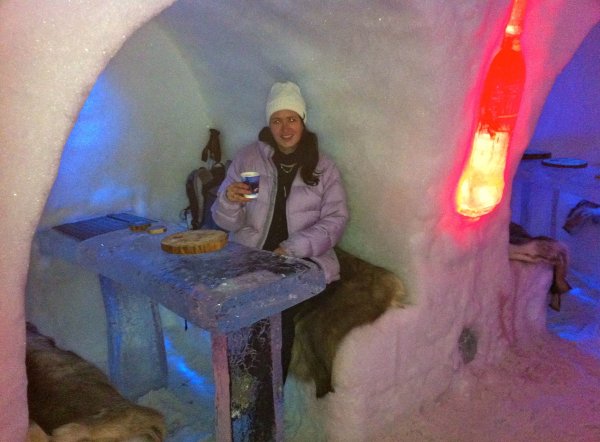 Logistics of Getting to the Igloo Village
The igloo village of Alpeniglu is located on the ski hill at Brixem im Thale, Austria. It is easily reached by a tram. We choose to hike which takes between 1:00 – 1:30 hours. Hiking to the Igloo Village results in walking along a road for most of the way, which is not terribly exciting for hikers, but there are good views and few cars. Note there are no signs, so get good directions from the tram staff before heading out. I would highly recommend checking out Alpeniglu if you were already skiing, but as a day trip, it's a long way to go for the 20 minute tour (5€/person ). In my opinion, it would be worth it if you were doing the evening program or staying overnight, and don't mind paying the 95€/person or 185€ person (not igloo) respectively. For more info check out Alpeniglu's website at www.alpeniglu.com.