Hlane Royal National Park in Swaziland is the perfect place for a safari that includes some unique options like cycling, hiking and more. I observed rhinos, elephants, giraffes, and lions, all in just a few hours.
How to Have a Perfect Day at Hlane Royal National Park
I had an almost perfect day, but not quite. Why? I wasn't in Hlane Royal National Park for long enough and had to leave long before I was ready to! Yes, I know, poor me, but as a result, I have designed my perfect day in Hlane Royal Park.
This way you can experience everything Hlane Royal National Park has to offer and not miss out on anything. I also hope it will serve as my future itinerary for when I hopefully return.

Morning Bide Ride Through Hlane Royal National Park
I would start the day off with an early morning bike ride through the Hlane Royal National Park. Can you imagine cycling through the savannah? If cycling is not your thing, guided hikes are also offered. Sonnyboy, the park manager recommends doing it first thing in the morning before it gets too hot. &nbsp
It would be such a different way to experience the park and you never know who you're going to bump into – perhaps an impala? Or maybe one of the "Ugly Five" like a hyena or a warthog – both of who I find adorable and definitely don't think either belong on the "Ugly Five".
Ever wanted to try and out-cycle a lion? Or weave your bike through a herd of elephants? No chance of it here, luckily, since they're in a separate (gated) area of the park.
Related Reading: Curious Onlookers: The Samango Monkeys of iSimangaliso Wetland Park
Game Drive in Hllane Royal Park in Swaziland
Next, I would do the Game Drive at 11:00 am. This is what I went on and I loved it. Our guide Napoleon had incredible eyes and could spot a sleeping camouflaged lion from 10 meters away.
Something I didn't see until we were much closer and he pointed straight at it. It's also your chance to observe African elephants, something that is only safe to do with a safari jeep.
I would then have lunch in the Ndlovu Restaurant where you can observe giraffes or even rhinos at the watering hole. Talk about some incredible company!
Related Reading: These 9 Wildlife Books Should Be On Your Reading List
Rhino Drive at Hllane
Belly full, I would hop on the safari jeep for the rhino drive at 3:00 pm. The rhino drive consists of driving around in a safari jeep with a guide looking for….you guessed it… rhinos. No African Safari is complete without trying to spot rhinos.
But not only do you drive around, if the rhinos are relaxed your guide may even let you get out of the jeep and slowly move closer to the rhinos to get a better glimpse of these endangered animals poached for their horns.
I was incredibly jealous when I saw a group of people out of their jeep getting a closer look at the rhinos. Most of the rhinos are white rhino's which are much calmer and less violent than black rhinos.
This option was not available on the Game Drive that I was on, only on the Rhino Drive – I would chew off my right leg (well maybe my left leg) to get closer to such a remarkable animal!
Thankfully, I didn't have to chew off any legs. The icing on the cake was observing four rhinos in the wild, including a baby rhino and his mother. It was incredible to observe such a critically endangered animal in their natural habitat, just hanging out. I must say that the best part of an African Safari is getting to see these beautiful giants up close.
This was one of the highlights of my visit to Hlane Royal National Park.
Related Reading: My Wild South African and Swaziland Adventures
A Touch of African Royalty
Finally, I would end my day by staying at Ndlovu Camp, the main camp at Hlane Royal National Park. It's a self-catered cottage that Mswati III, the King of Swaziland stays at when he visits. Fortunately, it's also available for non-royalty as well so you can feel like royalty!
There's no electricity, (the appliances are run by gas) and lighting is by kerosene lamps. It's rustic but spacious and appears very comfortable. Guests can either eat at the nearby restaurant or use their own private Braai (BBQ) area while observing animals around the watering hole.
I didn't stay there. However, a guest told me that the sounds you hear at night make for an entertaining guessing game as you try and guess which animal is making which sound. There's an electric fence separating you from the animals so you can sleep safe and sound.
I don't know how good I would be at differentiating a hyena from a monkey, but I think it would be fun to give it a shot!
Related Reading: Whale Watching in St Lucia, South Africa

Hlane Royal National Park Visitor Info
Guided cycling and hiking tours can be arranged with as few as 1-2 people and at any time throughout the day with advance notice.
The best time to visit Hlane Royal National Park is between June to early September, because its winter and the watering holes are more limited, increasing your chances of seeing more animals.
In addition to the Hlane Royal National Park, there is also Mkhaya which is home to Swaziland's only black rhino population and Mlilwane, which offers lots of family-friendly activities. I didn't have time to visit either of these parks, but would like to.
All revenues from the park are redirected towards a private non-profit conservation trust.
Hlane Royal National Park is located just over 100 km from Mbabane, the capital of Swaziland.
Click here to visit the website for more information
Where to Stay
Hlane Royal National Park has 2 camps one of which is the Ndlovu Camp and the Bhubesi Camp. As mentioned above I would have loved to stay at the Ndlovu Camp. After all, it is favoured by royalty.
The camp offers you anything from 2 bedroom units to 4 bedroom units that are perfect if you're bringing the whole family along. The Bhubesi Camp is 30km away from Ndlovu and offers 2 bedroom units that are perfect for 4 adults or a family.
Hlane Royal National Park is a treasure trove of beauty and wilderness. Next time I'll surely enjoy everything it has to offer.
Thank you to Hlane Royal National Park for making my visit possible. As always all opinions expressed are my own.
This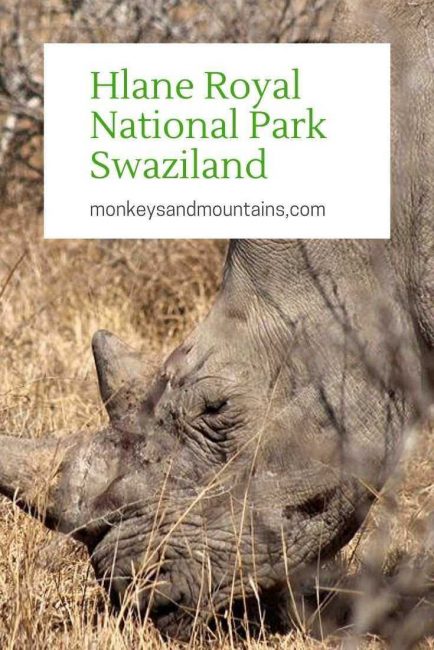 This post was originally published in Sept 2012 but updated and republished in Sept 2019.