Munich is famous for its Christmas markets, but there is so much more you can do, should you be lucky enough to celebrate a German Christmas in Munich!
Christmas Markets in Munich
A massive part of a German Christmas is the Christmas market. The Christmas market stalls alone are worth visiting Munich for, not to mention all the Christmas markets in the surrounding area!
Be sure to check Skyscanner for a last-minute flight! Munich, the famous food market has it all! It is the largest market in Germany, and has a whopping 17ish (hard to find the exact count, since many of them are small and 1 or 2-day events) Christmas markets! Each one has its own unique flair and offers something unique.
Below you'll find a short guide. It is by no means comprehensive but covers the main ones.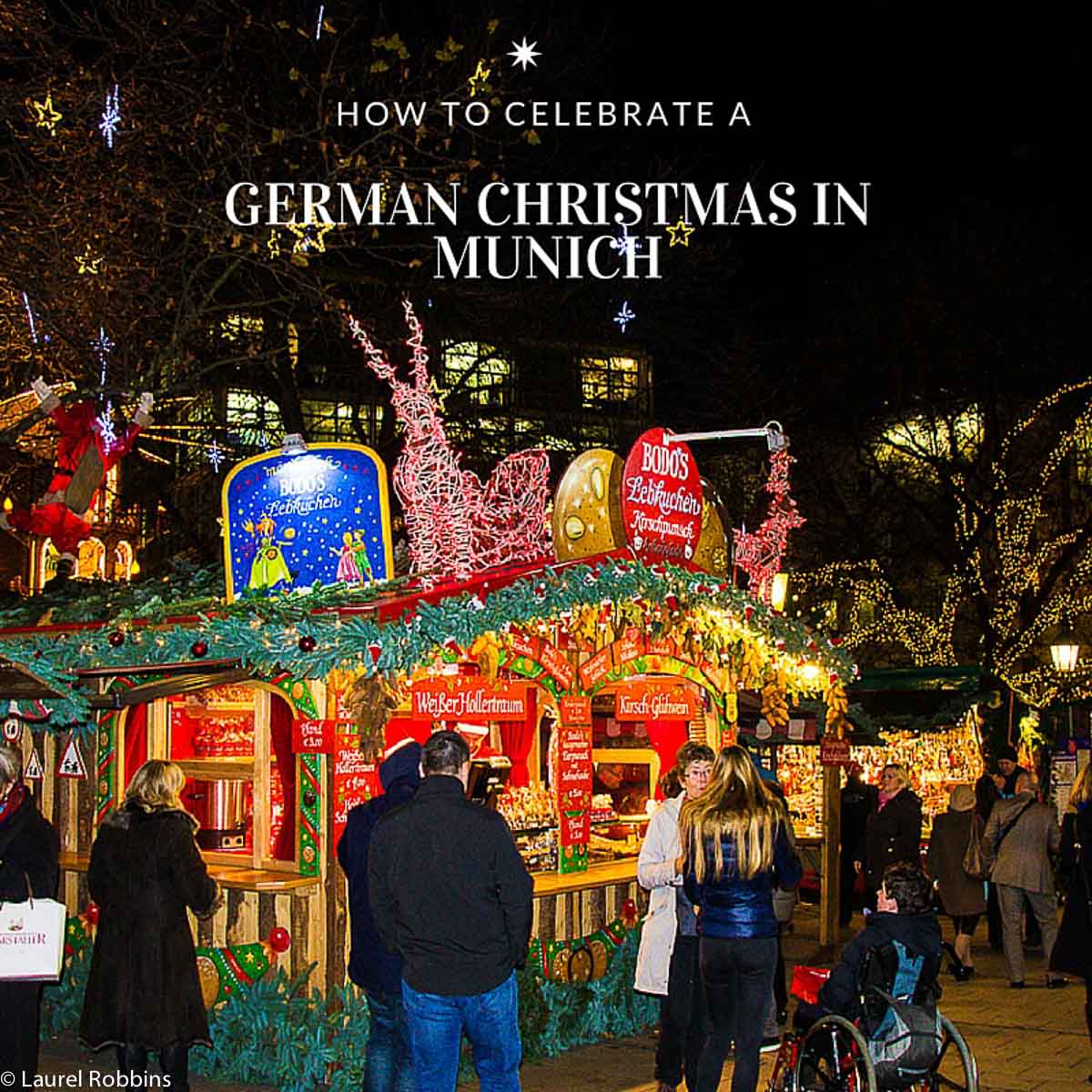 The largest and oldest is the Munich Christmas Market at Marienplatz (on until Dec. 24th). Nearby, you'll find the Christmas Village in the courtyard of the Munich Residenz (until Dec. 22nd). This has some of the best food stalls around and is great for kids (and kids at heart) with its animated displays – who can resist a singing moose?
Go back in time to the Middle Ages Christmas Market in Wittelsbacherplatz (on until Dec. 23rd). For a unique spin on a beer garden, check out the Chinese Tower Christmas Market (until Dec. 23rd) in the English Garden.
This is the most romantic of all the Christmas markets in my opinion! If you're in the market for unique handicrafts the Schwabing Christmas Market is the place to go (until Dec. 23rd).
Head to the Haidhausen Christmas Market (until Dec. 24th), a popular one with locals where stars hung from trees will light up your night!
Tollwood Winter Festival (until Dec. 23rd) includes a Christmas market, along with organic food from around the world, handicrafts, performances, and concerts. There's something for everyone of all ages during this holiday season!
Christmas is celebrated on Christmas Eve and There is No "Boxing Day" in Germany
Unlike in North America, many Germans celebrate the gift opening on Dec. 24th. The larger Christmas meal is served on Dec. 25th, and there is no "Boxing Day" on Dec. 26th. It's simply called "Zweite Weihnachtsfeiertag" "2nd Christmas Holiday" and almost everything is closed from mid-day on the 24th, 25th, and 26th.
There is no shopping and most of the smaller restaurants and even bakeries are closed. You will need to either buy your food in advance if you are staying in an Airbnb, or plan to eat at a large hotel, which will still be open.
Alternatively, the Hofbräuhaus, Munich's most famous beer hall is open. Here is a list of restaurants that have been open in the past during the Christmas holidays, but you will need to check that they will be open this year.
What to Do When Almost Everything is Closed in Munich From Dec. 24th to Dec 26th
All the museums are closed on Dec. 24th, but there are surprisingly, few museums that are open on Dec 25th and all of them are open again on Dec. 26th.
My recommendation would be to check out the Bavarian National Museum. They have the world's largest nativity scene collection featuring over 60 nativity scenes.
Here is a complete list of the museums in Munich that are open:
Alternatively, the Hellabrunn Zoo is open all three days – and they have 2-year-old polar bear cubs!
Olympic Park, home to the 1972 Olympics, offers some beautiful sights! The Olympic Tower is almost 300 meters high and is the tallest building in Munich!
Needless to say, it provides an expansive view of the entire city, reaching the mountains on a clear day, making this a major tourist attraction.
It's open for all three days. If you want to work off some of that turkey dinner (or goose dinner if you went for a traditional German Christmas dinner), then stroll around Olympic Park. The highlight is a short climb to the Olympiaberg (Olympic Mountain), the highest hill in the city!
Not only does it provide a good view of the city, but it also serves as a popular place for sledding or learning how to ski!
If there's enough snow and you have the right clothing, it would be a blast to buy a cheap sled beforehand and head here when so much of the city is closed!
Or test your balance at the Münchener Eiszauber (Munich Ice Magic), a skating rink at Stachus (Karlsplatz), with the majestic Justice Palace as the backdrop.
It's open every day until 10:00 pm, and open until 4:00 pm on Dec 24th and Dec 31st.
Where to Celebrate New Year's Eve in Munich
New Year's Eve is referred to as "Silvester" in German and there are a ton of places to celebrate it. Like most places in the world, almost every restaurant or bar will have something going on.
It really depends on what you want to do – and how much you want to spend!
Tollwood has a fantastic New Year's Eve program with various live DJs and types of music. Note: children between the ages of 7-17 are only allowed entrance with a parent or guardian. You'll also need to purchase your ticket in advance (€22.85), as they do sell out.
I also recommend hanging out at Isator, one of Munich's three remaining city gates, and home to the world's largest Feuerzangenbowle – a type of hot punch made with red wine, rum, and spices.
It's served from a 9000 litre specially made boiler and is not for the faint of heart! And it's really strong! It's open until 3:00 am on New Year's Eve and is also open throughout the holidays!
Best Places to Watch Fireworks in Munich
Marienplatz, Leopold Strasse, Olympiaberg (Olympia Mountain), Friedensengel (Angel of Peace), Monopteros (small hill in the English Garden).
This is not nearly as busy as the other places and is considered to be one of the most romantic places in the city to watch fireworks.

I haven't celebrated New Year's Eve personally at any of these locations, but they do come highly recommended by local friends – well except Marienplatz, I suspect it will be beautiful, but have more tourists than locals.
I have personally celebrated at Königsplatz and it was a blast – not to mention a good place to get in on the firework action yourself if you're so inclined.
Anyone over the age of 18 can buy fireworks in Germany. They're on sale three days before New Year's Eve and you can find them at various shops including grocery stores.
Now that you know how to celebrate a proper German Christmas in Munich, purchase your flight to Germany through
Skyscanner. It's the only site that I use when booking my flights – last-minute or otherwise, and I've gotten some fantastic deals!
Merry Christmas, or Fröhliche Weihnachten as you say in German!
Note: This post was brought to you by the kind folks at Skyscanner. As always, all opinions expressed are my own.
This post has been updated and republished.