Dresden is one of the best places to visit in Germany…
or so says my then German boyfriend (now husband). On one of my first visits to Germany, I wasn't convinced that we needed to drive over 500km to visit this place in northeast Germany.
When I was sure there were other lovely places much closer in southwest Germany, where I was visiting him in Stuttgart. But off we went, my curiosity peaked that he insisted on taking me to this German city I had never heard of.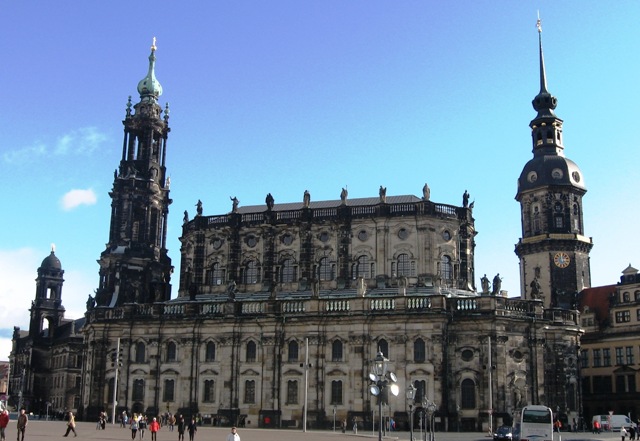 And despite my grumbling, and now having seen a lot more of Germany, I have to agree that Dresden is one of the best places to visit in Germany because:
Related Reading: Fliegerlied The Song You Need to Know Before Going to Oktoberfest
1.  Architecture:
Dresden is the capital city of the state of Saxony and was the former royal residence. Walking through the Old Town surrounded by ornate baroque buildings. A must for architecture enthusiasts.
I could see how it earned the nickname "Jewel Box." If being a member of the royal family meant surrounding yourself with ornate architecture and museums, I thought I would have adapted rather well.
The city has been called the most beautiful in Germany. It's easy to understand why. The architecture is stunning. The Semper Opera House is another great example of baroque architecture. It was built between 1891 and 1893. The building is located at Dresden's Altmarkt Square.
This building is a must-see attraction in my book. It is a popular attraction among tourists. People who come here will find out a lot about this place. They can find out just about everything they need to know here. Plus there is an array of attractions all around.
It's not just about the buildings though; there are also lots of parks and gardens that make Dresden feel more like a European city than one from Eastern Europe.
Related Reading: A Hugo Drink: The Most Refreshing Cocktail You'll Ever Have
2. Art & History Museums:
The Zwinger Palace is home to the National Gallery which houses an extensive collection of European paintings from the 15th century onwards. The museum also has a collection of porcelain and silverware.
It's not just art though, the Zwinger is also home to the Kunstgewerbemuseum (Museum of Decorative Arts). I just can't help admiring the beautiful architecture as I walked around the museum.
Museums are great places to learn about art history, culture, religion, science, technology, etc. They're usually free or inexpensive, and most offer tours and exhibits.
There are many museums throughout Dresden, Germany. Museums such as the Frauenkirche (Cathedral), the Albertinum, the Neue Meister Gallery, the Käthe Kollwitz Museum, the Leipziger Platz, the Stadtmuseum, the Albertinum Art Museum and there are plenty more.
Many museums are closed on Mondays, though some remain open Monday through Friday. Check museum websites for specific hours. Some public museums close at 5 p.m., while others stay open until 8 p.m.
If you'd rather not spend a lot of time traveling, consider visiting Dresden during the Christmas season. The city lights up beautifully, and the Christmas Market attracts thousands of tourists every day.
3. Bombing of Dresden in WWII:
The bombing in which 85% of the historic city center was bombed might not seem like a good reason to visit Dresden, but I would disagree.  Seeing the pictures after it was bombed is devastating.  
25,000 people were killed.  The fact that it was one of the most controversial bombings of WWII  adds further to the devastation. 
But, when you compare the photos to how it looks today and how it is once again a vibrant cultural and education hub, I see it as a sign of hope and a stellar example of what can be accomplished by a group of determined citizens.
Recommended Reading: Where to Taste Wine in Europe: The Best Wine Tours in the Continent
3. Dresden Elbe Valley is the Only Site in Europe to Lose Its UNESCO Status:
And only the second site in the world!  All because a bridge was built too close to the historic center.  Despite this, I believe it is deserving of UNESCO status and I'm a sucker for most things with a UNESCO status – even if it has been revoked. I mean, just look at all those green spaces!
4.  The Surrounding Area is Begging to Be Explored:
It's not just Dresden that is interesting, but also the surrounding area. I counted 17 different castles/ruins all within a couple of hours drive (a very rough estimate).
There's the Elbe River in which you can explore the Dresden Basin, and the Elbe Sandstone Mountains, which comprise one of Germany's few national parks. I plan to return at some point, just to explore the surrounding area.
Germany is famous for its national parks. The country boasts over 100 parks, including the largest national park in Europe, the Brandenburg Gate National Park.
The Brandenburg Gate National Park is located near Berlin. This park was built in 1879 and covers 1,500 hectares (3,700 acres). It features a number of attractions, including the world's tallest flagpole at 102 meters (335 feet) tall.
Other notable German national parks include the Harz Mountains National Park, the Saxon Switzerland National Park, and the Black Forest National Park.
Related Reading: Amsterdam Canals: Everything You Need to Know
5.  It Hasn't Been Largely Discovered by Tourists Outside of Europe:
Make no mistake, Dresden does have a lot of tourists, but most of them are from Germany and Russia.  We spotted quite a few Italian tourists as well, but I only heard a handful of tourists speaking English. 
I hadn't heard of Dresden before.  And I know a lot of my Canadian friends hadn't heard of it before either.  I love "discovering" a new place – even if I had some help in doing so.
Have you been to Dresden or heard of it?
For more info on Dresden see:  Dresden Tourism
Also be sure to check out my posts on Bamberg, Maulbronn, Schwäbisch Hall and Rothenburg ob der Tauber, which also comprise my list of favorite places to visit in Germany.
This post has been updated and republished.