Normally, when travelling, I first choose where I want to go, then choose the hotel. In the case of AQUA DOME, I was so intrigued by the levitating pools that the hotel was in itself enough of a reason to make the ~200 km drive to Längenfeld,
Tyrol, Austria from Munich.
I always enjoy my time in Tyrol, but the Ötztal is something else. We're talking seriously big mountains here and that's coming from someone who grew up in the Canadian Rockies!
Without a doubt, one of the highlights of the AQUA DOME is the Spa 3000, Sauna World and Fitness Center. You could easily spend several days without leaving the spa area – it's HUGE! There are levitating pools, thermal pools, an activity pool for swimming lengths, an indoor pool and even a children's area, separate from the adult area.
The spa offers a range of services. I tried the Color Exposure Treatment (Farbbestrahlung) in which you choose a color and a special light machine flashed colors across your face and a CD played while you rested. I choose orange and felt relaxed but at the same time refreshed.
I was also treated to the Welcome in Ötztal (Ankommen im Ötztal) package which is a facial, followed by a foot massage. My skin glowed afterwards.
Feeling completely relaxed we were off to enjoy the relaxation areas. There are a choice of relaxation areas including a textile-free (no bathing suits allowed – just robes and towels) and a textile area (where clothing is permitted). We spent time in both areas. My favorites were soaking in the tubs overlooking the Ötztal (pictured above) in the textile area and the Salt Floating Relaxation area in the textile-free area – with my towel on: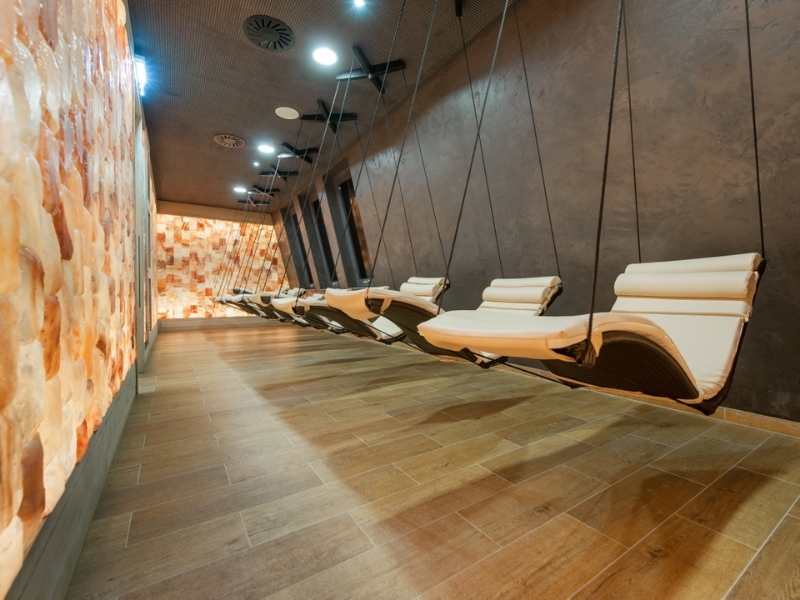 We were then off to Sauna World ( a textile-free area). I've never seen anything like it! There are 10 different saunas ranging from a hay sauna to a loft sauna to a floating relaxation room designed with salt stones. Floating naked isn't really my thing but I liked the mineral bath:
I did a quick (naked) walk through the Glacier Cave when it was empty. Needless to say was freeeeezzzzing, but refreshing!
I could have easily spent several days alternating between getting treatments, joining one of the yoga classes, and resting in one of the many relaxation areas or thermal pools!
The hotel itself is also beautiful. We stayed in a Junior Suite with mountain views and toured suites that had a fireplace. My favourite room was the Family room, which had two separate bedrooms, a dining and living room area AND two bathrooms – brilliant if travelling with kids or friends!
Staying at AQUA DOME is not cheap, but it does offer exceptional value. The rates include the use of the spa and sauna areas, plus include a buffet breakfast and a five-course dinner each night of your stay. Exercise classes and guided hiking excursions are also included in the rate. There are extra touches to make your stay more comfortable such as fresh fruit in your room upon arrival, free parking and Wi-fi and my personal favourite – free access to the non-alcoholic mini bar in your room which is replenished each day! And get this – free child care while you enjoy a spa treatment or some time relaxing!
We thoroughly enjoyed our time at AQUA DOME and will be back. It's a wonderful weekend getaway from Munich, although you could easily spend more time there. Travel tip: You will definitely want to arrive on a Friday night if you are traveling as a couple….Check back to find out why. Book your stay at AQUA DOME here or follow the hotel on Facebook for all the latest updates.
Thank you to the AQUA DOME Tirol Therme Längenfeld for making my visit possible. As always, all opinions expressed are my own.