Last Updated on
Almaty is the cultural capital of Kazakhstan, but you might not know much about Kazakhstan itself.
I'm embarrassed to admit how little I knew about it. There's a reason that Borat was based on Kazakhstan – so few people  know much about it, other than it used to be part of the U.S.S.R.
But don't feel too bad. Kazakhstan receives only 500,000 visitors each year, so it's definitely off the beaten path. It's so rich in minerals that the government hasn't focused on building on attracting tourists. In comparison, Uzbekistan, one of the other "stans" receives 2.2 million tourists. Just in case you're wondering, the other "stans" are: 1)Afghanistan 2)Kazakhstan 3)Kyrgyzstan 4)Pakistan 5)Tajikistan 6)Turkmenistan 7)Uzbekistan
The first thing that I wondered, was
Is it safe to visit Kazakhstan?
Like any place, you need to watch your belongings, but yes I felt very safe. Safe enough to break away from our guide for a few hours to hike with a friend!
Given that there are so few tourists, a lot of signs aren't in English. In fact in Almaty, you'll only find 7-10 certified English speaking guides. I was lucky enough to have Sholpan, a wonderful guide from Turan Asia Travel Company.

Zenkov Cathedral
One of our first stops in Almaty was to  Zenkov Cathedral. It's a 19th-century Russian Orthodox cathedral that fortunately didn't get destroyed when Kazakhstan was part of the U.S.S.R because politcal club meetings were held there. It's the second tallest wooden building in the world! You'll find it in Panfilov Park, among blue spruce trees! Christianity is the second most practiced religion in Kazakhstan.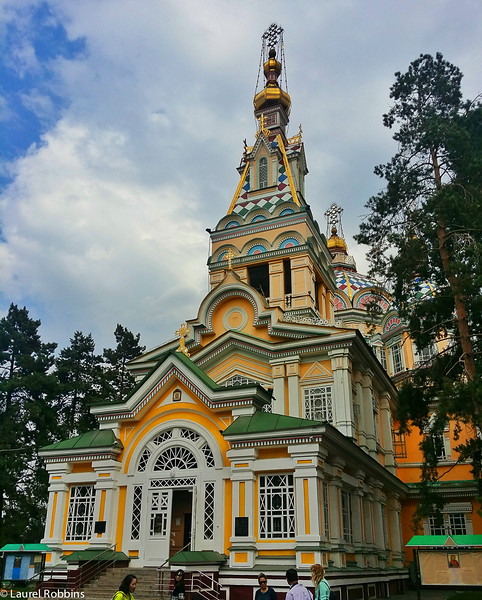 The Central Mosque of Almaty

The main religion in Kazakhstan is Islam, but it's a liberal form of Islam that's practised by most. I only saw a couple of women dressed in burqas. The Central Mosque of Almaty is the largest of the 40+ mosques in the city. Visitors are allowed if they are very quiet and dressed appropriately – arms and legs covered.
U.S.S.R Monuments
Another thing you can't help but notice are the U.S.S.R monuments. Now, I'm normally not much of a monument person, but the ones in Almaty are very telling.
For example the World War II monument "Feat" in Park of the 28 Panfilov Guardsmen, shows the Russian soldier protecting the motherland. Kazakhstan is near the soldiers left knee. It's meant to send a clear message to the west – Don't mess with us! As do the other U.S.S.R monuments:
Dine in a Yurt and Eat Traditional Kazk Food
200 years ago 90% of Kazakhs lived in yurts, which were perfect for nomadic life. Today, in Almaty, you can dine in a yurt at Kok-Tobe Restaurant in what's known appropriately as the Yurt Restaurant. They serve traditional Kazakh food, which is heavily based on meat – horse meat in particular. It was impractical to grow vegetable gardens given the nomadic lifestyle. I didn't try the horse meat, but enjoyed the other courses.
As a side note, if you're vegetarian, there's one vegetarian restaurant in Almaty – Govinda's located at Abylai Khan Ave 39.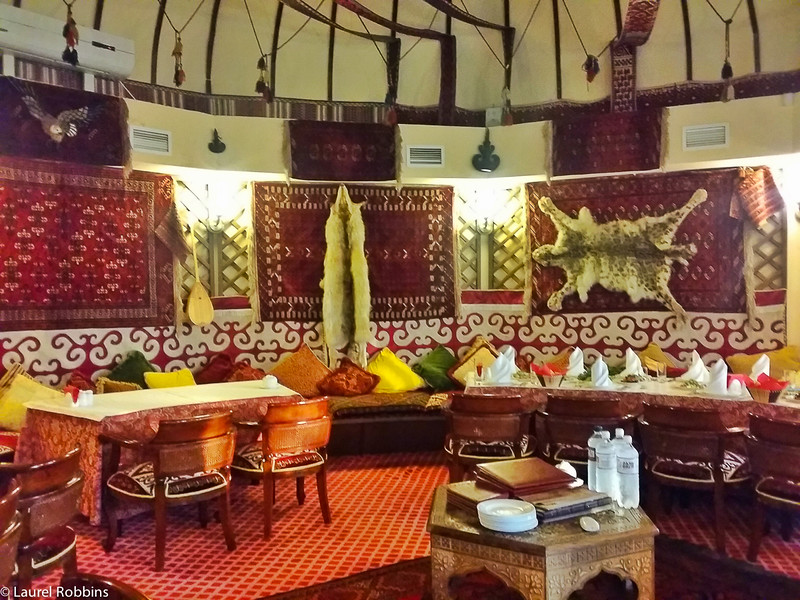 Visit the Food Markets in Almaty
The Green Bazaar serves up traditional foods, as well as everything else you can think of. It's definitely worth a look, and I did buy a yurt souvenir there, but for food shopping I prefered the local food market where I particularly sought out a special type of smoked string cheese. It's so good that I brought two packages home with me!
The Metro Stations of Almaty
One of the things that surprised me most about the subway stations was all the artwork. They were designed to be Palaces for the People. A place where everyone, regardless of their social or financial standing could enjoy artwork. I LOVE this idea. While, you won't find art in each of the seven metro stations, you will find that each one is different. The metro stations are worth a visit – even if you're not planning on taking the metro!
Central State Museum of Almaty
This museum is the finest museum in Almaty. If you just visit one museum in Almaty, make it this one. It takes you back through Kazakh history starting at the Bronze Age. Below is a replica of the Golden Man,a  Scythian warrior recovered from a burial mound, ~ 70 kilometers from Almaty. In this burial mound, they found a skeleton which was believed to have been an 18 year old Scythian warrior prince that impressively dates back to the 3rd or 2nd century BC. There are no signs in English, so it's best to go with a guide to get the most from your visit.
Zhybek-Zholy (Silk Road) Pedestrian Street
You will find cozy cafes, shops and artists lining their works along the pedestrian street nick-named Arbat. On weekends, there's a market selling handicrafts. I came back to this street several times during my visit.
Architecture in Almaty
True to its nomadic roots, you won't find many old buildings in Kazakhstan, but you will find a mix of beautiful wooden buildings among functional square Soviet area ones. Like most cities, Almaty is fun to explore on foot and see what you come across.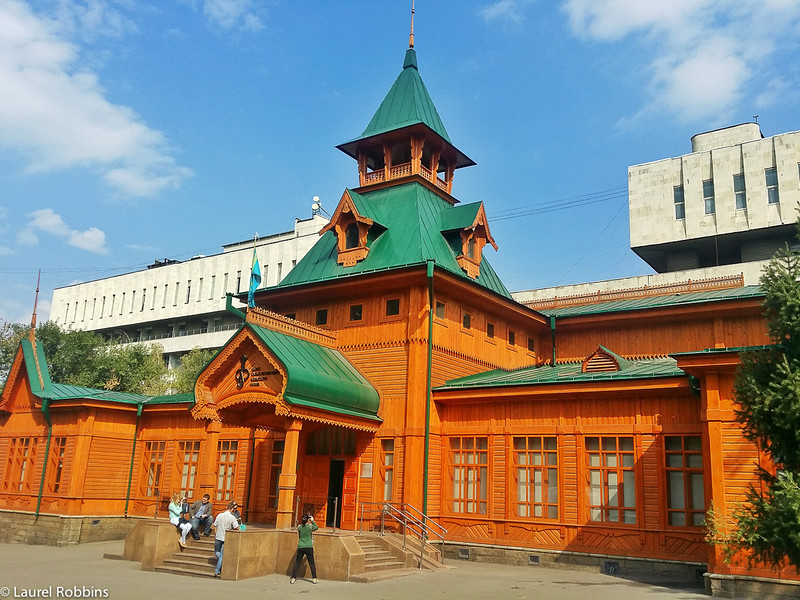 First President's Park
This was one of my favourite places in all of Almaty! With a mountain backdrop, amphitheatre, water fountains, water features, and music, it's no wonder it's such a popular spot for wedding photos. It's particularly spectacular at sunset!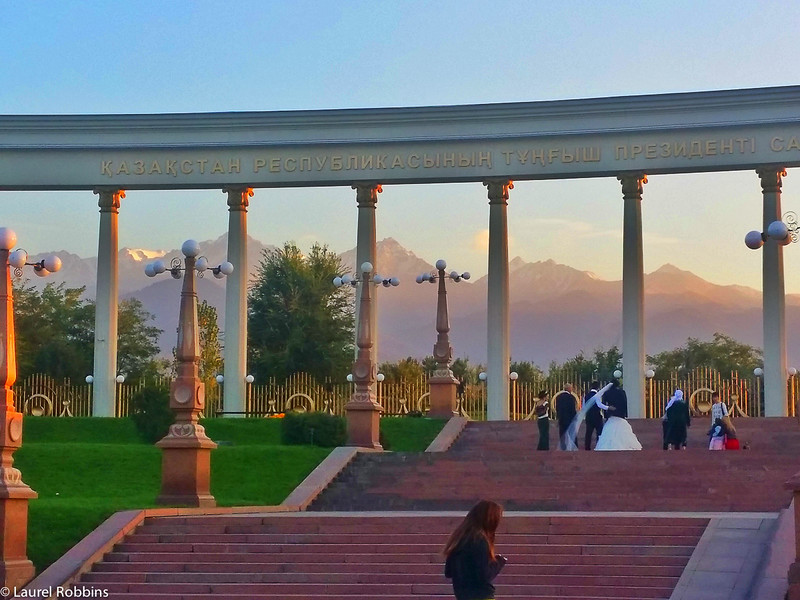 Views Over Almaty Stretching to the Tien Shen Mountains
You know that I'm going to love any city where you have a mountain view and that is so close to the mountains! Shymbulak Ski Resort is located just 20 minutes away, as are the incredible Tian Shan Mountains – often referred to as the Little Brothers of the Himalayas!
I enjoyed my time in Almaty. It's not the prettiest city I've ever been to, but it's certainly one of the most interesting. I didn't realize how western my views were against communism until my visit to Almaty. While, I don't ever see myself becoming a communist, I can appreciate some of the good things about it, like having metro stations with art as Palaces for the People.
My visit to Almaty left a HUGE impression on me and was an incredible learning experience about a place that I knew very little about!
Disclosure: My visit to Almaty was made possible by Turan Asian Travel Company and by Almaty Tourism. They can help arrange a custom tour for you through Kazakhstan, or a tour that combines several of the "stans". I stayed at Rahat Palace. As always, all opinions are my own.