If you love being outdoors, you've got to check out Zillertal. Located in Tirol, Austria, the valley is surrounded by the Tux Alps to the west and the Kitzbühel Alps to the east.
It's an adventure-lovers paradise.
Ski the Hintertux Glacier
It's always ski season at the Hintertux Glacier. It's the only spot in all of Austria that you can ski 365 days a year -even in summer.
Besides the fact that it's just cool to ski in summer, the advantage is that you have the slopes to yourself. Most people aren't as cool as you are to ski in summer or fall.
It's you, a few die-hards who love mountain adventures and professional ski teams practising. I loved seeing that one of the ski teams was one from Nakiska, in the Canadian Rockies, near where I used to live.
I went in September. The snow was surprisingly good. According to the snow report, there had been approximately 45 cm of new snow in one week.
If you're looking to ski in regular ski season also consider SkiWelt in nearby Wilder Kaiser. It's still part of the Tyrolean Alps in Austria and also has amazing skiing.
Hiking in Zillertal
Zillertal is a hiker's paradise. You'll find a whopping 1400 km of hiking trails here in the Austrian Alps.
One of the things that I loved about hiking here in fall (my favourite season) is that you get an incredible contrast of snow-capped peaks with lush green valleys. Hiking in Zillertal is stunning.
Another cool thing you can do for an epic adventure is to ski the Hintertux Glacier in the morning, then hike down in the afternoon. That's what we did.
You'll also want to be on the lookout for Alpine marmots. Marmots are large prairie dogs that live in burrows. You'll find them both in meadows or close to rock piles throughout the Alps. They hibernate in winter. You'll usually hear their high chirps before you see them.
If you hear them, it's likely an alarm call to warn other Alpine marmots that a predator – that would be you, is in the area. Foxes and raptors also prey on them. And in the Canadian Rockies bears and coyotes eat them as well. Can you spot the one below? They blend in really well.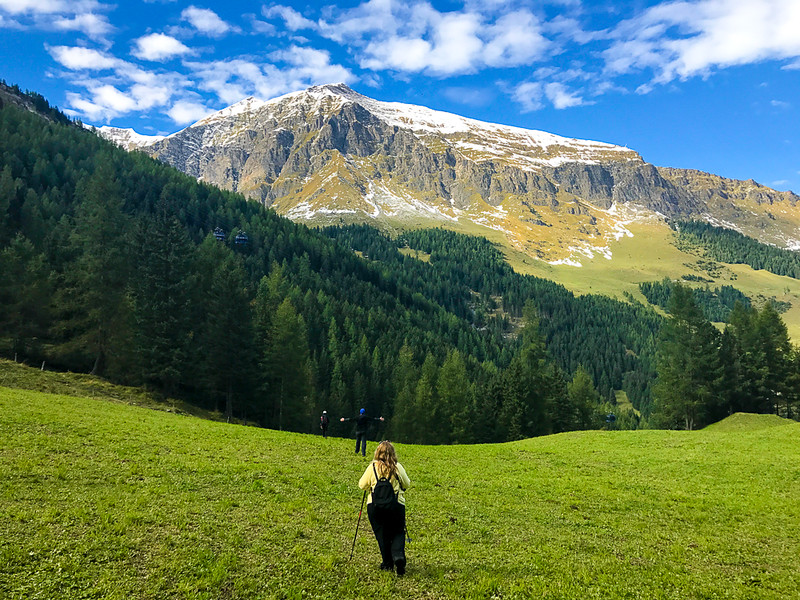 Cycling in Zillertal
In addition to the 1400 km of hiking trails, you'll also find 1200 km of cycling trails in Zillertal.These range from easy hikes in the valley along the river to more challenging mountain biking.
Many lifts run in the summer so you can take a lift up and the cycle down. I love this option as I hate cycling uphill. I'm a total wuss when it comes to doing hills on a bike.
Zillertal is excellent for families too. You can hike or take the lift up from Zell am Ziller. Then enjoy the views while sampling a Zillertal Bier. Children will love playing in the nearby Spruce Tree Castle. Then you can either hike or cycle down.
High Ropes Course in Mayrhofen
Have you done a high ropes course? I admittedly hadn't until I moved to Germany. They're starting to pop up in North America. I did a great one near Las Vegas. They're a series of obstacles high in the trees where each obstacle is different. They require good balance and problem solving as you shakily make your way along a narrow rope like a tightrope walker. It's a great thing to do in Zillertal.
I love these so much because my first thought is always, there's no way that I can do that. But someone, one shaky step at a time, I do. The confidence that I gain on a high ropes course stays with me long after I've finished.
I did the oneMayrhofenofen with Mountain Sports which I highly recommend. They also offer a flying fox (zip line course).
Cattle Drive (Almbetrieb) in Fall
You may have heard the expression, till the cows come home. In the Almbetrieb they literally come home. Each year in the Austrian Alps, 500,000 cattle are herded down from the Alps to the lower valleys where they'll spend the winter.
The tradition also happens in the German and Swiss Alps, but with fewer cattle.
The cows wear bright coloured floral headpieces. They look good. And they seem to know it. These cows have an attitude. But who can blame them when they look so pretty?
The Almbetrieb is usually held near the end of September, depending on the weather. It takes place over a couple of weekends depending on the town. Check with the tourism board for exact dates each year. It's worth planning your visit around the Almbetrieb.
Where to Stay in Zillertal
I stayed at the Hells Ferienresort in Fügen. They offer a choice of campsites, chalets and hotel rooms. Also, they have a wellness area with an outdoor pool and three saunas. That brings me to the next adventure…
The Adventure of Going to the German/Austrian Sauna
If you've never been to a sauna in Germany or Austria before, you need to read this. Spoiler alert: You have to go naked. It's not optional. You can, however, cover up with a towel.
I went with an international group. None, including myself, who were overly comfortable of the idea of seeing each other naked. Much to the Austrian's chagrin, they believe it's just nature. This adventure may have pushed us out of our comfort zones more than any other.
Ladies, you may also want to check out my Shy Girl's Guide to the Naked Sauna.
I really enjoyed my time in Zillertal. It offers adventures for everyone of varying difficulties.
I'm fortunate that it's only ~ 140 km from Munich where I live so really easy to get to. It's a place that I'll keep coming back to. Afterall, I've only explored about 10 km of the 1400 km of hiking trails.
Share on Pinterest:
Zillertal is a place that can be enjoyed any time of the year, with so much to do who wouldn't want to vacation here.
My trip to Zillertal was made possible through the Social Travel Summit and Zillertal Tourism. As always, all opinions are my own.