NOTE: We believe this trip should run as planned and won't be impacted by COVID-19. Reserve your spot with only a $100 deposit for a limited time only!
Location: Bozeman, Montana, USA
Length: 4 Days
September 17-20, 2020
Type: Guided Backpacking
Grade: Moderate
Yellowstone National Park Backpacking Tour
Our Yellowstone Spring/Fall Trekking Adventure is the earliest and latest backpacking trip we have in Yellowstone because of high mountain snowmelt and chilly fall temperatures. This means fewer tourists and more active and visible wildlife than in the middle of summer. Starting our point to point hike at the junction of Helloroaring Creek and the Yellowstone River, you'll traverse the Black Canyon, which runs along the drier and warmer northern boundary of the park. Cascading waterfalls, world-class trout waters, majestic hiking and camping, and abundant wildlife are just some of the hallmarks of this tour!
Every camp has a view of the Yellowstone River's impressive waters, and in many cases we're camped right along its banks.
Who Will Enjoy This Tour?
If you're interested in an early-season Yellowstone hike and a great adventure, this tour is for you. Don't miss the unique opportunity to hike Yellowstone before the crowds!
Highlights of the Yellowstone National Park Trekking Adventure
Escape the crowds by going in spring or fall


Hike along America's longest undammed river


Hike in wild meadows and to waterfalls


Classic point to point Yellowstone hike


Rich spring and fall wildlife habitat


Hike along the wild and scenic Yellowstone River


Experience spectacular night skies
What's Included
Professional Hiking Guide
Top-of-the-line tent, sleeping pad, sleeping bag, and technical backpack
Use of trekking poles
All meals
Group Gear
Park entrance fees
Roundtrip transportation from your hotel in Bozeman, Montana to Yellowstone
Park Permits
Map of the Yellowstone National Park Trekking Adventure
Day 1: Bozeman – Yellowstone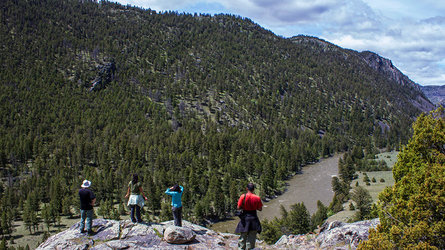 We start with a 2-hour shuttle from Bozeman to the trailhead in Yellowstone National Park. Once on the trail, we'll drop 600 feet in elevation to the suspension bridge pictured above across the Yellowstone. Following a 3-mile detour up the Hellroaring Creek Valley to access a bridge we'll make camp on the banks of the Yellowstone and the mouth of the Black Canyon.


Hiking Today: 6.6 miles (10.6 km), 600 ft (182 m) descent
Transfer: 2-hour drive to the trailhead
Day 2: Hiking from Yellowstone – Crevice Lake
The trail proceeds downstream over a beautiful knoll about 400 feet above the Yellowstone. Views down to the river are spectacular. From here it is on to Crevice Lake. Camp is made near the lake.
Hiking Today: 8.7 miles (14 km), 350 ft (107 m) ascent, 600 ft (182 m) descent
Day 3: Crevice Lake
This is a layover day to enjoy the surroundings. You'll have your choice of relaxing in camp, fishing or exploring
downstream to Knowles Falls and steeper parts of the Black Canyon. There are tremendous views of the Yellowstone as it thunders downstream; full of spring runoff.

Hiking Today: 6 miles (14 km), 500 ft (152 m) ascent, 500 ft (152 m) descent.
The hike today is optional.
Day 4: Hiking from Crevice Lake – Blacktail Deer Creek
From camp we'll hike upstream along Blacktail Deer Creek to the trailhead. The creek ascends sharply, passing a nice set of cascades, before leveling off in a beautiful valley of huge meadows and isolated stands of trees. Now out of the canyon views of the surrounding country abound. It is the perfect end to this wonderful spring trek.

Hiking Today: 4.6 miles (7.4 km), 1000 ft (305 m) ascent
Transfer: 2-hour drive back to Bozeman
YELLOWSTONE NATIONAL PARK BACKPACKING TOUR INFO
Availability
This trip is available September 17-20, 2020.
Booking in Advance
Book as soon as possible as this is a guided group trip with limited spaces. We recommend booking a minimum of 4 months in advance.
Pre and post-trip lodging is your responsibility. We recommend the below-listed accommodations while in town.
Make your reservations early as Bozeman is a tourist community and rooms book early.
Holiday Inn Express Bozeman West discounted rate: $95-149 (may vary depending upon the
time of year) tell the front desk you are a guest of Wildland Trekking.
Hilton Garden Inn (rate: $149-169)
Grade and Terrain
Grade 2 (medium). The daily elevation difference is between 750 to 1000 ft and the daily hiking distance is between 4 and 6 miles.
Professional Guided Tour
This trek is guided by a professional, knowledgeable, certified Yellowstone hiking guide.
Location
We will meet in Bozeman, Montana for an orientation at 5 p.m. the day before the trip starts. We'll give you a ride to the meeting point if you are staying at one of the recommended hotels.

The orientation includes introductions, a briefing on the trip itinerary, and a checking of personal gear.
Important note: Please bring all gear you plan on hiking with to this meeting.
Fitness Level
You should be in good physical condition and be a regular hiker. The route is not technical so no prior expertise is required.
Group Size
The maximum group size is 5 so book early due to the limited spaces.
General
The distances and ascents/descents are approximations. The itineraries shown may change slightly depending on the trail conditions.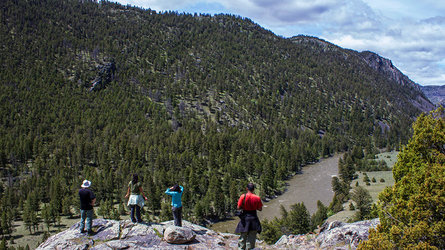 PRICING AND INCLUSIONS
Pricing
$1185 USD for the 4 day tour.
Inclusions
Top-of-the-line tent, sleeping pad, sleeping bag, and technical backpack

Use of trekking poles

All meals are included from breakfast the first day through lunch on the last day

A professional, knowledgeable, certified Yellowstone hiking guide

Roundtrip transportation from your hotel in Bozeman, Montana to Yellowstone and back

Entrance fees and national park permits

Bear safety equipment including bear spray cannisters and food-hanging gear

Emergency equipment including a company-issued first-aid kit and satellite phone
Payment Info
$500 USD is normally due at the time of booking, but due to COVID-19 only $100 is due for a limited time only.
The remaining balance is due 60 days before the onset of the trip. If you're booking within 60 days full payment is due at the time of booking. You see the booking terms and conditions by clicking here.
Extras
Clothes, raingear, and footwear

Sunscreen, toiletries and personal items

Water bottles and a headlamp or flashlight

Guide gratuity (industry recommendation is 10-20% of trip cost)
Travel and trip cancellation insurance. We recommend World Nomads since it includes mountain rescue and repatriation insurance which are required and not covered by all insurance polices.
ACCOMMODATION ON THE YELLOWSTONE NATIONAL PARK
Availability
You'll be camping for the whole adventure. The first night camp will be set on the banks of the Yellowstone and the mouth of the Black Canyon. The second and third nights, the camp will be near the coast of Lake Crevice. Both are gorgeous places with breathtaking views of the impressive surroundings.
Storage of Personal Items
Many guests choose to store any extra luggage with the hotel
they'll be using before and after the trip. You are also
welcome to leave any luggage with us for secure storage while
you're on your trip – just inform your guide.
.
TRAVEL TO BOZEMAN
By plane:
All Yellowstone trips begin and end from Bozeman, Montana. Bozeman has an airport served by United, Delta, Allegiant
Air and Frontier Airlines. One can also fly into Billings and drive to Bozeman. It is a 2.5-hour drive from Billings to
Bozeman on good roads.
I find the best deals on Skyscanner and book most of my flights through them.
Note: We highly recommend waiting to book your flights until your trip is confirmed.
From the Airport to Downtown Bozeman:
There is no regular shuttle service from the Bozeman Airport to a downtown location.

Your best option may be Uber or Lyft or direct contact with a hotel in Bozeman to see if they provide shuttle services. Its about 15-20 min from the Bozeman airport to the Downtown area.

From Billings…Greyhound ( offers transportation from downtown Billings (use a cab to get
downtown) to Bozeman. from $23-56 per person one way.
Advance reservations required
Refer to this site for train and bus options.
Our Yellowstone Basecamp guided hiking tour gives you the freedom to hike and explore some of the most beautiful scenery in all of America while staying safe and comfortable and before all the tourists arrive.
We do the hard work so that you can focus on hiking and enjoying the magnificent views of this iconic American National Park.
When you book this trip through us, you'll also receive the following bonuses:
Packing list of the essentials
My secret list of easy to pack luxurious non-essentials
How to make the most of your hiking experience from going within
How to get the most of hiking with a group (and still having time for yourself)
Limited time only – book with only a $100 deposit! See the
terms and conditions here.
Before you book, check that you meet the
essential eligibility requirements.
This trip is operated by our trusted partner, the Wildland Trekking Company.