In a world where travellers have micro-attention spans, it can be difficult to grab their attention for a nano-second, let alone get them to actually keep your destination or brand top-of-mind when it comes to booking a vacation!
A recent Nielsen study* shows that it takes ten social media touches to result in a behaviour change! That's where I come in and put my marketing degree and business expertise to good use! I showcase your brand or destination to my large engaged audience in a variety of formats, in a strategic manner. It goes way beyond getting a "like" on Facebook or a nice photo comment. It's about creating an impact and changing behaviour and getting an audience of adventure-seeking travellers excited about your brand or DMO (destination marketing organization) and compelling them to take action!
3 WAYS WE CAN WORK TOGETHER
If you're a DMO, tour operator, hotel, or have a travel-related product or service, here are six potential ways we can work together and where you will benefit from my expertise and engaged audience.
1) SOCIAL MEDIA/BLOGGING CAMPAIGNS
I provide customized social media/blogging campaigns designed to reach your specific goals. Whether that be creating awareness, increasing your visitor's length of stay, introducing your new app to the world with a big bang, or increasing your brand's influence!
If you're a DMO located in Europe wanting to reach an audience of outdoor and adventure travellers, contact me for further information about a unique campaign that's launching soon. It will provide you with a TON of exposure to both an American and a European audience.
From my experience of working with 100+ DMOs, I've discovered what works and just as importantly, what doesn't. Content that works for one type of campaign, may be ineffective for another campaign with different goals.
In the past I've worked with DMOs such as: Germany, Visit Finland, Visit Greece, Bucharest (Romania), Poznan (Poland), Mayenne (France), Turin (Italy) Catalonia, Oosten (Netherland), Bavaria, Rhone-Alps (France), Mostviertel (Austria), Umbria, Denmark, Amsterdam, Rotterdam, Luxembourg, Banff, Calgary (Canada), South African, Namibia, Swaziland, and Northern Territory in Australia, to name just a few.
I've also worked with private travel companies and hotels including: Cinnamon Hotels, Ayu in the Wild, Leopard Trails, Hedonistic Hiking, Yomads, HipTrip Film Festival (Romania) AQUA DOME Wellness Hotel, Travel Charme Hotels, HouseTrip, Go With Oh, Wimdu, GoArctic!, Heritage Tours and Safaris, Alpenresort, and Vueling Airlines. I also work with travel and adventure brands like Trover, PowerPere, and Salomon Outdoor.
I've also worked with mainstream media as well including BBC Travel as their #BBCLocalite for Munich, and as a social media influencer for BBC Earth!
Here is some feedback from Twitter to demonstrate the type of interactions I have with my audience:
2) SPEAKING
I'm a sought out speaker on social media and blogging. I hold a Master's degree in Adult Education and Global Change and am a big believer in delivering presentations that provide practical advice and require the attendees to take action. From my 15+ years in the education industry, I've found that only by taking action, do you get lasting results. Therefore, attendees leave my presentations and workshops with practical tips that they can implement immediately, benefitting your organization. I have spoken at ITB Berlin 3 times, WTM London, WTM Dubai, NBE Finland, TBEX Athens, TBC Asia Colombo and the Romanian Digital Travel Conference. You can see the complete list of my speaking engagements here. Presentations and workshops are customized for every audience, and we will work together to ensure the content delivered is of the utmost interest to your audience.
Here is some of the feedback from my presentation at TBEX Athens on Twitter Tips for Advanced Users: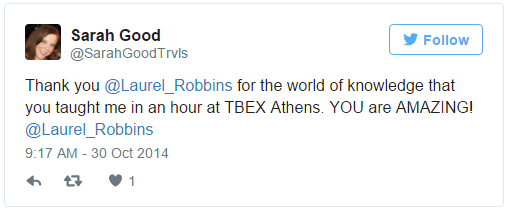 I'VE BEEN A CONTRIBUTOR OR FEATURED IN:
ACCOLADES FOR MONKEYS AND MOUNTAINS:
7 WAYS YOU BENEFIT BY WORKING WITH ME
1) Access to a targeted and engaged audience. I've spent the past 5 years building a trusting relationship with my audience and only recommend what I love. As a result they are more willing to take action when I recommend your destination, tour company, hotel or brand.
2) Professional Experience. I've worked with over 100 brands and DMOs and as a result have discovered first hand what works.How often to post, when to post, what to post, and which platforms for which content. Social media is both a skill and an art. More isn't always more. I've crafted this skill through extensive practice and transfer that to your DMO, tour company, hotel or brand.
3) Realtime and Evergreen Content. You will receive a combination of realtime interactions during a campaign to generate buzz, and evergreen content on my blog that will be accessed for years to come, by an ever-growing audience.
4)Access to my marketing experience. I hold a business degree in marketing and am also constantly updating my skills and testing out new ideas on my own audience. In addition, I have extensive experience with social media campaigns, especially Twitter (with over 59,000 followers to prove it) and reaching your target market in a way that will compel them to take action.
5) My passion for tourism. I get energized about the impact tourism can have on both the local economy and the environment. There is nothing more satisfying than showcasing a hidden gem to potential visitors or convincing someone they should try hiking in an area they had never previously considered. Knowing that I play a role in making a positive difference, however small it may be, is the greatest job in the world!
6) Importance of Relationships. I sincerely value the relationships with my clients. As a result, I have many repeat or ongoing clients including; BBC Travel, BBC Earth and Yahoo Travel.
7) Professionalism. I only promise what I know I can deliver and will be open with you right from the start.
CLICK ON THE IMAGE BELOW TO ACCESS MY MEDIA KIT WITH FURTHER INFORMATION ABOUT MY AUDIENCE AND STATISTICS:
LAUREL'S OFFICIAL BIO
Laurel Robbins is an adventure tour operator, travel blogger and the founder of Monkeys and Mountains, one of the world's leading adventure travel blog.
She won the Travel Blogger of the Year award in 2013 issued by the Travel Writers Association and frequently receives recognition in the travel industry: Top 20 Adventure Travel Bloggers – 2015, Holiday Lettings from Trip Advisor, Travel Bloggers to Watch in 2013 by HotelsCombined, Top Travel Blogs to Watch in 2015 by Oyster and 17 Inspiring Women Travelers on Twitter by Dwellable, to name just a few.
In addition, she has contributed social media content to BBC Travel, BBC Earth and Yahoo Travel. She has worked with 100+ tourism boards and tour companies across the globe ranging from the Northern Territory in Australia to South Africa, to Canada to Europe.
Laurel is a sought out speaker in the travel industry having being a keynote speaker at the Bloggers UTDConference in Brussels. And she's spoken at ITB Berlin numerous times, WTM London, WTM Dubai, TBEX Athens, NBE Finland and TBC Asia.
Although Canadian, she permanently resides in Munich, Germany. Her blog is named after two of the things she loves most.
She holds a B.Mgmt degree in marketing, a B.Sc in Primatology, and a Master of Education in Adult Education and Global Change. She worked in education for over 15 years in positions ranging from teaching English in S. Korea and Thailand to environmental education at a zoo to a Program Director of business programs at a university.
Besides travel, Laurel is passionate about animal conservation and getting outdoors as much as possible. She enjoys hiking, cycling, and diving. You will find her in the Alps on most weekends!
A few of the organizations where she's been featured:
If you're interested in working together, please contact me and share your ideas, or we can develop a marketing strategy together
Disclaimer
Please note that all reviews of a product or service will be honest out of respect for readers to Monkeys and Mountains. I also refuse the right to review any product or service if it is not relevant or of value to readers.
PRESS
See where Laurel/Monkeys and Mountains Adventure Travel has been featured:
ONLINE ACCOLADES:
ONLINE MAINSTREAM PUBLICATIONS WHERE MONKEYS AND MOUNTAINS (FORMERLY EXPAT IN GERMANY) HAS BEEN FEATURED:
A SMALL SAMPLING FROM OTHER TRAVEL BLOGS: