This post may include affiliate links, including Amazon Associate links. I may earn money if you click on one at no extra cost to you.
It's no secret that I love hiking in Bavaria.
But a recent knee injury has kept me out of the mountains the past couple of weeks :(.  I personally hike year round, but for a lot of people, spring is the start of hiking season, so dust off those boots, and get yourself onto one of these trails which are among my favorites in Bavaria:
Höhentalklamm (Hell Valley Gorge)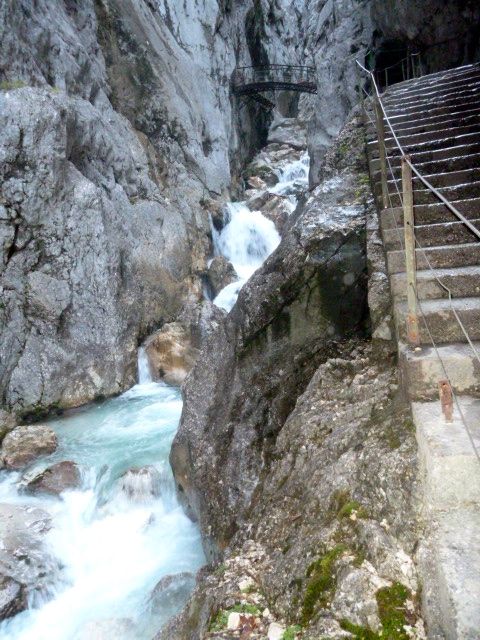 This is probably my favorite hike that I've done in Bavaria to-date.  The 1000m long gorge filled with raging water and waterfalls has hikers directly about the water on catwalks and navigating the gorge through tunnels, all while looking up at the Zugspitze – the highest peak in Germany. There are so many different options you have for hiking the Höhentalklamm, but  my favorite is hiking up one side, then descending down through the Höhentalklamm – saving the best for last.  Note the Höhentalklamm is only open from May – Oct. so you'll have to wait until later in spring to hike it.
Herzogstand to The Herzogstand to the Heimgarten
The Herzogstand isn't just an ordinary mountain summit, it's one that even the royals favored – heck it even has a royal name "Herzog" is German for "Duke".  Perhaps the stunning views of the Walchensee (the deepest lake in Germany) had something to do with it?  Despite the view, it was the razor-thin ridge walk between the Herzogstand and the Heimgarten that made it such a fun hike.  But not to worry, if heights aren't your thing, you can go down the same way you came up and avoid the ridge.  And if you're feeling really lazy, you can even take a cable car up most of the way to the Herzogstand. Cable cars=crowds though, so spring or fall is the best time to go when it's not as busy.
Roß and Buchstein

Dubbed the "stone twins", the Roß and Buchstein are two peaks very close together with the Tegernseer Hütte located between them.  They offer a "two peak" day which is my idea of a perfect day, but be warned to reach the top of the Buchstein it's a steep scramble – meaning you'll be using your hands as well as your feet.  If you like this kind of stuff, like I do it's a blast.  If you don't you still get incredible views from the Roßstein which is an easier scramble and the views from the Tegernseer Hütte are among the best I've had from a hut.
I'm always on the lookout for new hikes, so let me know what your favorite hikes in Bavaria are.

View Hikes in Bavaria in a larger map