This post may include affiliate links, including Amazon Associate links. I may earn money if you click on one at no extra cost to you.
I've been travel blogging for almost 10 years. And like the rest of the travel industry, travel bloggers got hit hard.

Why It's Important To Support Travel Bloggers
Just as I think it's important to support local businesses however you can, i.e. order takeaway from your favourite neighbourhood restaurant, shop at your local farmer's market instead of a big-box grocery store, or my personal favourite, eat a lot of gelato from your local gelateria, the last one I've been VERY supportive of :).
I think it's also important to support the travel industry, and in this post, travel bloggers if you value their work and have found a travel blog useful in helping you plan your trip. In all likelihood, many travel bloggers won't be able to survive these challenging times. That means that your favourite travel blog could be left with no content for months. Or worse, disappear completely as the blogger gets a "real" job with no time left for the blog. I know that some harsh, but unfortunately that's the reality.
What Life Is Really Like for Travel Bloggers During COVID?
Travel bloggers have been faced with the dilemma of, what do you write about when it's not safe to travel? And is it even worth it when no one is reading about travel for the time being, so consumed with the new reality and with many people in survival mode?
And besides, that, how do you deal with the anxiety of losing most of your income? How do you find ways to be creative? To not just stay in bed and hide under the covers? Speaking, personally, this is by far the most difficult time I've had in 10 years of owning my own business. Sleepless nights, tummy issues, and crying fits have become part of my new "normal". All while working more than ever behind the scenes, trying to replace lost income. I know that I'm not alone in my sentiments. Many of us are struggling.
Fortunately, many travel bloggers are multi-skilled and have created other products besides their travel blogs. Some of these were created before COVID-19, while others were created out of necessity. But either way, I commend the creativity and initiative.

On Monkeys and Mountains, we've continued to write articles. It may not be safe to travel, but you can safely do a virtual hike, or "travel" virtually. You can get some travel inspiration by doing one of our workouts from around the world.
Take a look and if you see something of interest, know that your purchase will be supporting a travel blogger whose main sources of income have disappeared for the foreseeable future.
Wild About Travel
An avid solo traveller and photographer, Simon Falvo is the founder of Wild About Travel. The blog aims to give readers an inside look into her exciting travel journeys in known and lesser-known places. Simon, the founder is a nature and outdoor lover which is evident in the wild and beautiful places that she has travelled to and writes about. Besides being a travel writer, Simon also owns rents her 2 gorgeous flats in Milan on Airbnb. You can check out these wonderful flats here and here. 
Simon has also launched a new course "Learn Italian Fast". She's Italian and speaks multiple languages which has given her a unique insight into language learning. Her lessons are personalized based on what you want to learn.  Try out a 30-minute kick-off class and get yourself language ready for your future Italian travels. 
Adventurous Kate
Kate is the founder of Adventurous Kate, a blog about solo female travel. She's also an avid reader and has come up with a great new way for travellers and readers to connect during the travel ban, "Kate's Book Club". It offers readers the opportunity to take part in an online book club. The aim of this innovative club is to bring people together from all over the world to celebrate places and books in a unique and beautiful way. 
Wild Junket
Nellie is the founder of Wild Junket. This travel blog is aimed at the adventurous at heart and takes readers into the heart of exciting and wild experiences. Recently Nellie has launched "Wild Junket Travel Maps". They are unique travel map prints for adults and children. The map prints make the perfect addition to your home as wall art. The children's maps are beautifully illustrated which can be used to teach kids about travel.
A Lady in London
This blog was founded by Julie, a Californian who moved to London. Writing from an expat's point of view, this blog is the perfect way to explore everything London and more. You can support A Lady in London by purchasing one of her unique tote bags that have some beautiful prints of London inspired by her photos.
Nancy Sathre-Vogel
The owner, Nancy is a metalsmith and an avid rare bead collector. She has travelled around the world collecting unique ideas for designs and beautiful beads. She creates one-of-a-kind jewellery from recycled copper and brass. The images she uses for some of the designs come directly from antique books. You can support Nancy by shopping her jewellery at NancySathreVogel.
Travel for Wildlife
Cristina, a zoologist, and her husband Hal, a wildlife photographer founded Travel for Wildlife. The blog provides readers with information on how to travel responsibly and where to visit the best wildlife-watching destinations in the world. This blog is for wildlife lovers by wildlife lovers.
Christina is also the owner of Woodfern Studio and is an accomplished metalsmith who makes unique and one of a kind jewellery. You can see her jewellery on Instagram at @woodfernstudio.
Monkeys and Mountains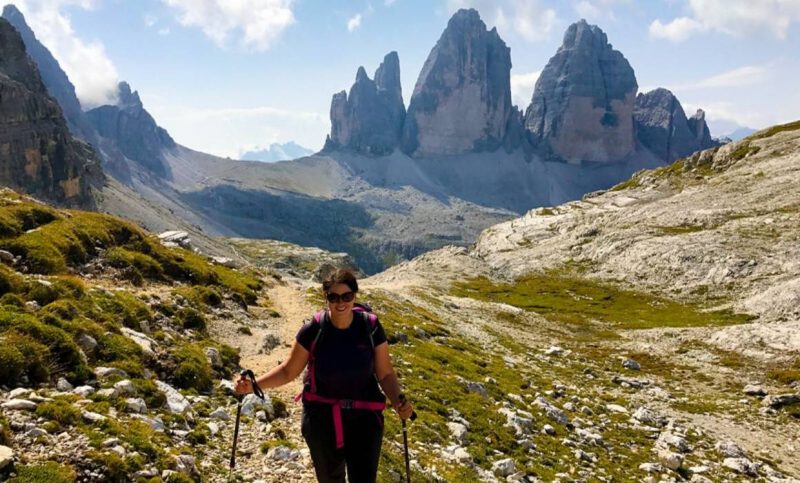 Founded by Laurel (that's me), Monkeys and Mountains is a travel blog aimed at the adventurous traveller and hiker. In addition to the blog, she also offers tours to Madagascar to see lemurs and hiking tours.

She's created a free 3-day course "The Happy Hiker at Home" which is perfect for hikers who aren't able to be out in nature right now. You can also support Monkeys and Mountains by visiting her Travel Shop where you'll find some great hiking gear guides, travel gift ideas, games and some amazing book lists.
As The Bird Flies
Frankie Thompson is the founder of As the Bird Flies. She's an avid traveller who resides in Amsterdam and provides travel advice, especially about Amsterdam and travelling with a family. Besides being a blogger, Frankie is also a copywriter and a published author.
You can support Frankie by purchasing one of her books.
Lola Akinmade Akerstrom
Lola explores culture through food, tradition and lifestyle on her blog Lola Akinmade which features stunning photography. Having lived in three different continents Lola has an appreciation for culture and all its nuances. She is the author of two books:
Creativelena
Creativelena was founded by Elena. An avid traveller, speaker and author, Elena aspires to "life-see instead of sight-seeing". Her blog is available in both German and English. You can support Elena by purchasing her books here.
The Runaway Guide
Lief is the founder of The Runaway Guide. He ran away from home when he was 16 to travel the world. The blog follows him through his many adventurous travels.
You can support The Runaway Guide by purchasing his ebook here.
Budget Traveller
Kash is the founder of Budget Traveller. A travel blog aimed at giving readers the best tips of how to travel on a budget without missing out on style. He's also the author of a guide to luxury hostels which you can buy here.
These creative initiatives show how talented travel bloggers are, even when travel isn't possible. Just as I encourage you to support your local businesses, I also encourage you to support your favourite travel blogger if you've found inspiration from their posts, used their blog to help plan a trip, or if their travel photos have brightened your day. Your support is appreciated more than you know.