There are over 40 museums in Munich.
I've been to a few of the big ones like the Deutsches Museum, one of Europe's leading science and technology museums and the Pinakothek der Moderne, a modern art gallery.
They are no doubt impressive, but they just don't do it for me. I leave feeling underwhelmed and like I should have enjoyed it more than I did. This is not the museum's fault, it's just that I much prefer quirkier offbeat museums like the World's Largest Pig Museum in Stuttgart or the Bread Museum in Ulm or the German Emigration Center in Bremerhaven (my favorite museum that I've visited in Germany – so far). Fortunately, there are no shortage of quirky and offbeat museums in Munich.
Das Kartoffelmuseum (The Potato Museum) in Munich
With a description like "The Potato Museum is the world's only museum devoted exclusively to the potato in art…" There are eight themed rooms ranging from history to market scenes, to the most intriguing-sounding multi-talented potato room. Entrance is free. The Potato Museum is only open on Fridays from 9:00 – 6:00 pm and Saturdays from 11:00 – 5:00 pm. For further info (in German only) see Das Kartoffelmuseum.
Although this museum is definitely quirky, it's also quite blah. I was in and out in 30 minutes. If you live in Munich and want to do something different it's fine to visit, but if you're only in a Munich for a couple of days, I'd give it a miss.
Bier and Oktoberfest Museum in Munich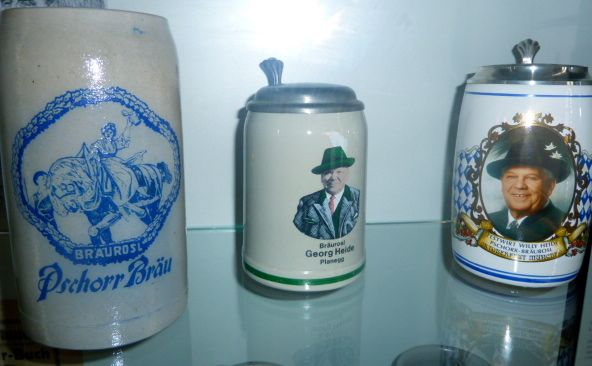 Everything you realize that you didn't know about Oktoberfest. The Bier and Oktoberfest Museum was the first museum I visited when I moved to Munich. It's housed in the oldest residential house in Munich dating back to 1327. It has rickety steep stairs, small cozy rooms and ceilings with dangerously low wooden beams.
All of the signs are in German, so visitors who don't understand German may not get a lot out of it. But it is fun to look at the collections and walk through the house – the house itself was my favourite part. And a beer is included with your entrance ticket. The Bier and Oktoberfest Museum is open Tues – Sat from 1:00 to 6:00 pm and closed on holidays. Visit the Bier and Oktoberfest Museum website for more info.
Bavaria Film Studios (Bavaria Filmstadt) in Munich
While not technically a museum, Bavaria Film Studios does provide insights into German movie culture. It's to Germans what Universal Studios is to Americans. The English language tour, complete with a 4D motion simulator cinema is at 1:00 pm. Many of the movies might not be familiar to English speakers with the exception of the NeverEnding Story, for which there's even a ride. That for me is reason enough to go! I enjoyed my visit but not as much as the German friend who I went with did since they were more familar with the movies and TV shows than I was. See Bavaria Film Studios' website for further info.
Alpine Museum (Alpines Museum) in Munich
As an avid hiker, I was eager to check out the Alpine Museum and did so on a Sunday when it was pouring rain – in other words when I wasn't hiking. The most fascinating (and disturbing) part of the museum to me was learning about the Alpine Club's ties with the Nazis.
It was the first large sports club to exclude Jews in the 1930s and trained soldiers from 1933-1945. I found this shocking since I've always considered hiking and mountaineering to be non-political – how wrong I was.
The museum itself was interesting (if you're into hiking/mountaineering), but it was the Berg Heil! Alpenverein und Bergsteigen 1918-1945 ( Berg Heil! Alpine Club and Climbing 1918-1945) Exhibition that was on when I visited that really held my attention. Note: The exhibitions change on a regular basis.
Most of the signs are in English so non-German visitors will also benefit. The Alpine Museum is open Tue-Fri from 1:00-6:00 pm, Sat & Sun from 11:00-6:00 pm and closed on holidays. See the Alpines Museum website for further info (in German only)
Although I'm not a museum person per-see I'm open to your recommendations for museums in Munich that you've enjoyed and will check them out…on a rainy day of course!
Be sure to check out my Munich City Guide for how to make the most of your precious travel time.