This post may include affiliate links, including Amazon Associate links. I may earn money if you click on one at no extra cost to you.
Munich has an unbelievable 24 Christmas Markets! It's one of the best cities in Germany to celebrate the holiday season.
Christmas Markets all share commonalities. There are vendors selling their wares, and locals meeting over a mug of Glühwein, but each has its own flair. Before you go, be sure to read my Tips for Making the Most of Your Time at a Christmas Market.
Here are 5 of the Most Beautiful Christmas Markets in Munich:
Medieval Christmas Market
Upon entering the Medieval Market in Wittelsbacher Platz (near Odeonsplatz) you'll wonder if you've just stepped into a time machine and popped out back in the middle ages.
Vendors dressed in medieval clothing sell their medieval wares.
Glühwein is served in heavy hand-pottered mugs. On weekends, there are a variety of free musical performances played on long-forgotten instruments dating back to the middle ages. Children especially enjoy this market.
Christmas Village in the Munich Residenz
It's hard to compete with a Christmas market held in the courtyard of a palace.
Strategically placed lights provide the WOW factor at the entrance.
In addition, this market has the best food of all the Christmas markets in my opinion. It's a popular meeting spot for locals. You'll also find a fairytale village which is always a hit with children. Expect singing moose and
You'll also find a fairytale village which is always a hit with children. Expect singing moose and miniature Santa Clauses singing Christmas carols.
Tollwood Winter Festival
I find it impossible to identify just one reason why I love the Tollwood Winter Festival so much. Tollwood is a combined Christmas market/exhibition of cultural, political and scientific events.
It's also a hip place to hang out with live music. The commonality that ties it all together is the environmental focus. I plan multiple trips to Tollwood each year. It's fun meeting friends and listening to free live music at the Tief im Wald Bar (Deep in Forest Bar), the coolest bar I've ever been to complete with a forest atmosphere. or to listen to one of the incredible presentations. A couple of years ago I saw a film about my idol, Jane Goodall film (a famous primatologist who works with chimpanzees). This year I'll honor of hearing her speak at Tollwood.
I also enjoy attending the incredible presentations. A couple of years ago I saw a film about my idol, Jane Goodall film (a famous primatologist who works with chimpanzees). This year I'll honor of hearing her speak at Tollwood.
A couple of years ago I saw a film about my idol, Jane Goodall film (a famous primatologist who works with chimpanzees). In 2016 I had the honor of hearing her speak at Tollwood.
I've spent more money at Tollwood than I have at all the other Christmas Markets I've visited combined. While I'm not much of a shopper, my favorite Christmas market find was at Tollwood. It's a handcrafted coffee table built from a Bavarian farmhouse dating back to 1807.
Tollwood is often described as a "small Oktoberfest" since the winter festival is held on the same ground as Oktoberfest. I've never seen anything as eclectic, making it a strong contender for my favorite festivals of all time. Only the World Nomad Games are in contention!
The Christmas Market at Marienplatz: One of the Oldest in the World
Not only is it the largest and oldest in Munich, but it's also one of the oldest in the world! According to the official Munich Christmas Market site, it was first mentioned in the town records in 1642, but according to Wikipedia, it's the second oldest in the world, dating back to 1310. Only the Vienna Christmas market is older (1294). Regardless of its exact age, it retains its original essence with 150 wooden huts selling Glühwein (mulled wine), traditional sweets, Christmas ornaments, and toys.
OK, now it's time for a confession. While I believe it is by far the most beautiful Christmas market in Munich, it's also not my favorite. Don't get me wrong, I still go several times a year, but it's busy. I mean crazy busy, especially in the evenings when it's lit up and at its finest. It's also by far the most popular Christmas market in Munich with tourists. And I don't do crowds. I prefer the smaller, albeit less impressive Christmas markets that attract fewer people.
Having said that I still recommend going to see it and experience it. Join me on a photo journey through the Munich Christmas Market and you'll see why I still recommend going:
My favorite place in the entire Munich Christmas Market is at Sternenplatzl (Star Platz) at the Rindermarkt.
It's just stepping away from the more popular Marienplatz but feels worlds away and the stars hanging from the trees give it a whimsical feel.
Christmas pyramids are usually much smaller and used for decorative purposes inside, but I love this oversized one that serves as a Glühwein stand at the Sternenplatzl. It's thought that Christmas pyramids were the predecessor to the Christmas tree, so perhaps the medieval Christmas markets had more of them!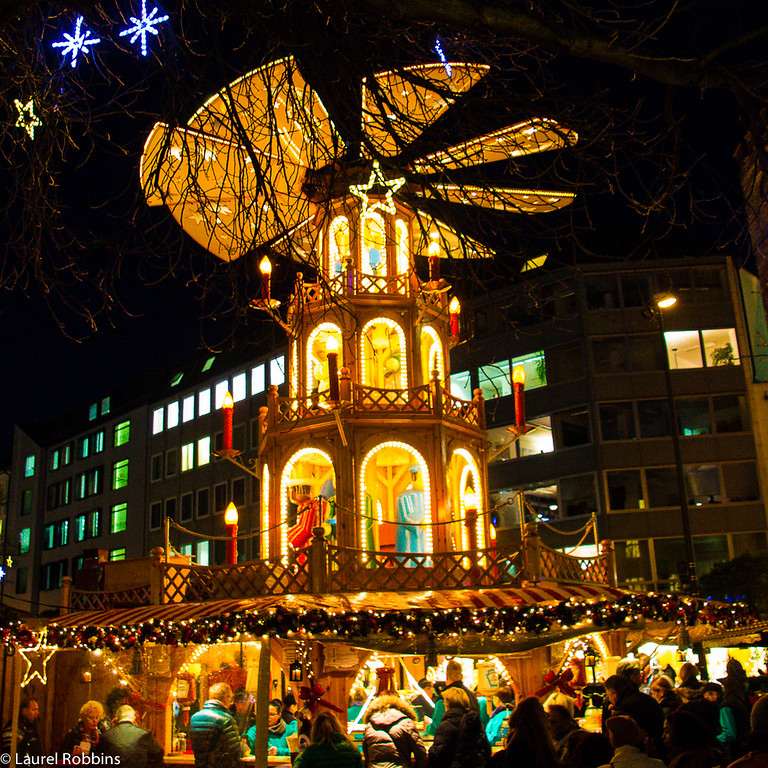 Christmas markets are much more impressive at night than during the day, as the photo below shows, but they're also busier. If you're there to shop, go during the day. If you're there for the atmosphere and to drink Glühwein, then go in the evening:
The other unique aspect of the Munich Christmas Market is the Kripperlmarkt (Manger Market). It's toted as being "probably" the largest manger market in Germany.
I'm not in the market for a new manger, but even I can appreciate the craftsmanship of some of the wood carvings.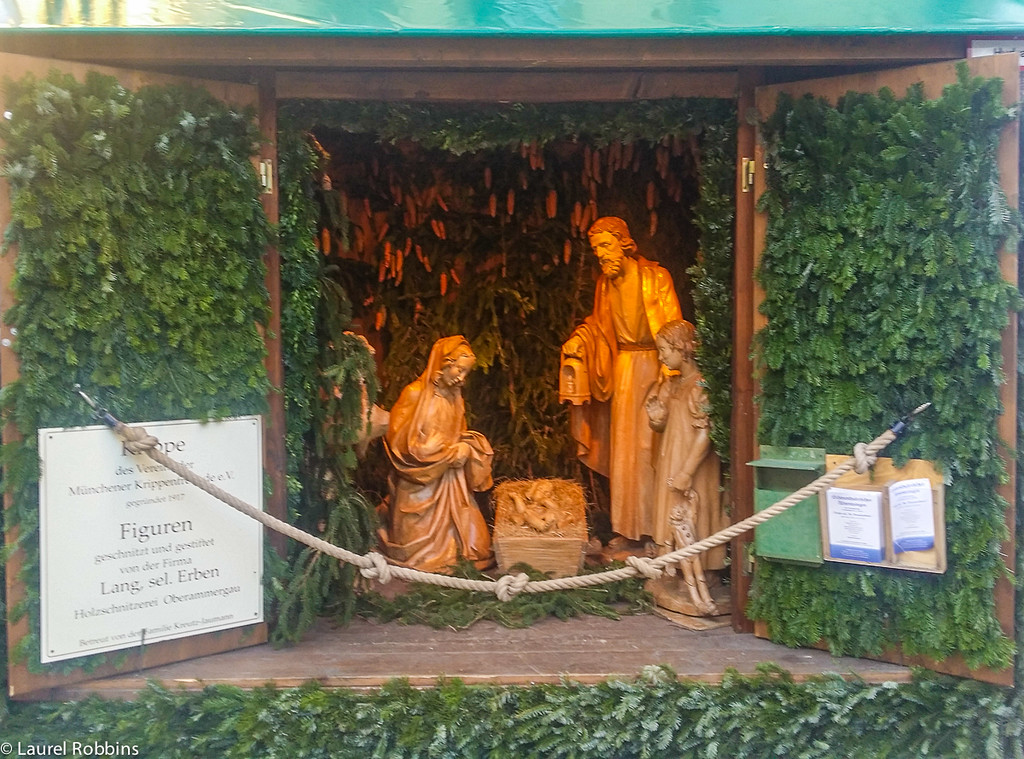 There's even a skating rink at Stachus (Karlsplatz). This is well thought out as there's a Glühwein bar overlooking the skating rink – a win-win for both parents and kids…or kids at heart!
If you go to a Christmas market and only try one thing, let it be Kaiserscharrm. Named after the Austrian Emporer (Kaiser) Franz Joseph I of Austria, it has royal roots. It's a fluffy cut-up pancake that is sprinkled with icing sugar and usually served with a side of applesauce. My German and foreign friends alike both go nuts for it. Being Celiac (gluten-allergy) I have to skip it, but you can try it at the Munich Christmas Market on Kaufinger Strasse.
Schwabing Christmas Market for Artisans
This market is charming with hanging lanterns scattered throughout. But what really impressed me about it was the artisans. It has some of the most talented artisans I've seen at any Christmas market.
There's also an Art Tent where vendors display their larger works of art. This bohemian type of market will be especially appreciated by anyone with an interest in art, or those looking for a unique gift.
Convenient Places to Stay for Visiting Christmas Markets in Munich
This 5-star design hotel gets raves reviews for its location – it overlooks the Old Botanical Garden. Guests love its special touches, like the original paintings by Munich artist Franz von Lenbach in every guestroom.
Getting there: Sophienstrasse. 28, Munich (a 2-minute walk from the Hauptbahnhof, Central Train Station)
This 4-star hotel is in the heart of Munich. It features old-world charm, a 16th-century restaurant, and floor to ceiling windows.
Getting There: Sparkassenstr. 10, Altstadt – Lehel, 80331 Munich (a 2-minute walk from Marienplatz)
A classically furnished 4-star hotel, with some rooms offering views of Isator (one of the city's three remaining gates).
Getting There: Tal 41, Altstadt – Lehel, 80331 Munich (a 5-minute walk to Marienplatz)
Located in Bogenhausen, where some of Munich's most extravagant villas, can be found, this 4-star hotel overlooks the English Garden. You're just a few minutes' walks away from the Christmas Market at the Chinese Tower. Afterward, you can warm up in the hotel's Finnish sauna!
Getting There: Oberföhringerstraße 191, Bogenhausen, 81925 Munich (~12-minute tram ride to the city center).
Once you've decided which of the Christmas Markets to visit, you can check out my 7 tips for making the most of a trip to a German Christmas market.
Be sure to check out my Munich City Guide for how to make the most of your precious travel time
What are your favorite Christmas markets in Munich?
Note: This article was originally published in 2011, but was updated in November 2019.