This post may include affiliate links, including Amazon Associate links. I may earn money if you click on one at no extra cost to you.
Linderhof Castle, or palace as it is officially known, is the only castle that eccentric King Ludwig II finished before he died a mysterious death.
You can try your hand at solving the mystery here. Most of Neuschwanstein Castle is not finished. Nor is my favorite of the three Herrenchiemsee Palace in which you have to take a boat to get to the palace located on an island. Linderhof Palace is also by far the smallest of the three castles. But as it was inspired by Versaille, for what it lacks in size, it makes up for in opulence and fairytaleness – a word I just made up but which seems quite fitting for King Ludwig II. Linderhof Castle was once a hunting lodge that belonged to King Ludwig's father Maximillian II. Linderhof Castle is a must-see in Germany.
Related Reading: 7 German Castles You Have To Visit In Southern Germany
A Tour of Linderhof Palace
Entrance to Linderhof Palace is available by guided tour only. You can make reservations in advance only by mail or fax. Since this wasn't convenient our group from Munich just showed up and waited less than 20 minutes to get in. The palace tour is less than 25 minutes and is offered in German or English.
When I asked a girl in our group what she thought of it, her reply was short. Having said that we all agreed it was worthwhile. Of special note is the Hall of Mirrors which due to the clever placement of mirrors gives the illusion of a never-ending corridor. Unfortunately, photos are not allowed inside the palace so you'll just have to take my word that the palace really does resemble something out of a fairytale.
Related Reading: Best Hikes in Europe: Your Ultimate Guide to Where and When to Go
The Palace Grounds
I also really enjoyed the park grounds of the palace. There are formal gardens, water features a Moorish Kiosk and a Moroccan House. We ate at the restaurant near the entrance, but there were lots of great spots for a picnic. My only complaint was that the buildings on the grounds were not signed, so it was difficult to know why there were a Moorish Kiosk and a Moroccan House (actually built in Morocco) in the middle of Bavaria.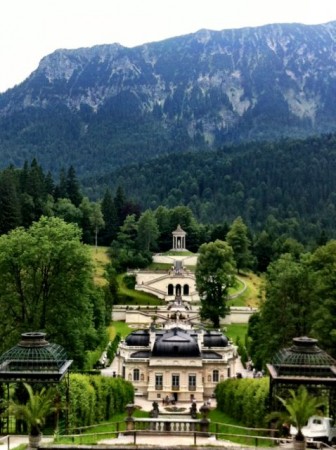 The Venus Grotto At Linderhof Palace
Perhaps the most unique feature found on the palace grounds is the Venus Grotto, an illuminated artificial cave made especially for King Ludwig II that illustrated the first act of Richard Wagner's Tannhaüser. Mmm, perhaps he was a little obsessed?
Whatever happened to just dancing around in your living room or Hall of Mirrors in his case? Perhaps, I was being too kind when I referred to the king as eccentric. Entrance to the Venus Grotto is also available only by a tour which lasts about 10 minutes. The tour is only held in German (to the best of my knowledge), but even if you don't speak German, the visual and sound effects still make it worth seeing.
Related Reading: Why You'll Love Hiking to King Ludwig II's Palace in the German Alps
Know Before You Go to Linderhof Palace:
Linderhof Palace is open from 9:00 – 6:00 pm April – October 15th. Important Travel tip: The previous opening times mentioned are the best time to go. While the palace itself is open from 10:00 – 4:00 from October 16th – March, the Grotto, Moroccan House, and Moorish Kiosk are all closed. Plus the fountains won't be turned on and there won't be much to see in the gardens.
Entrance to Linderhof Palace costs €8.50
Bring a picnic, the park is gorgeous! Alternatively, there is a restaurant at the entrance to the grounds.
Linderhof Palace can be reached by taking a train from Munich to the nearby village of Ettal. Then hop on a bus which takes you directly to the palace. Travel tip: While in Ettal, take a minute to explore Ettal Abbey, it's a beautiful Benedictine monastery home to ~50 monks.
More info can be found about Linderhof on the official web page here.
You can purchase a combination ticket (Köningsschlösser) for €26. This ticket will give you entrance into Neuschwanstein, Herrenchiemsee, and Linderhof.
Tour To Linderhof Castle
If you are planning a trip from Munich and prefer going in a tour group then try this tour that will take you to both Neuschwanstein and Linderhof. This tour has some great reviews. The tour includes lunch in Hohenschwangau and a detour to Oberammergau.
Walking through Linderhof Palace will have you imagining yourself as a part of the royals that once inhabited it.