This post may include affiliate links, including Amazon Associate links. I may earn money if you click on one at no extra cost to you.
There are an incredible 25,000 castles in Germany! Since it's impossible to see them all, I have picked out some of my favorites from southern Germany.
With so many castles it's difficult to pick out just one favourite. Instead, I've picked out my favourite castles in Southern Germany based on different criteria. As you'll soon see, no two castles are alike:
Favourite Touristy Castle in Germany: Heidelberg Castle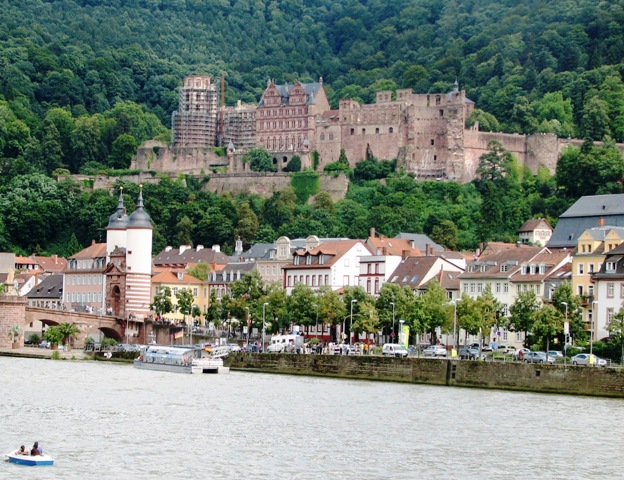 Yes, it's touristy. And on the Japanese tour bus circuit. But this 700-year-old castle overlooking the city of Heidelberg has survived fires and a lightning strike. And the castle tour is worth fighting the crowds. You can even get a private tour of the town and a visit to the castle.
Inside Heidelberg, Castle visitors can also visit the World's Largest Apothecary Museum. It showcases over 20,000 pharmaceutical items. You'll also find the world's largest wine barrel here.
Travel Tip: The crowds reach an all-time peak in July and August. Go at another time of year if possible. If not go early or later in the day.
Favorite Elaborate Castle in Germany: Herrenchiemsee New Palace
One of crazy King Ludwig's castles, the Herrenchiemsee New Palace is the most elaborate. It cost more than the combined total of famed Neuschwanstein and Linderhof.
It's decadence at its finest. It's even housed on its own island (Herren Island) on the Chiemsee. Photos are not permitted inside. But the exterior hints at the luxury waiting inside. Not surprisingly it's also a popular castle so it's best to go off-season when possible.
It makes a great day trip from Munich. And you'll take a boat to reach it which this tour includes. You can even try this skip the line tour, so you don't have to spend time waiting around and you can enjoy more.
Another favorite of mine is King Ludwig's hunting castle. You'll have to hike up to see it but the surroundings are stunning.
Favorite Small Castle in Germany: Lichtenstein Castle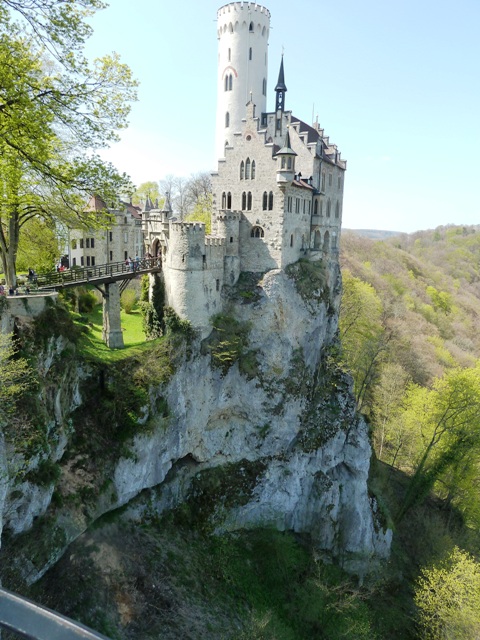 Lichtenstein Castle is sometimes referred to as Neuschwanstein's Little Brother. They're both white castles, although Lichtenstein is a much smaller castle. But to be fair it is only a hunting castle.
What it lacks up for in size it makes up for by perilously clinging to the edge of a limestone cliff.
Favorite Castle Tour in Germany: Ludwigsburg Palace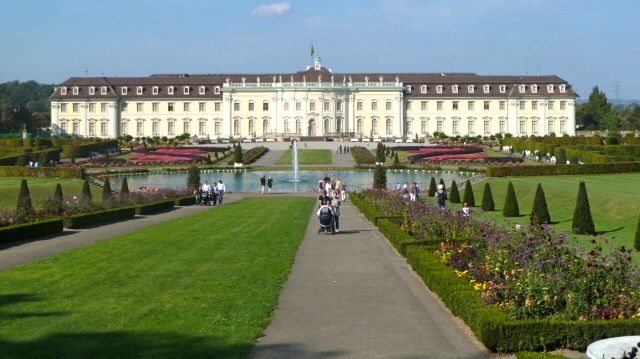 After a while, many castle tours seem to blur together. But not the Ludwigsburg Palace tour. On the tour, visitors learn all about the secret lives of royalty. That includes Duke Eberhard's libido which unfortunately was reserved for his mistresses. His poor wife. Or perhaps she was relieved?
The tour also includes a look at the servant's quarters. You get a glimpse of how difficult it would be to live in a cold dark room, while everyone else was surrounded by luxury.
You can get yourself a Stuttgart card which will give you entry into all the major sites, museums, and Ludwigsburg Palace.
Favorite Hike to a Castle in Germany: Hohenzollern Castle
There are much easier ways to reach Hohenzollern Castle than a 12km hike. I.e. you could drive to the parking lot. But knowing that your destination is a castle is very good motivation to visit one of the most popular castles in Germany.
Hohenzollern Castle dates back to the 11th century. It has seen numerous wars including the Thirty Years War. It has fallen into ruin and even suffered from an earthquake.
Go early to avoid the crowds and check the schedule in advance if you're looking for an English tour. If your traveling from Frankfurt, then try this tour to Hohenzollern Castle.
If you want even more of a challenge, then hike to King Ludwig's Hunting Palace in the German Alps. The views are unbeatable!
Favorite Castle in Munich: The Residenz
There are two castles in Munich, The Residenz and Schloss Nymphenburg and Schlieissheim Palace located just outside of Munich. Schloss Nymphenburg and Schlieissheim Palace are more impressive on the outside, but I love the interior of the Residenz.
It's also one of the largest castles in Europe. Plus it also houses the Treasury where visitors can look at the crown jewels. The Residenz is conveniently located in downtown Munich.
You can even attend a concert with dinner in the Residenz. The surest way to feel like royalty!
Castle Ruins in Germany: Old Castle in Baden-Baden
I spent over an hour exploring these castle ruins for which there is no tour nor entrance fee.
Despite the nice weather, there was only a handful of other visitors there. I loved having free run of the place.
I've been to dozens of other castles in Germany, but these are some of my favorites.
What are your favourite castles in Germany? You have more than 24,990 to choose from.