This post may include affiliate links, including Amazon Associate links. I may earn money if you click on one at no extra cost to you.
Until recently I had never heard of Burghausen Castle. This is rather surprising when you consider that I consider myself a castle aficionado.
With a claim to fame of being the longest castle in Europe, measuring in at an impressive 1043m long, and one of the longest castles in the world. And get this – it's located just over 110km east from Munich where I live. I was definitely remiss, but upon hearing about it I was there the next day!

Not only is Burghausen Castle the longest castle in Europe, it's also a magnificent example of a late medieval fortification that is mostly in tact. Pretty impressive when you consider that it dates back to 1025 and was used by the Dukes of Lower Bavaria until the late Middle Ages.
In addition to being considered the strongest fortress in the country, it also served as a court for the duchesses and was home to their children, where they were also educated. Being so sturdy, it's not surprising that the castle was also where the Dukes kept their abundant stashes of gold and silver. Duke George the Rich wasn't called "rich" for nothing!
Despite being the longest castle in Europe, Burghausen Castle isn't all castle, it's connected by six courtyards, with the actual castle making up a relatively small part of the 1043m.
My favorite part of visiting Burghausen Castle were the views over the town of Burghausen – beautiful!
The State Castle Museum is OK, but I was expecting more from the longest castle in Europe.  Only a small part of the castle is open to tourists and compared to other castle tours it was just OK for me.  Having said that though, if you like art  there is a large collection of huge Gothic panel paintings that illustrate the history of Bavaria. And entrance is only €4.50 for a self-guided tour.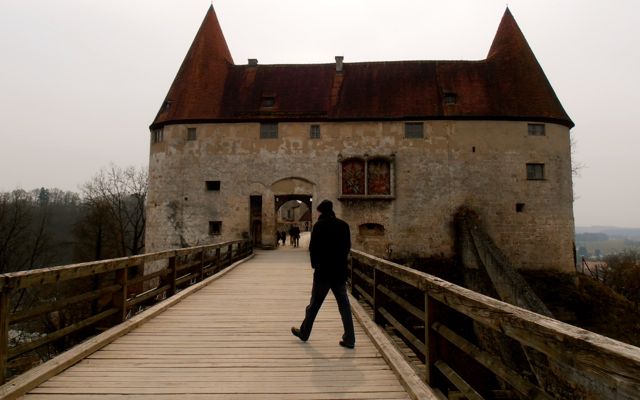 In summary, I would definitely recommend a visit to Burghausen Castle.  Even J.P. my German husband who only visits castles when I drag him thought "it was nice" – high praise coming from him! It's a medieval architectural gem, unique in how long it is and very impressive – at least from the outside.  Insider travel tip:  Go across the river for the best views of Burghausen Castle.  I will add it to my list of favorite castles in southern Germany, of which Neuschwanstein Castle , the castle that Disney was modelled after did not make the list. The town of Burghausen is also worth wandering around.  I especially enjoyed the colourful houses in downtown Burghausen.
Know Before You Go to Burghausen Castle:
The castle is open daily except on Shrove Tuesday, December 24, 25, 31 and January 1st.

It's open from 9:00 – 6:00pm April – September and from 10:00 – 4:00 October – March
It's free to walk around the castle.  A visit to the State Castle Museum costs €4.50 for a self-guided tour.
You can reach Burghausen Castle by public transportation.  It's just over a 2 hour train ride from Munich to the Burghausen main station and then you take a local bus to the actual castle.  The cheapest way to go is by the Bavaria ticket, available for purchase at the ticket machines.
Driving to Burghausen Castle from Munich takes just over an hour (114km).
For futher info visit the castle's homepage here.