Our favourite winter destinations in Europe. Check out our recommended places for adventurers that will make you love winter. No need to escape the cold.
Winter is a special season, unless your highly adverse to the cold of course. There are some beautiful aspects of winter in Europe that do make you want to brave the cold. Some of the best winter destinations in Europe offer beautiful phenomena such as the Aurora Borealis and special ice tunnels, but let me not spoil all the fun. Read on for more…
So What Are the Best Winter Destinations in Europe? 
1. Wilder Kaiser, Austria
Wilder Kaiser is best known as the home to SkiWelt, one of the largest and most modern ski resorts in the world. You'll find 284 km of ski runs. There are an incredible 90 lifts – some of them with heated seats and 70 ski huts. I personally absolutely loved skiing here and even went back during the summer to hike the same slopes.
Check out the SkiWelt website for more information. Wilder Kaiser is conveniently located in the Tirolean Alps of Austria between Innsbruck, Munich, and Salzburg. There are four villages that comprise Wilder Kaiser; Ellmau, Going, Scheffau and Söll.
Ellmau and Söll are the largest of the four villages and the most popular with English-speaking tourists. Besides skiing, you can also enjoy night skiing on selected dates, sunrise viewing from SkiWelt Brixen & Westerhof which opens at 7:30 on selected Thursday as well as night tobogganing at Söll.
You can even make a stop at the Alpenigloo – Igloo Village which is worth a visit and you can read more about it here.  I love Wilder Kaiser, so much so that it comes first on my best winter destinations in Europe list.
Related Reading: The 7 Best Ski Resorts in Austria.
2. Jungfrau, Switzerland
The Jungfrau region of Switzerland is one of the best and most popular winter destinations in Europe. The region offers 4 skiing areas; Grindelwald First, Grindelwald Wengen, Jungfrau Ski Region and, Mürren-Shilthorn.
You can stay at Grindelwald, Wengen, Lauterbrunnen, Mürren, and Interlaken. The region is excellent for adventure skiing as well as cross country and there are excellent winter hiking/snowshoeing opportunities.
Visitors can also take part in unique activities such as excellent sledding, a unique zipline called the First Flyer, as well as another, called the First Glider which simulates the flight of an Eagle which moves up to 72km/h.
Make sure to try out the Gelmer Funicular which is the steepest in the world. Jungfrau is an excellent destination year-round. If you are staying in nearby Zurich and want to make a trip to Jungfrau, try this tour to the top of Europe.
Related Reading: The 7 Best Ski Resorts in Switzerland.
3. Lapland, Norway/Finland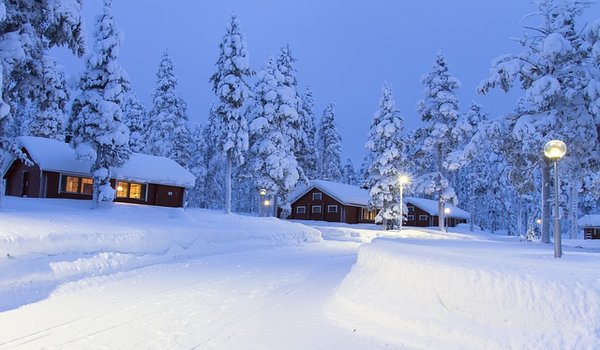 Lapland is located in the Arctic and spans the northern parts of Finland, Norway, Sweden and the Kola Peninsula of Russia. The most popular parts of Lapland to visit are in Norway and Finland, as they both offer some great and exciting winter activities. And if you believe it, Lapland is also where Santa Clause lives.
Lapland also has the distinction of having one of the longest winters, it lasts around 200 days of the year, giving you plenty of time during the year to enjoy it.
If you are travelling to the Finnish part of Lapland then you will find plenty to do in Rovaniemi. You can visit a husky park and reindeer farm, try a snowmobile safari, get out and about with a great hike and snowshoeing experience or experience the northern lights.
Visitors can enjoy one of the best sightings of the Northern Lights, Dog/ Reindeer sledding, snowmobile safari's on one of the longest snow-covered stretches and enjoy Skiing at the most popular ski resort in Finland, the Ylläs Ski Resort.
You can also enjoy a trip on the world's only Sauna Gondola as well as visit the Santa Clause Village and Santa Park. It may seem touristy but it is a one-of-a-kind experience and a fun way to spend some time and feel like a kid again.
Stay in an igloo or the Levi Ice hotel in Akanti. There are a few different options of getting to Lapland, the most convenient would be flying into one of the airports, depending on which part of Lapland you are visiting.
Related Reading: Bear & Wolverine Watching: The Best Wildlife Experience in Finland
4. Reykjavik, Iceland
Reykjavik has a lot to offer for the adventurer and the avid traveller. It is also the most popular destination in Iceland. There is so much to do here in winter. Catch the Aurora Borealis that lights up the sky during winter or take a Glacier tour where you can take full advantage of ice climbing, glacier hiking or even snowmobiling over the glacier.
You can even take a trip to see the wonderful Langjokull ice caves which are a brilliant natural phenomenon. From Reykjavik, you can also take a tour of the South of Iceland where more adventure awaits.
The most popular places to see are within the Golden Circle which encompasses Gullfoss Waterfall, which is frozen during winter and makes for a beautiful view, the Geysir Geothermal Area, and Thingvellir National Park which has some of the most beautiful landscapes in Iceland.
Another absolutely amazing feature in Reykjavik is the hot natural springs that there are plenty of. There is nothing cooler than dipping in a hot thermal pool during the freezing winter. Read on to find out more about Iceland.
Related Reading: 5 Staycation Ideas That Will Make You Feel Like You're Actually Travelling
5. Zillertal, Austria
Zillertal in Austria offers several great winter activities. It's always ski season at the Hintertux Glacier. It's the only spot in all of Austria that you can ski 365 days a year -even in summer. But let's stick to winter here. If you're lucky you'll bump into some professional ski teams training here. Zillertal is also part of the Tyrolean Alps and not that far off from Wilder Kaiser.
Zillertal is also a hiker's paradise. You'll find a whopping 1400 km of hiking trails here in the Austrian Alps. It is a great destination for the whole family to enjoy. You can stay at the Hells Ferienresort in Fügen. They offer a choice of campsites, chalets and hotel rooms. Also, they have a wellness area with an outdoor pool and three saunas. Zillertal is definitely one of the best winter destinations in Europe, especially for families.
Related Reading: 7 Best Ski Resorts in Austria.
6. Lake Bled, Slovenia
Lake Bled in Slovenia is so much more than just a great photo op for Instagram. There is so much to explore and winter is a great time to do it. Slovenia does get pretty cold, but that makes it all the more, well – pretty.
The area is great for the snowshoe enthusiast (like me), not to mention some of the best winter hiking in Slovenia that takes you up the surrounding peaks which gives you an amazing view of Lake Bled.
Some years Lake Bled freezes over making or some of the best ice-skating in Europe. Getting to ice skate here would be an awesome once-in-a-lifetime experience! You can also find some great ice climbing opportunities nearby as well as skiing.
If you want to spend some time indoors make sure to visit Castle Bled as well as Bled island which is quieter during winter and you will get more time to really enjoy these sights. Enjoy a stay with views at the Sovica holiday home, the 4-Star Villa Bled or the 5-Star Grand Hotel Toplice.
Related Reading: Slovenia
7. Jahorina, Bosnia & Herzegovina
Jahorina is one of the ski areas in Bosnia and it is absolutely beautiful. Besides being a perfect place for skiing and epic snowboarding, it is also one of the most popular places for snowshoeing in the Balkans.
This once war-torn country is now one of the best destinations in Europe. You can stay in Jahorina at the Apartments Sport House Novakovic or the  Hotel Nebojša Jahorina. Besides having the opportunity to spend some fun time in the snow, winter is also a great time to explore places such as Mostar and Sarajevo are quieter and therefore much better to explore.
You can also visit areas such as Bjelasnica which is not far from Sarajevo and also offers so great winter sports opportunities. You can stay in Sarajevo at the Hotel Hills Sarajevo Congress & Thermal Spa Resort or the Toplik.
If you're looking for an excellent winter location in Italy, Alpe di Siusi is it. The Alpe di Siusi is home to Europe's largest alpine meadow and some of the most SPECTACULAR views. Winter is a wonderful time in Alpe di Siusi. It is unique and sunny with great skiing in the slopes of Val Gardena and the Ski Carousel Dolomiti Superski.
You will find everything from music festivals, snowboarding, tobogganing, snowshoeing and ice skating. There is great cross-country skiing, including a marathon that is held at night.
Winter sports bring in tourists and athletes alike. Winter hiking is really popular and for good reason, the views of the snow-capped mountains are unrivalled. Every year in January there is a traditional wedding festival that takes place.
The festival is a reenactment of a historic peasant wedding including costumes, jewelry, and traditionally cooked foods. You should also stop at Valentin Hofer, Italy's first coffee sommelier. It is the perfect way to keep warm.
You can find accommodation nearby at the Passo Sella Dolomiti Mountain Resort, Hotel Sella***s or the Hotel Somont.
Recommended Reading: Best Walking Holidays in Italy
9. Svaneti, Georgia
Svaneti is located in the southwest of Georgia and is one of the more remote areas of the country. But don't let that fact fool you into thinking that this isn't a worthwhile place to visit for an epic adventure and other activities.
Mestia is the best place to use as a base to explore from and you can reach it by train from Tbilisi. From Mestia you can explore the surrounding areas, get in some of the best hiking in the country and learn more about the local culture and history which is really unique. You can stay in Mestia at the Elite House Mestia, or the Hotel Level.
Hike the Chaladi Glacier (which can be done in summer and winter) and explore the Tshakazagari Mountains. Winter hiking is quite popular here and the perfect time for the adventurer as it can be a little tricky.
There are also the Koruldi Lakes and some great ski resorts to be explored such as the Tetnuldi resort where you can also take part in some epic hiking that ranges from easy to difficult but will give you great opportunities to enjoy some of the best views.
The most popular trekking trail in Svaneti is the Ushguli Trail which will take you through some great little villages (which all offer accommodation) and they are so much more picturesque in winter.
10. Iso Syöte, Finland
It doesn't get more picturesque than doing winter activities in Iso-Syöte National Park. It gets more snow than anywhere else in Finland making it a winter paradise for adventure seekers. It's also the southernmost fell (mountainous zone) and one of the most picturesque in the whole country.
Whether you're looking for snowmobiling, dogsledding, ice fishing, visiting a reindeer farm or the elusive Northern Lights, you'll find it all here. The best part is that most of these activities can be done from the Hotel Iso-Syöte which is the perfect place to stay. If you're an adventurer like me you won't regret visiting Iso Syöte, it is one of the best winter destinations in Europe.
Iso-Syöte is located 140km NW of Oulu. Oulu is easily reached by multiple flights from Helsinki daily for reasonable prices. Tourists can travel between Oulu and  Iso-Syöte by car. However, visitors should be aware of winter road conditions.  Alternatively, bus service is also available.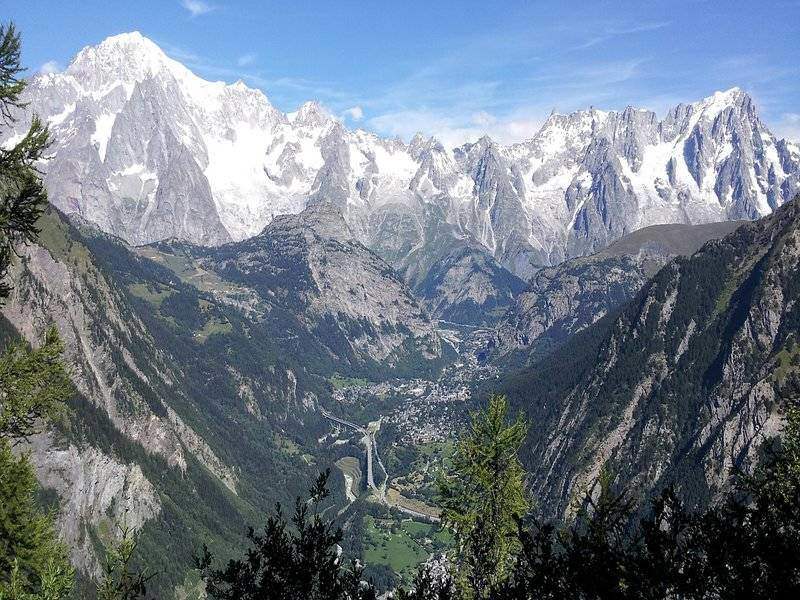 Courmayeur is a famous alpine resort in the northwest edge of Italy, bordering France and Switzerland and boasting stunning views of Mont Blanc. In winter, Courmayeur is a popular ski destination. In summer, lots of people hiking the Tour du Mont Blanc stop in Courmayeur. The town is charming,  restaurants are cozy and serve excellent food, and there's a lot to do.
With more than thirty slopes, Courmayeur ski resort is a favourite destination for skiers and snowboarders. There are ski runs for every level, and you can easily rent equipment in town or directly on the slopes.
If you're an experienced skier seeking more of an adventure consider a day of backcountry skiing on a one-day guided tour or experience the ultimate luxurious adventure in skiing, try a day of heliskiing on a guided trip. Aside from skiing and snowboarding, you may want to try a new winter experience in Courmayeur.
How about snowshoeing, fat biking, ice climbing, heli-skiing, or ski mountaineering? You'll find it all in Courmayeur.  Because of its many things to do this is definitely one of the best winter destinations in Europe.
We recommend these hotels for an excellent stayL Auberge de la Maison, L'Abri des Amis, Villa Novecento Romantic Hotel or the Grand Hotel Royal e Golf
12. Garmish-Partenkirchen, Germany
Garmish-Partenkirchen is the perfect base to explore Germany's highest peak, Zugspitze and the Partnachklamm. It is a favourite with many locals and ski lovers from abroad. It also offers great opportunities for snowboarding, winter hiking and paragliding. You can take one of 40 cable cars to the top and while your there you can also enjoy the perfect views and some great downhill and cross-country skiing.
The Partnachklamm is also one of the great jewels that Garmisch has to offer. This special gorge is open during the winter and who doesn't want to walk between snow-covered trees, massive icicles and a gorgeous rushing river that runs through.
It isn't a hard hike but it is one that should not be missed. If you're looking for more adrenaline-pumping action, why not try your hand at ski jumping and the famous Olympiaschanze which is the Olympic ski jump hill.
There are also plenty of hiking trails in the area which are great during the winter. Make sure to book early though, Garmisch can get pretty busy during peak times. You can stay at the Riessersee Hotel, Hotel Königshof or the moun10 Jugendherberge.
All these winter destinations in Europe are great for the adventurer but can be adapted for a relaxing vacation too. Which of these winter destinations have you been to?