You gotta love the nick name for the Tien Shan Mountains, The Little Brother of the Himalayas! Love that Kazakhstan, Kyrgyzstan, Uzbekistan, Turkmenistan and China. They're even designated a UNESCO World Site in eastern China!
The combination of mountain ranges, valleys and basins results in elevation differences of over 7 km (4.5 miles) long! The lowest point is the Turfan (Turpan) Depression. At 154 m (505 feet) below sea level it's also the lowest point in Central Asia! In contrast, the highest point is Jengish Chokusu (Victory Peak) at 7439 m (24, 406 feet). Just to give you an idea of how high that is, Mount Everest, the highest peak on the planet is 8848 m (29,029). There are some seriously high peaks in the Tien Shan Mountains!
The Tien Shan Mountains offer something for everyone, from day hikes, to multi-day hikes to full on mountaineering – with over 10,100 square kilometres (3900 square miles of glaciers)! Having said that, after hearing Dan and Audrey from Uncornered Market about their experience of getting lost while hiking in the Tien Shan Mountains near Almaty, Kazakhstan, I highly recommend going with a guide. My own guide told me multiple stories of people getting lost, never to return. Unlike other mountain ranges, like the Alps in Europe, many trails in the Tien Shan Mountains are not well signed or marked. You need to go with a local guide who knows the trails well. In addition, unlike hikes in Germany, where you may share a summit with 50 other hikers, the Tien Shan Mountains are much more isolated. If you need help, you may have to wait days, or even weeks for the next hiker/guardian angel to appear!
What especially intrigues me about the Tien Shan Mountains is that they're one of the few places on earth where you can spot the highly endangered and incredibly elusive snow leopard! Although a trek through the Tien Shan Mountains is no guarantee that you'll see them. Many experienced mountain guides consider themselves lucky to spot one once during their entire lifetime in the mountains!
I only experienced a small taste of what the Tien Shan Mountains have to offer near Almaty, Kazakhstan. They're incredibly close, located ~25 km away. I did a short 2 hour hike along the road up to the Shymbulak Ski Resort, and from there our group took the gondola up for the glacier views:
I also visited Big Almaty Lake. Not only is the lake gorgeous, but it's also the water supply for Almaty. At the end of the lake, I could make out a faint hiking path. Unfortunately, I didn't have time to explore to see where it led.
How to Get to Shymbulak Ski Resort:
If you're really ambitious, you can cycle the 25 km uphill road, as I saw quite a few cyclists doing. Alternatively, you can either take a taxi or bus number 6 and 12 which runs from 7:00 am to 8:00 pm daily. Check for exact details on the bus route as I was with a group and we drove.
How to Get to Big Almaty Lake:
Drive, take a taxi. Alternatively, bus N28 also goes there. Check for exact details in Almaty.
I highly recommend visiting both Shymbulak and Big Almaty Lake. I visited them both even when I just had 48 hours in Almaty. (It's also worth checking out the metro stations – seriously, in Almaty) They were the highlight of my trip! I would recommend allowing more time to really experience the Tien Shan mountains with several days of hiking, but go with a guide.
After my brief time in the Tien Shan Mountains, I can't wait to go back for a multi-day hike and to meet the elusive snow leopard!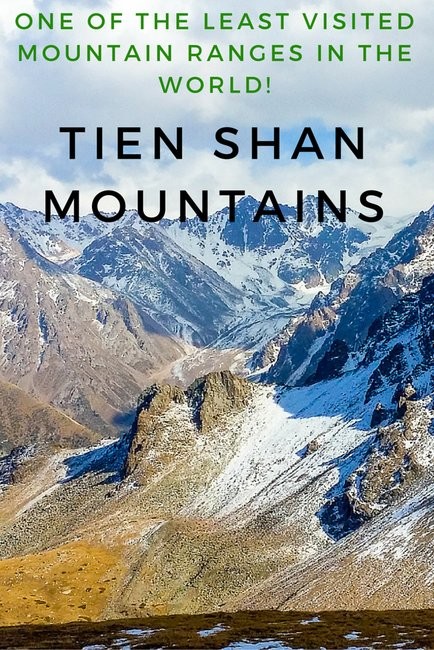 Note: My visit to Almaty was made possible by Turan Asian Travel Company and by Almaty Tourism. They can help arrange a custom tour for you through Kazakhstan, or a tour that combines several of the "stans". I stayed at Rahat Palace. As always, all opinions are my own.