Munich has an unbelievable 24 Christmas Markets! It's one of the best cities in Germany to celebrate the holiday season.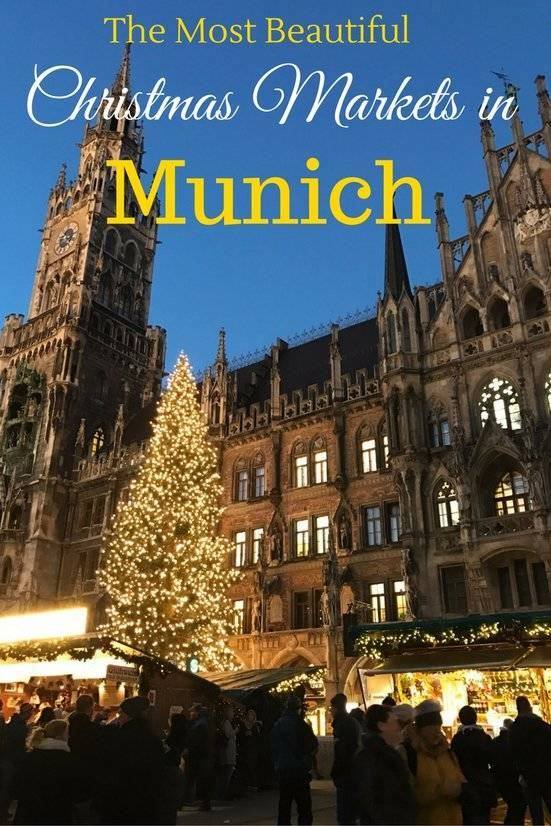 Christmas Markets all share commonalities. There are vendors selling their wares, and locals meeting over a mug of Glühwein, but each has its own flair. Before you go, be sure to read my Tips for Making the Most of Your Time at a Christmas Market.
Here are 5 of the Most Beautiful Christmas Markets in Munich:
Medieval Christmas Market
Upon entering the Medieval Market in Wittelsbacher Platz (near Odeonsplatz) you'll wonder if you've just stepped into a time machine and popped out back in the middle ages. Vendors dressed in medieval clothing sell their medieval wares. Glühwein is served in heavy hand-pottered mugs.  On weekends, there are a variety of free musical performances played on long-forgotten instruments dating back to the middle ages.  Children  especially enjoy this market.
Christmas Village in the Munich Residenz
It's hard to compete with a Christmas market held in the courtyard of a palace. Strategically placed lights provide the WOW factor on entrance. In addition, this market has the best food of all the Christmas markets in my opinion. It's a popular meeting spot for locals. You'll also find a fairytale village which is always a hit with children. Expect singing moose and minitaure Santa Clauses singing Christmas carols.
I found it impossible to identify just one reason why I love Tollwood Winter Festival so much.  Tollwood is a combined Christmas market/exhibition of cultural, political and scientific events. It's also a hip place to hangout with live music. The commonality that ties it all together is the environmental focus.  I plan multiple trips to Tollwood each year. Whether it be to meet friends and listen to free live music at the Tief im Wald Bar (Deep in Forest Bar),  the coolest bar I've ever been to complete with a forest atmosphere , or to listen to one of the incredible presentations. A couple of years ago I saw a film about my idol, Jane Goodall film (famous primatologist who works with chimpanzees). This year I'll  honour of hearing her speak at Tollwood.
I've spent more money at Tollwood than I have at all the other Christmas Markets I've visited combined. While I'm not much of a shopper, my favourite Christmas market find was at Tollwood. It's a handcrafted coffee table built from a Bavarian farmhouse dating back to 1807.
Tollwood is often described as a "small Oktoberfest" since the winter festival is held on the same ground as Oktoberfest.  I've never seen anything as eclectic, making it a strong contender for my favourite festivals of all time. Only the World Nomad Games are in  contention!
The Christmas Market at Marienplatz
This is the oldest and the largest Christmas market in Munich. It's also the most touristy. While I find it too crowded for my liking, it definitely is the most gorgeous. The huge Christmas tree at Marienplatz is always a highlight. Be sure to check out the giant Christmas Pyramid at Rinderplatz. You'll also want to stroll down Kaufinger St. all the way to Stachaus (Karlsplatz). Here, you'll find a skating rink. I recommend visiting it, getting your photos, then heading to one of the smaller markets for a mug of Glühwein.
Schwabing Christmas Market for Artisans
This market is charming with hanging lanterns scattered throughout. But what really impressed me about it was the artisans. It  has some of the most talented artisans I've seen at any Christmas market.  There's also an Art Tent where vendors display their larger works of arts.  This bohemian type market will be especially appreciated by anyone with an interest in art, or those looking for a unique gift.
What are your favourite Christmas markets in Munich?
Alternatively, you can read it for free by signing up here to get your Amazon Kindle Unlimited 30-Day Free Trial. It gives you access to unlimited reading from over 1 million books. I'm a big fan.

Note: This article was originally published in 2011, but was updated in December 2016.